10 Kanye West Tattoos You May Actually Want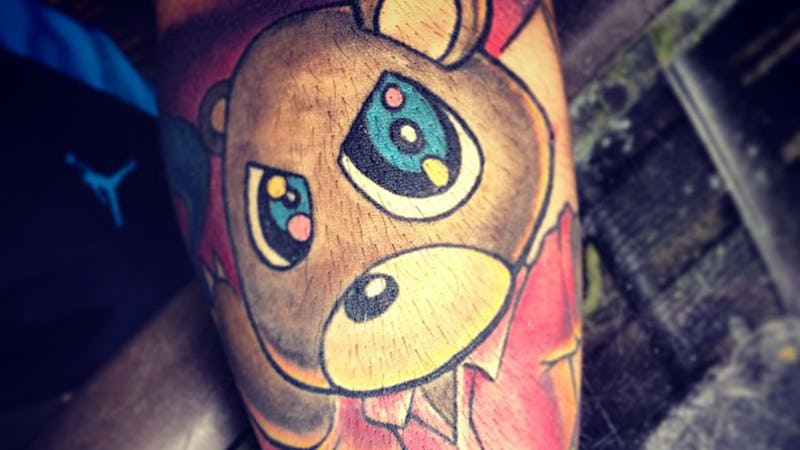 When you envision a timeless classic—something that will definitely be as pertinent tomorrow, in a year, or even after a lifetime—as it is today, surely Kanye West comes to mind.
From a polo-popping freshman in 2004's College Dropout album to the award-winning rap artist, fashion designer, and entrepreneur he is today, like it or not, Kanye's carved out a place for himself in the pages of pop culture. And now, several individuals have carved out a place for him on their bodies forever.
What better way to pay tribute to this legend in our own time, than by emblazoning one's skin with the pearls of wisdom that drop from this visionary's lips daily? Or better yet, why not just etch the stoic face upon your bicep to ward off haters forever? After all, a tattoo is one of the most ancient forms of body art. Combine a skillfully scripted letter with the poignant idea that formed it (A.K.A. the lyrics to Kanye's "Can't Tell Me Nothing"), and you've got the makings of a tat that's definitely all that.
Ahead, the best Kanye West tattoos the internet has to offer. But be prepared! You might just be tempted to go get your own Kanye hashtag tat after this.
1. Keeping It Simple
It's pretty Yeezy to understand. Does he have to spell it out for you?
2. Might As Well Retire
It's like Kanye said in that Ryan Seacrest interview, "So if you listen to My Beautiful Dark Twisted Fantasy, that's the closest thing to a perfected album." And Kanye's face is obviously the closest thing to a perfect tattoo. 'Nuff said!
3. Feeling All Warm & Fuzzy
Oh did you think that was just a run-of-the-mill teddy? Nope, that's Dropout Bear, Yeezy's official mascot. Paws off.
4. Take Me To Yeezus
The sky has parted, the groovy sunbeams are shining, and Dropout Bear is going home, you guys.
5. It's A Losing Game
You heard the man. Cursed! But this half life is still complete, just as long as we've got Kanye in the driver's seat.
6. Get Those No. 2 Pencils Out
Can't tell Kanye nothin'. However, he's cool with a few free response questions.
7. Hater Blockers Forever
Oh, you thought Kanye's affinity for sunglasses disappeared when the hype surrounding Kanye's 2007 "Stronger" did? Nope! Kanye's shade style lives on forever on this person's arm.
8. Yeezus Walks
You'll still have to lace up your Yeezys and run to keep up with him, though.
9. Everything I'm Not Made Me Everything I Am
And what is Kanye, exactly? The best. You do the math. It's like Kanye said, "I'm a pop enigma. I live and breathe every element in life. I rock a bespoke suit and I go to Harold's for fried chicken. It's all these things at once, because, as a taste maker, I find the best of everything."
10. Who Doesn't?
We want Yeezus is trending on this person's arm (and in your heart) forever.
Images: Instagram (10), Giphy (10)