Watch This Adorable Surprise Proposal Video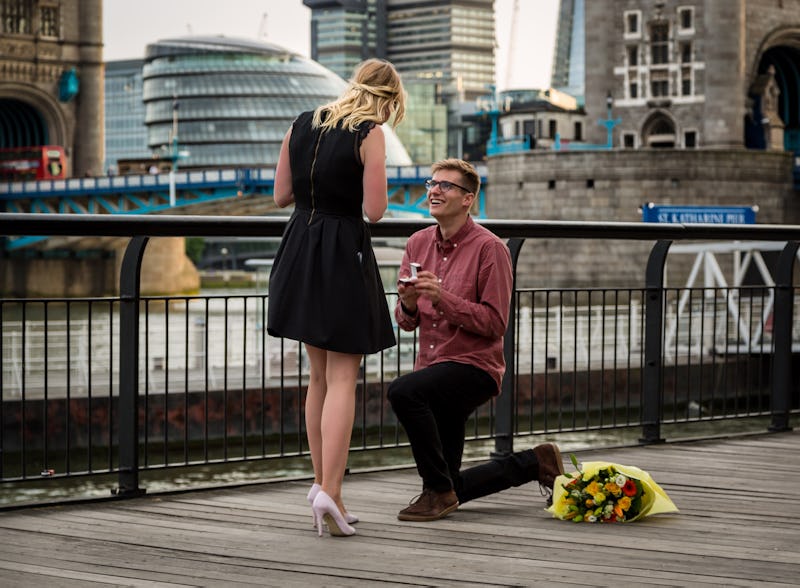 It's that time of year again: wedding season, my favorite! For the past two Sundays (yes, I have been keeping track), my Facebook feed has been inundated with people I used to be friendly with saying "yes," and while that's sweet and all, pretty much nothing can top this proposal: Chris Livingston surprised his girlfriend in London, where he proposed to her. I think that as far as surprise, public proposals go (like that bizarre iPhone proposal, or, I don't know, proposing to your SO with a giant flash mob), this is one of the better ideas I've seen. It's sweet, it's personal, it's in public but it's not so over-the-top that it verges on cringe-y (plus if she had said no, a million people wouldn't have been there to witness it). All in all it gets my stamp of approval; not like that really matters to, well, anybody, but I approve nonetheless.
Chris Livingston, the mastermind behind the proposal (and groom-to-be), and his now-fiance are from the U.S. When his girlfriend planned a trip to travel through Europe, he told her he couldn't come because he couldn't get off work. But then he thought (according to his YouTube page), "what a crazy way to propose... surprise her in London." Here's how it went down:
Chris's girlfriend got a tap on the shoulder, and when she turned around...
It was Chris! But he wasn't just there to make a surprise visit...
He popped the question!
A closer look at the ring, because it's gorgeous:
Oh, and she said yes!
Awww. Here's a really cute black-and-white photo of the happy couple:
So many feels.
You can watch the whole proposal on video below. You can't really hear anything that's being said, but it's still nice to watch. Congrats to them both!
Images: chriztopherz / Imgur