'Kimmy Schmidt' Season 2 Will Continue to Amaze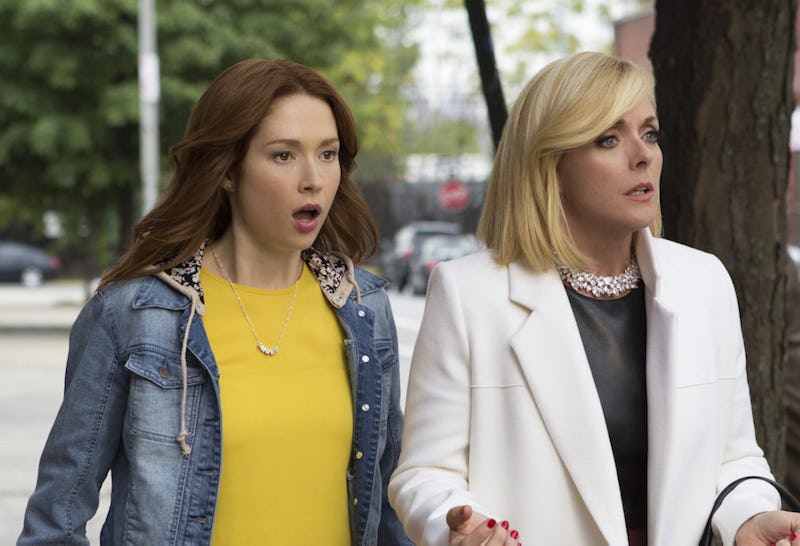 With Season 2 of Unbreakable Kimmy Schmidt a torturous amount of time away, I've been comforting myself by listening to the theme song over and over. And over. (I miss you, Titus!) Luckily, in a new interview with The Hollywood Reporter, executive producer Jack Burditt just dropped a ton of awesome tidbits about the upcoming episodes, including why Kimmy Schmidt is basically the second coming of 30 Rock .
With Tina Fey at the helm of the Netflix show, Jane Krakowski starring and Jon Hamm appearing in the most brilliantly cast role ever, there's no shortage of 30 Rock greatness on Kimmy Schmidt. And now, it seems fans can look forward to even more cameos in Season 2. Burditt didn't drop any names in his THR interview, but he did reveal, "There was a part of us that said, 'Let's try to not do that so much in season one,' but it's about finding the right part for the right people. I'm sure you will see other people who were on 30 Rock pop up in season two."
Speaking of new characters, Ellie Kemper told The Hollywood Reporter that viewers will meet Kimmy's mother in Season 2.
"What I know about her is that she wore short skirts and maybe wasn't the most attentive mother, so it might be a sad revelation who the mother was," Kemper revealed, adding, "[Kimmy] didn't really have a family to go back to, so I'm interested to know who that mom will be. I have a feeling whatever sadness is there will be dealt with a humorous way."
Kemper didn't suggest an actress who she thinks should play her mother, but did say,"I'm not going to name any other woman because what if a woman gets insulted that I said they could play my mom? So I'll just name my mom: Dotty Kemper."
Season 2 will also delve into the backstories of characters we already know, like Kimmy's roommate Titus.
"We're going to get more into his past, and his wife showed up at the end of Season 1, and we don't really still know a lot about him, so we're looking forward to finding out more about him," Burditt said. "Lillian, we really want to get into what her whole background is. If we had done 22 [episodes] like you do in network TV, we certainly would have done more with her. Everybody is so in love with Carol Kane, and we just kind of ran out of time to get to it.
There's no official date for the Season 2 premiere of Unbreakable Kimmy Schmidt, but it's rumored to hit Netflix sometime in Spring 2016.
Image: Giphy