27 'Full House' Musical Moments Ranked From Singalong-Worthy To WHOA BABY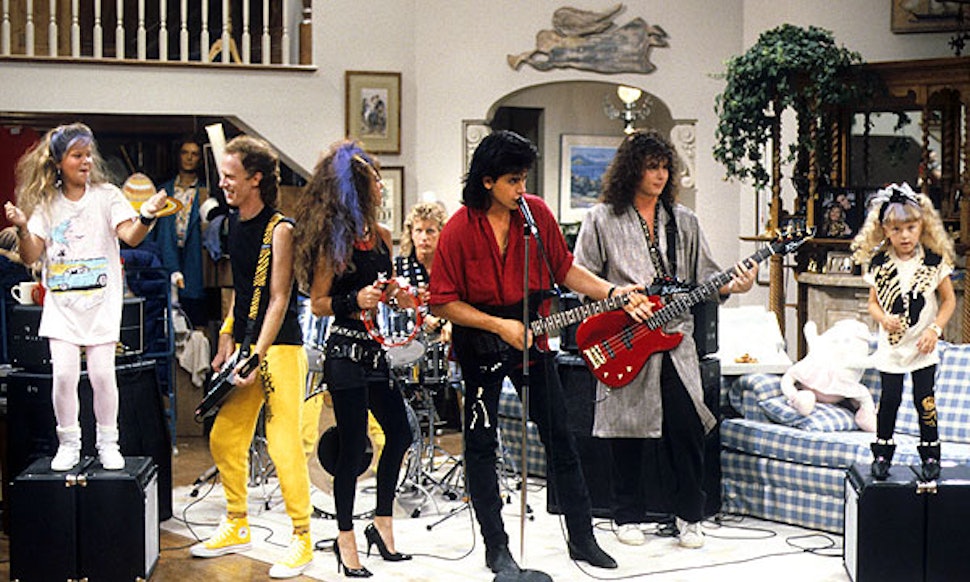 Here's an opinion that is probably going to receive an overwhelming "duh" from the nation: Full House was an incredible TV series. But have you ever thought about how much of that reputation stems from the musical moments of Full House ? From Jesse & The Rippers to Girl Talk, music played a huge part in the show. There were a ton of performances over the course of its eight seasons, and I decided to figure out just how these moments stack up, from those that make you want to hum along to those that will leave you screaming "have mercy" while watching clips on repeat.
A lot of these musical moments came courtesy of a certain Greek (yogurt) God, John Stamos. Uncle Jesse, a badass musician, introduced viewers to many of the amazing musical acts in the series. In fact, after doing extensive research for this ranking, I've come to the conclusion that Jesse & The Rippers (and later Hot Daddy & The Monkey Puppets) are a national treasure, and that they should headline a music festival the size of Lollapalooza or Coachella.
But Jesse wasn't the only musically inclined Tanner-house resident. Stephanie had that quick stint in Girl Talk, a band that truly should have been the source of Making the Band (sorry, O-Town). Then there are Danny's soft tunes. Even Joey Gladstone had a great voice.
So how do the musical moments of Full House stack up to each other? Here are the 27 most memorable, technically ranked from worst to best, even though they're all kind of the best.
27. "Baby Beluga"
youhadabadday on YouTube
"Baby Beluga" is so catchy, it's dangerous. I'm sorry for reintroducing it into your life.
26. The Three's Company Theme Song
pizzafun101 on YouTube
Jesse never learned the words to that last part.
25. "Return To Pooh Corner"
Juli Grasso on YouTube
It's just so sentimental. Aunt Becky really comes in clutch at the end, in case you were worried about crying from how beautiful it was.
24. "Doo Wah Diddy Diddy" (Featuring Michelle Tanner)
Maureen Ohler on YouTube
Gotta have more Michelle Tanner.
23. "Itsy Bitsy Spider"
Juli Grasso on YouTube
Only Little Richard can make a song about a spider cool.
22. "Teddy Bear"
halfinkababy on YouTube
I probably would have loved bedtime as a kid if I had these three singing me to sleep.
21. "Kokomo" & "Barbara Ann"
halfinkababy on YouTube
As someone who grew up on "oldies," this was a huge deal for me.
20. "Can't Take My Eyes Off Of You"
I mean, it's Frankie Valli.
19. "Rock And Roll All Nite," Polka-Style
AlvarezLucia on YouTube
Seriously, what can't Jesse & The Rippers do?
18. "Fleshtone Love Affair"
goodlittlebuddy on YouTube
It's not a musical moment on Full House if at least half the Tanner family isn't off to the side dancing.
17. "My Generation"
Full House Forever on YouTube
I understand that Jesse was confused by Danny's sudden enthusiasm for rock, but I think once Mr. Clean put on that leather jacket, it had to happen.
16. "Rock-a-Hula Baby"
halfinkababy on YouTube
It's so spot-on to Elvis Presley's version.
15. "Shout"
halfinkababy on YouTube
Shoutout to Scott Baio singing the classic wedding song.
14. "Doo Wah Diddy Diddy" (Featuring The Tanner Family)
Anitha D on YouTube
The Tanner family might cramp Jesse's style, but I'm really into it.
13. "My Girl"
Full House Forever on YouTube
Danny Tanner with the falsetto!
12. "Don't Go Breaking My Heart"
stealthopts17 on YouTube
Derek is blowing the roof off the joint with Lisa. Michelle needs to step up her musical game if she wants to hang around with these stars.
11. "Keep On Knockin'"
FunEsitoms on YouTube
Get out of the way, JOEY. Let Little Richard do his thing. I think I passed out after Little Richard was done performing this, I was so out of breath.
10. "Forever" (The Music Video Version)
Full House Forever on YouTube
Different from its counterpart of the "Forever" wedding performance, this version is almost entirely about John Stamos' chest.
9. Jesse & The Rippers At Disney World
Juli Grasso on YouTube
This entire compilation of songs performed by Jesse & The Rippers at Disney World really does make dreams come true.
8. "Forever" (The Wedding Version)
Full House Forever on YouTube
Show of hands if you were weeping like Aunt Becky at the end of this.
7. "Michelle Smiling"
halfinkababy on YouTube
Kudos to Uncle Jesse for writing this one.
6. "For The Times"
Queen6429 on YouTube
Aunt Becky, you're a very lucky woman.
5. "Longing For Home"
Damien Bleus on YouTube
"Longing For Home," a song just as great as the name of the band that sang it: Hot Daddy and the Monkey Puppets.
4. "A Little More Love"
Juli Grasso on YouTube
This would obviously be the first song of Jesse & The Rippers' set at the music festival I WILL make them headline.
3. "The Yankee Doodle Boy"
AmFilms123 on YouTube
Derek deserves a Grammy for this performance, and I'll always stand by that.
2. "I Saw The Sign"
GirlTalkRetro on YouTube
Girl Talk 4 Ever.
1. "Revolution Rock"
soapyrandolph on YouTube
I would seriously pay $1.29 for this on iTunes. Also: I need John Stamos' shirt.
As you can see, there's not too much of a difference between the first and last moments on this list. The music of Full House was just that classic.
Image: Warner Bros. Television