7 Print Mixing Plus Size Bloggers To Celebrate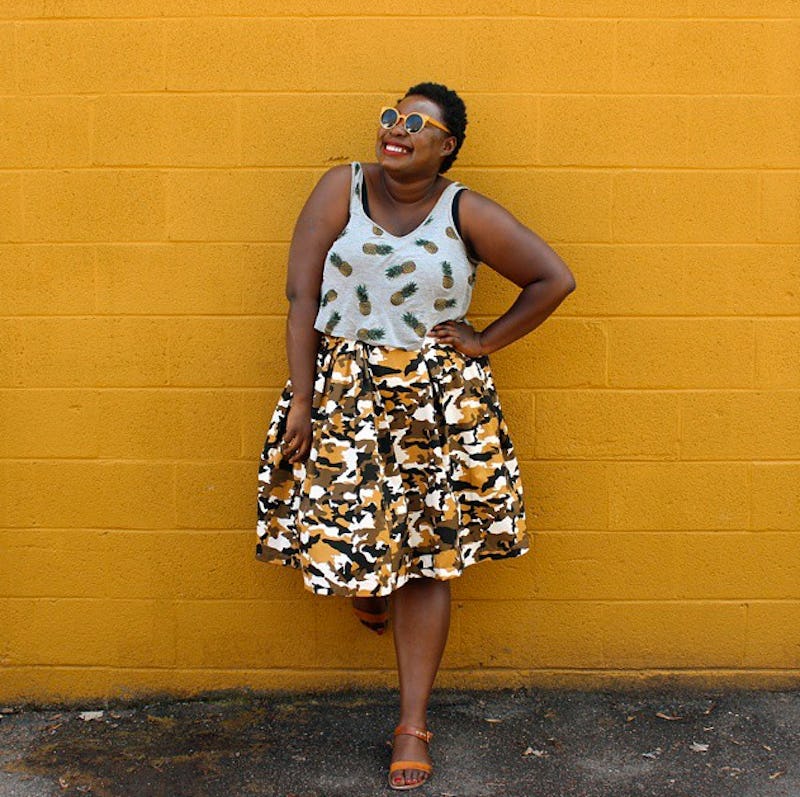 When you're plus size, it can sometimes seem like there's some secret society trying to sell you on the idea that you should only wear darker colors. But plenty of plus size women wear patterns like total pros every day. And with summer around the corner, I wanted to share some of the plus size bloggers who make print mixing look like a cinch!
This past weekend, I overheard someone say that they were going to wear a blue shirt out but that they switched to a black shirt since they wanted to "look slimmer" for photos. And as I heard it, I understood where this thought process comes from: Society's been trying to tell us fat girls we should hide for years. But I couldn't relate. I have no problem with wearing black. In fact, a lot of my clothes happen to be black; but I think if you're gonna wear black, wear because you want to. And if you want to wear that blue shirt, damnit girl, I want you to just feel free to wear it.
Bold colors and bright prints are so fun for summer and I would hate for anyone to feel like they have to wear dark colors because they think that's their only option. The bloggers on this list are just a few of the women who inspire me every day to dress for me and be proud to stand out.
1. Lion Hunter
Plus size fashion blogger Lion Hunter mixes prints in nearly every outfit. And every time she does it, I am still just as much in awe as I was the first time I came across her OOTDs.
She has a natural flair for pairing pieces that most people would usually steer clear of putting together for fear that they wouldn't match, like this pineapple top and this camo skirt from her own line of plus size apparel. Lion Hunter's outfits turn these so-called fashion matching rules completely on their head and I am so into it.
2. Amarachi Ukachu
Amarachi Ukachu defines herself as a blogger/designer/expressive arts specialist and one glance through her blog shows just how talented she is at expressing herself through her designs. The outfit shown here is one she handcrafted using a Keith Haring fabric. The contrasting colorful pattern of the bralette against the black and white coat and shorts is just too good.
3. My Curves & Curls
Canadian style blogger Assa of the blog My Curves & Curls is really a pro at pairing together contrasting bright solids and she prides herself on that for good reason! But she's also gifted at putting together patterns like florals and stripes as shown in this OOTD from her blog. And these striped pants are less than $20. Score!
4. Fashion Hayley
Australian blogger Hayley Hughes of the blog Fashion Hayley started her site back in 2006 when she was living and working in Tokyo. And it's clear that her style takes inspiration from her travels. It's fun, colorful, and very '90s reminiscent. I love how the pink background of the tee picks up the pink hints of the skirt in this look and the accessories just give me all the '90s feels.
5. Suits, Heels, & Curves
Darlene Lebron Lopez of the blog Suits, Heels, & Curves is also a blogger for Plus Model Magazine, which is where she wrote about this look. It's so unexpected to mix prints in a professional setting but she pulls off this cheetah print blouse and houndstooth skirt so well it's almost like they are part of a two-piece suit.
6. Curvaceously Bee
I've expressed my love for Curvaceously Bee before because one of my favorite dresses is from her closet sale. She just has a natural eye that I really love. As soon as I saw this neon floral print skirt on her blog, I knew it had to be from Eloquii because they really do a great job celebrating this skirt style. I love how Bee paired it with black and white stripes and let the neon really pop.
7. Musings Of A Curvy Lady
When I think of print mixing, I usually think of something that's bold and in-your-face, but there's something really sweet and subtle about this mixed print look by Thamarr Guerrier from the blog Musings of a Curvy Lady. And the best part is that she's supporting fellow mixed print maven, Lion Hunter because this skirt is custom from her shop, The Tutu Experience.
Images: misslionhunter, amarachiukachu, ciaa, fashionhayley, suitsheelscurves, curvaceouslybee, ladyfigure/Instagram