Texas Officer Apologizes For Pool Party Incident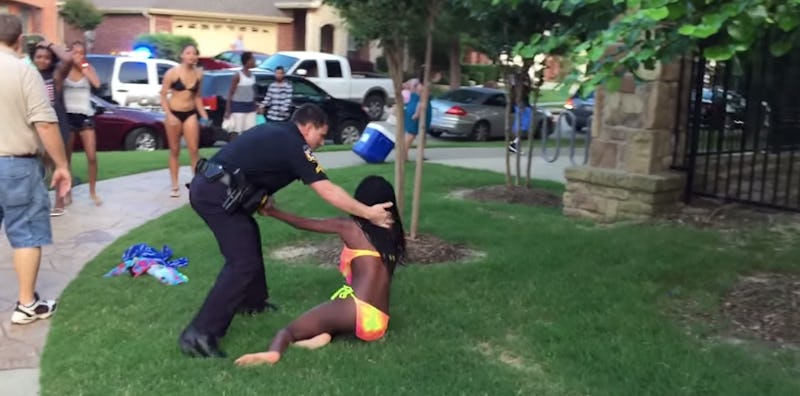 The officer caught on cellphone video shoving a young black woman's face to the ground resigned Tuesday, and now Texas officer Eric Casebolt has apologized albeit via his lawyer. Casebolt's statement was read by his attorney Jane E. Bishkin at a news conference Wednesday, during which she attempted to explain why Casebolt chose to aggressively engage with the teenagers, including the young woman, the way he did by attributing his actions to calls he had responded to before arriving at the pool party. Those two calls, which involved a suicide and a suicide attempt, "allowed [Casebolt's] emotions to get the better of him" and affected his policing, his lawyer said.
According to Bishkin, Casebolt was assigned a nighttime shift at 6 p.m., which began with a call to an apartment complex where a black man had committed suicide at a pool by shooting himself in the head in front of his children. She said Casebolt's second call was then to another location where a teenage girl was threatening to commit suicide by jumping off her parent's house. When he heard the trespassing call come over the radio for the pool party at Craig Ranch, Casebolt hesitated because of what he had just been through, his lawyer contended. But when the call escalated to a report of possible violent assault, Casebolt felt "it was his duty" to respond, she said.
Bishkin said Casebolt was not targeting minorities — noting a white female not shown in the video was also detained — and said he believed the people who fled were possible suspects.
Eric regrets that his conduct portrayed him and his department in a negative light. He never intended to mistreat anyone, but was only reacting to a situation and the challenges that it presented. He apologizes to all who were offended.
The video, which surfaced over the past weekend, spurred new outrage and protests in McKinney against police aggression and brutality. Some claimed Casebolt's actions were unnecessary given the situation involving young teenagers at a neighborhood pool party. In the video, Casebolt is also seen drawing his gun when two young black men approach to protest his treatment of the young girl.
Craig Ranch, where the pool party took place, is a predominantly white and affluent neighborhood in the west side of McKinney. The city was also the subject of a 2009 housing discrimination suit that claimed the officials intentionally concentrated its Section 8 housing to its east side, a mostly black neighborhood. That suit was settled out of court.
Casebolt's not the first officer in the middle of a racial arrest to speak out. Darren Wilson, the officer who fatally shot unarmed black teenager Michael Brown in Ferguson, Missouri, last summer, offered his thoughts through a TV interview with ABC News' George Stephanopoulos. But Wilson's comments were criticized by Brown's family as lacking remorse, as he said he had a clean conscience over his actions, and Wilson's lawyers have said Wilson has no intention of apologizing to Brown's family. While Casebolt's apology may not be enough to appease the community, at least it was offered, and if what his lawyer said was true, it definitely sheds some light into what the man was thinking when he descended upon that pool party.