I Tested 8 Hairstyles To Find The Best For The Gym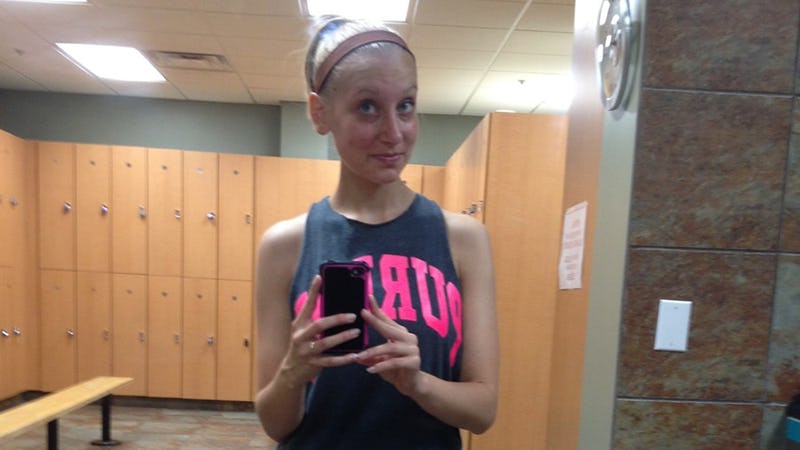 Getting motivated to actually go to the gym is hard enough; we shouldn't have to worry about finding a 'do that won't get all up in our business when we're hitting the treadmill. In the name of beauty journalism, I spent a couple of weeks working out more than usual to discover the official best hairstyle for working out. Sure, it could be about impressing your cycling class crush — but it's also about finding a style that actually stays up and out of your face while you go HAM on the row machine.
Half of my struggle of going to the gym is deciding what to wear and how to do my hair. I realize that is pathetic, but what if I run into an old high school friend? Or my boss and I happen to be there at the same time? You just never know. So while I may not put all of my makeup on or curl my fly-aways, I try to at least look like I have my life together.
However, I love practicality. When going to the gym, you should be able to focus on actually sweating, getting energized, and feeling good — not worrying about your hair falling out of its bun the entire time. I tried eight different hairstyles in attempts to find the perfect, all-purpose 'do for whatever kind of workout you're into.
1. The Braid: No.
My college roommates and I try to reunite once a year in June. Since we all live far, far away from each other now, we celebrate all the holidays in that one day: Christmas, birthdays, scary movies for Halloween, etc. I wore a red Christmas sweater and a braid in my hair to keep things chill, but also out of the way for our ping pong and yoga ball tournaments. This hairstyle did not keep, even with just a relatively low-intensity game. Thankfully, one of my former roommates is an expert braider and loved me enough to redo this braid four times! I felt terrible. Do not try this for even the simplest of exercises.
2. The Low Bun: No.
This picture was actually taken a couple of years ago in East Asia. While on a mission trip there, a friend and I decided to run the grounds of our new apartment complex to get a feel for the area and the culture. Afterwards, we went for a snack of pineapple on a stick, which is super common street food there.
The point is: A low messy bun was not ideal for running. My bangs kept getting in my eyes and a few tufts of hair fell out of my low bun. Afterwards, I looked like a sweaty mess, and my neck was all sorts of hot.
3. The Simple Ponytail: No (If You Have Bangs).
The one dying on the right is me while running my second mini marathon. The one smiling and fist-pumping on the right is my friend, James, while running his first mini marathon. Obviously. I decided to wear a simple ponytail for this race, because I knew my thin hair would actually stay in my thin ban. Unfortunately, though, my bangs were not. Sweaty, gross pieces of hair kept hitting me in the face and distracted me from the end goal. It was so annoying. Not ideal, but it'd probably work better if your hair was all one length.
4. The Pre-Wrap: No.
#Throwback to high school when pre-wrap was the "thing" to wear when exercising or just for a sweats day at school. I recently tried this again before going for a 5k through my neighborhood. While it kept all my hair back and I did not have to fix at all during my run, it hurt terribly to take off. Somehow, tiny pieces of hair wrapped themselves around the wrap and I pulled them all out in the process of taking my hair down. I have very fine, thin hair, so I really can't afford to lose any more. Never again.
5. A Headband: No.
For my weekly spinning class, I decided to try a simple ponytail with a headband to hold back my bangs. I've never sweated as much as I do in spin class. Although this headband was a little loose around my head, I figured the sweat would help hold my bangs back. I was wrong. Not only did the headband keep falling off of my head, but my bangs kept falling forward. It was not cute and I had to stop pedaling often to fix my headband!
6. The Top Knot: No.
A few friends and I decided to spend a Sunday afternoon biking to our favorite burger and ice cream diner. Because my bangs are finally growing out after a horrendous bang cutting accident, I decided to toss them back into a top knot and see how well they stayed. Thankfully, my bangs stayed well put, but my short layers in the back kept falling down. By the time we got to the diner, it looked like I had a half-bun, which I guess is sort of trendy, but definitely wasn't ideal for warding off sweaty neck.
7. Barrette + Ponytail: Meh.
For another 5k around my neighborhood, I decided to try to pin my bangs back with a ponytail. I figured I would not run into the same problem as the mini-marathon if I pinned all the bangs in one place. While that was not the problem, I instantly became annoyed with feeling my ponytail sway back and forth and hit the back of my neck as I ran. This made me discover I will never be happy with a ponytail for working out.
8. Barrette + Messy Bun: ALL THE YAAAS.
For a quick HIIT workout, I hurriedly decided to throw my hair in a messy bun and pin my bangs back with a barrette. By the end of my workout, I realized I did not touch my hair once, nor did I worry about the feeling of it against the back of my neck or hitting me in the face. Everything stayed in place and I focused on my workout! Finally, I had found the ultimate best hairstyle for getting your sweat on. YES.
Images: Hayli Goode (8)