Bustle's 'Pretty Little Liars' Podcast Is Here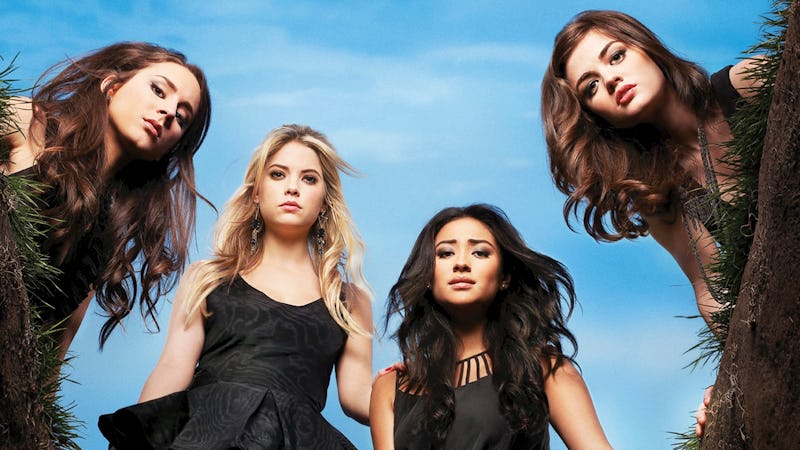 Welcome to "Taking This One To The Grave," Bustle's Pretty Little Liars podcast. Here at Bustle, we've exhaustively covered the show from every single angle. From "Who Is Charles?" theories to Big A's, um, eclectic taste in music to every single detail of the Haleb happy ending we've been waiting for, there's no PLL mystery we haven't at least tried to solve.
But now that the Summer of Answers is upon us, we're eager to take this conversation to a new medium. Each week, Bustle Entertainment Editor Kelsea Stahler and TV Editor Samantha Rullo will lead us through all of the OMG moments we can jam into 30-40 minutes. Editorial Assistant (and Chief PLL Tumblr Correspondent) Christine DiStasio will take a deep dive into the fan community for the most insane theories she can find.
In this installment, Sam and Kelsea will be discussing Season 6, Episode 2: "Songs of Innocence." They'll answer a few questions: What the heck just happened? Which Liar had the best episode? What's everyone else up to? What was the biggest lie of the episode? What do we make of the inevitable cliffhanger? Our fearless hosts will also include stray observations, like...
everyone feels their feelings differently, especially when they're being tortured by Charles
Spencer + pills = literally nothing good
if Charles turns out to be Tyler Durden, Kelsea will "punch windows"
the "feminization of society," lol
"I know it's not real, I got this!" - Kelsea's motto for dealing with scary TV things
"Do you even watch the show, Aria?!" - Sam
Subscribe to our feed in iTunes and on SoundCloud . Follow our PLL fan page on Facebook.
You can check out future episodes of "Taking This One To The Grave" on Bustle's SoundCloud page. Special thanks to producer Noel Howard for putting this together.
Images: ABC Family, ABC Family/Cora Foxx
Intro Music: "A Tense Encounter," Tom Howe via APMusicProduction: Noel Howard