Jimmy & Lena Lip Sync Their Hearts Out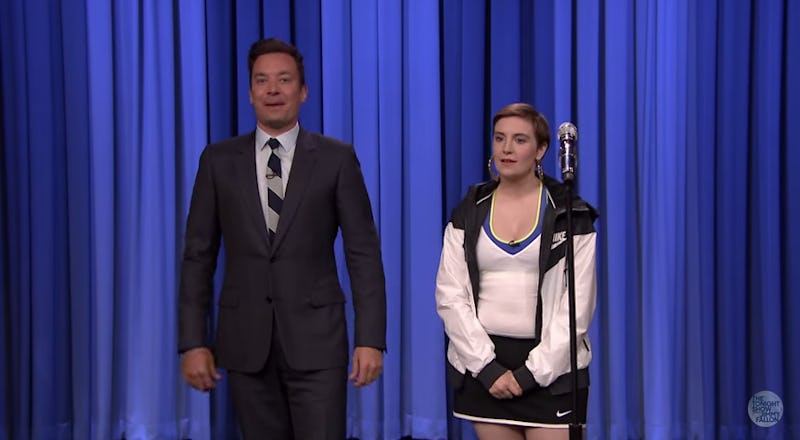 Who doesn't love a good lip sync battle, am I right? There's nothing better than watching celebrities get super into acting like idiots and pretending they're pop stars and pouring their heart into a performance that... they're not actually giving — at least not vocally. So popular was the format that Lip Sync Battle , popularized by Jimmy Fallon on The Tonight Show , actually became its own standalone show on Spike, and it garnered some of the industry's biggest stars performing some of our favorite tracks. And while Lip Sync Battle won't return with new episodes until next month, thankfully Fallon has kept the feature on his late night talk show, and he had Lena Dunham join him for Friday night's epic standoff.
I should warn you right away: things got real. Like, maybe too real. Dunham showed up in sportswear since she "needed room to flex", and Fallon knew he was in for a serious fight. Fallon came out of the gate strong, however, singing the 1982 Charlene camp hit "I've Never Been To Me". Things only got better from there. In case you missed it, or just in case you want to relive some of the glory, here are the best moments from the Fallon/Dunham lip sync battle for your enjoyment.
Singing Into A Mirror
What better way to GET to you if you've never been there than to do some serious self-reflection? And what better way to self-reflect than to... stare at your reflection? Ingenious prop. I love it.
This Incredible Dance Move
Fallon is so expressive and he clearly loves to illustrate the lyrics of the song in a more physical way, making this mini running move a total winner all-around.
An Amazing Bit Of Speak-Singing
I really love when songs have a spoken part, because those parts are always super cheesy and generally don't even fit into the song. But because I love randomness, I appreciate them. Fallon nails the monologue in "I've Never Been To Me", which isn't an easy feat.
The Fierce Turnaround
You know you're in for something serious when an artist has her back to you and then suddenly whips around like she means business. Dunham's performance of Calvin Harris and Ellie Goulding's "Outside" got off to a strong start, that's for sure.
The Power Walk
When you're trying to show off your command, why wouldn't you do a little circle around the mic stand? It shows you're carefree and loving every minute of your performance, despite it being a fierce competition. Point for Dunham!
The Floor Kneel
When the air around you is too hot to breathe because you're killin' it that much, you'd better drop down to a lower altitude to catch your breath. That's what Dunham did, and it was a smart move, for sure.
The Camera Rap
If you're going to lip sync a rap, you'd better come with some serious heat, and Fallon went right in for the kill with his Run DMC performance. He was all up in the camera's face, which is sorta what needs to happen when you're in the middle of a battle.
Crowd Involvement
To win a battle, you need the audience on your side. It looks to me like Fallon has that aspect under control, don't you agree?
The Choreography
I mean, are any more words needed? The choreography is too good. Get it!
You can watch Jimmy Fallon and Lena Dunham's full lip sync battle below, but beware — it's really, really good.
Images: The Tonight Show with Jimmy Fallon/YouTube