Already Missing 'GoT'? Watch These Shows To Cope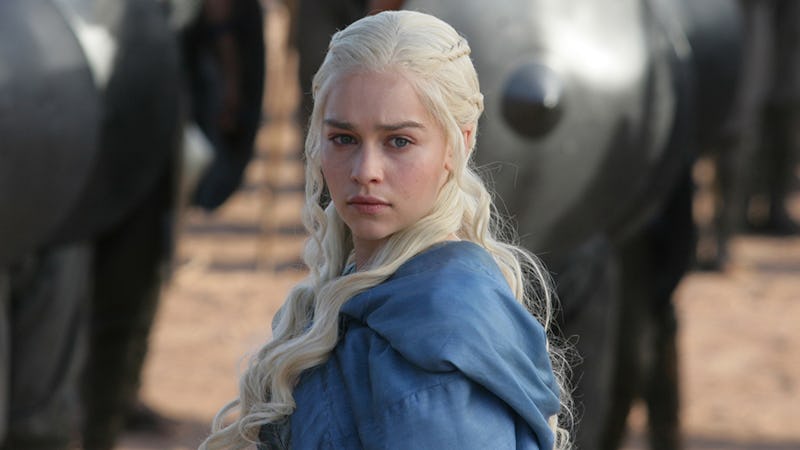 The long Game of Thrones-less winter is coming, dear readers, and I feel your pain. After tonight's fifth season finale, both book readers and show watchers will be out of new material to devour until Season 6's premiere next spring. Add in the part where the finale is sure to leave lives hanging in the balance and new journeys just about to begin, and the need for more becomes all too real. Waiting doesn't have to be as torturous as hanging out with Ramsay Bolton, though. While sometimes it feels like TV begins and ends with Game of Thrones, there are plenty of amazing shows that can help fans get through their GoT withdrawals during the coming year.
Some of the shows on this list are grounded in fantasy, others in history, and at least a couple are modern tales, but they all share something in common with Game of Thrones: action, awesome ladies, political maneuverings, or amazing visuals. The Game of Thrones off-season is the perfect time to discover your next TV addiction (because there is always another show around the corner), and as an added bonus, every show on this list has either completed its run or has multiple seasons for you to tear through. Dive in now, and then you can thank me later.
1. The White Queen, Starz (10 Episodes)
Let's start with something low commitment, but utterly breathtaking in its scope and storytelling: Starz's miniseries The White Queen. While George R.R. Martin drew inspiration from The War of the Roses for the A Song of Ice and Fire series on which Game of Thrones is based, The White Queen is the real deal. It tells the story of the women behind the bloody war and the political and personal moves they made at home while the men were out on the battlefield. The only bad thing about The White Queen is that's there is not more of it.
2. Spartacus, Starz (39 Episodes)
The intensity level of Spartacus is roughly a billion. The battles are bloody, ferocious affairs, but there's love, brotherhood, and truly amazing characters, as well. Starz produced three seasons and a miniseries tracing the rise and fall of legendary gladiator Spartacus, and each chapter is more captivating than the last. Like Game of Thrones, Spartacus never pulls any punches, so be prepared to have your heart broken more than once while watching these men and women fight their epic war.
3. Reign, The CW (44 Episodes)
It has been my experience that it is people who have not seen Reign who scoff at it. The truth is, Reign is constantly pushing boundaries in terms of what can be shown on network TV. At its center, the show has a beautifully played cat and mouse game between Mary, Queen of Scots and Catherine de' Medici, and actresses Adelaide Kane and Megan Follows always elevate the already strong material they are given. The show is also full of romance and the requisite games played at court, but it weaves in truly intriguing supernatural touches, as well.
4. The Borgias, Showtime (29 Episodes)
I was heartbroken when The Borgias was cancelled, but oh, what a ride it was. The politics of family and religion intertwined to make The Borgias one of the most dynamic dramas on TV. From the backstabbing to the so-wrong-it-was-right love story between Cesare and Lucrezia, The Borgias is basically Game of Thrones if it focused entirely on the screwed up family dynamics of the Lannisters.
5. Outlander, Starz (16 Episodes)
Ronald D. Moore (Battlestar Galactica— another great Thrones substitute, if you haven't seen it for some reason) can do no wrong as far as I'm concerned. The first season of Outlander had something for everyone: time travel, a love story, historical flourishes, and battles. As an added bonus, if you get completely engrossed in the tale of Claire and Jamie, then you can dive into the book series that inspired the show to hold you over until Season 2.
6. The 100, The CW (29 Episodes)
One the best things about Game of Thrones is its willingness to push boundaries. The show has made a habit of shocking viewers with unexpected deaths and twists. Another show that's equally shocking? The 100. The series is the single best sci-fi series on television today. Set in a future where Earth was abandoned due to radiation, 100 teenagers are sent to the ground to find out if the planet is still habitable. What happens to them once they get there is crazy, brutal, and harrowing. Get in on The 100 now before everyone realizes how amazing this show is so you can tell your friends, "told you so."
7. Lost, ABC (121 Episodes)
If you have not seen Lost yet, then I don't know what you've been doing with your life. While the ending remains a point of contention for most fans, the mysteries, power struggles, and fascinating characters should keep you more than occupied until Game of Thrones gets back. In fact, you might become so wrapped up in the castaways' struggle to make sense of the strange world they have been thrust into that you forget all about Game of Thrones... for a little while.
8. Misfits, Hulu (37 Episodes)
Misfits isn't like Game of Thrones at all, but it is so much fun. Sometimes you just need to give your brain a break and enjoy a wacky show about kids with superpowers and no inclination to use them for good. As an added bonus, the series stars Iwan Rheon (Game of Thrones' Ramsay) and he is actually incredibly adorable and heroic. Watch Misfits so you can remember him as Simon instead of the sadistic Ramsay.
May these shows make the winter a little less cold for you, Thrones fans.
Image: HBO