How 'Texas Rising' Could Return For Season 2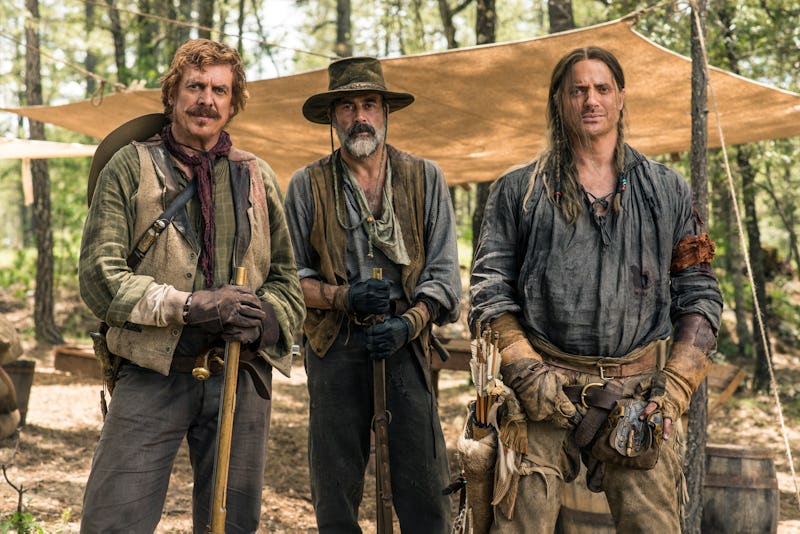 The finale of Texas Rising is promising an explosive ending, but I think it's impossible to completely wrap up the story of Texas' final days as a territory in just two hours. With so much story to tell, could Texas Rising return for Season 2? History billed it as a miniseries, and no plans for a second season or other continuation have been announced, but the ratings have definitely been good enough to warrant more. However, Hatfields & McCoys brought History even higher ratings in 2012, and it remained a one-time-only miniseries. Of course, that doesn't mean the network can't take a different path with Texas Rising.
The biggest challenge in putting together a second season would probably be the cast. There a dozen famous faces in every episode of Texas Rising, and then a bunch of reliable character actors in supporting roles filling out its version of the American West. There's no way History could get everyone from the entire cast back for another 10-hour series.
But despite the logistical issues and lack of current plans for a second season, if History changes its mind, there are plenty of ways it can use the pieces of this season to make new episodes. This period in Texan history was filled with conflict, so there are plenty of different ways to take a hypothetical second season. Maybe pushing the Texas Rangers into the background — limiting that all-star cast and making things easier on the production — would help make things both easier and more interesting for Season 2. Here are a few stories Texas Rising could tell if it ever returns.
An Alamo Prequel
Some of the characters, like Guadalupe and Lorca, survived the Alamo period and it personally affected their lives, so it would make sense to focus on that for a second miniseries. Of course, since we already know which characters live and die, it might take some of the inherent drama out of things.
Tell The Same Story From Different POVs
Hey, the latest 50 Shades spinoff is doing it, so there's a precedent. While Texas Rising has done a pretty comprehensive job of portraying different points of view, between Santa Ana, Sam Houston, and all of the soldiers on the ground, it is still balanced towards the Texas Rangers. Showing the Mexican army as the protagonists would make for an interesting take on Season 2.
Or Tell A New Story With New Characters
The one group that was mostly left out of Texas Rising was Native Americans. Sure, a few characters popped up as threats, but compared to the Mexican Army, they were hardly fleshed out. A whole season dealing with the struggles of different tribes during this time would be a fresh take on the same material.
Swap To A Homestead Story
Even though there are some characters, like the Wykoffs, who are just normal people trying to survive on their claim, why not have a whole season from their — or a comparable family's — point of view.
The Republic Period
After Texas left Mexico and came under the control of the white revolutionaries depicted in Texas Rising, it briefly became an independent republic. History could stunt-cast an Oscar-winner to play David G. Burnet, the first president of the Republic of Texas. A future Republic president was Mirabeau Lamar, already played by Chad Michael Murray in the miniseries, so he could also feature into this story.
Cutting Ahead To Statehood
Why not just skip ahead to when Texas becomes an American state in 1845? The battle would have a very different set of soldiers — bureaucrats, fighting to reign in the expansive state.
Or Incorporate More Tall Tales
Deadwood, still the gold standard for the American West in cable TV, leaned away from the legendary figures and preferred to forge its own characters. But Texas Rising has done a great job in mixing the real with the fictional, so there should be no reason why the show should fear the West's legendary figures after already adding Emily D. West and Big Foot Wallace. For example, Pecos Bill and Slue-Foot Sue might be complete works of fiction, but adapting some of their stories might be the way for Texas Rising Season 2 to distinguish itself from the largely historically inspired first.
Of course, first Texas Rising Season 2 needs to exist, but with so many plot possibilities, I don't know how History could resist bringing it back.
Images: Prashant Gupta/HISTORY (7)