I Swapped All My Other Products For Coconut Oil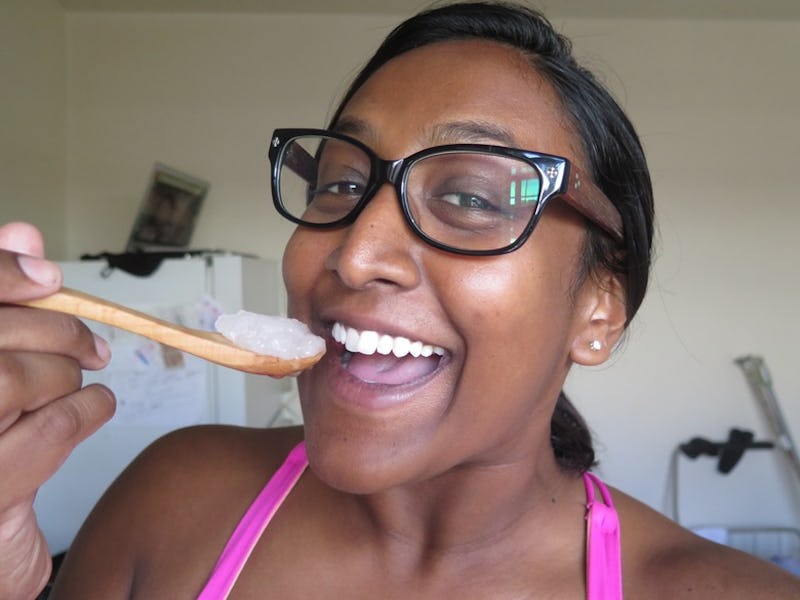 We're not going to quit with the gospel of the many uses for coconut oil. When you can get something that works for eczema, body oils and teeth whitening for under ten bucks at the supermarket, you can't really help but continuously rave on and on about it until all of your friends are converted over to your delicious smelling all-purpose product. And I probably won't even stop then.
Listen, I am most definitely one of those coconut oil worshippers. So when my editor challenged me to use nothing but coconut oil for a whole week, I said yes quite enthusiastically. You should probably know that I am one of the last few people on earth who stick to skincare products once I've fallen in love with them. I'm not really one for testing something new every other week. For years my nightly cleansing regimen consisted of a six-step system from one brand that starts with makeup removal, then moves to double cleansing and double moisturizing. I don't skimp on the good stuff. I deviate from time to time to test new products for work, but I do back to things that are familiar. So, even though I'm in love with that coconut oil, I knew that going off my regimen will probably drive me a little nuts.
Teeth: Gave Up Crest Whitestrips
I have my own wedding reception coming up so I've had some beauty regimens that I do leading up to the day. One of which, thanks to my teeth obsession, is religiously plastering my teeth with Crest Whitestrips. For the week, I gave them up for oil pulling, which I do anyway on a regular basis so it doesn't weird me out too much.
Verdict? I couldn't see much changes to my teeth by the end of the week, but I didn't lose the brightness either. I would stick to just oil pulling if I didn't have a big day coming up, because it's more economical.
Face: Gave up makeup remover, double cleansing, and moisturizer
I use undereye concealer, mascara (three different kinds), kohl liner, a cheek color and lip color on any regular day. I rarely use foundation, so removing makeup at the end of the day is usually quick and a breeze for me, save for my eye area. I'm careful about not tugging the area around my eyes and making sure everything gets removed because of my eye sensitivity. Removing makeup with coconut oil took longer (much, much longer) than it normally would. I wasn't satisfied and didn't feel like all my mascara was removed so I cheated and used some eye makeup remover after too.
You'd look this pissed off if you woke up, slathered your face with coconut oil and resembled a greasy plate of bacon too. I was all excited to stop double cleansing but by the second day, as you can see, I was ready to go back to my good ole', trusty Dermalogica army. Yes, my skin felt more hydrated, but it also feels greasier (duh). I didn't feel like it was really getting clean anymore.
By the third day, I was losing it. Honestly, it was getting kind of exhausting to to reach for a bottle that smelled of a tropical vacation while I was stuck not on a tropical vacation.
Body: Gave up anti-itch creams and eczema moisturizing creams
Because the heat and the humidity levels are climbing these days, I was not looking forward to giving these up since both of those things trigger my eczema. While I know it works, I liked the option of being able to use something stronger, just in case I get so itchy I'd want to tear my own skin off. Lucky for me, the week went without a crazy eczema flare-up.
Hair: Gave up Moroccanoil
I've used Moroccanoil almost everyday after a shower for years now. A little on my ends goes a long way, and I substituted it for the week for coconut oil, of course. Coconut oil felt greasier on the ends of my hair, and actually made it look greasy compared to what I was used to. I didn't notice that my hair looking any healthier either.
Verdict? I wouldn't mind incorporating coconut oil into several more aspects of my beauty regimen, but I was happy to go back to my normal routine. Still, if I were to ever be stuck in an island with nothing but coconut oil, at least I know I could survive.
Need more beauty hacks? Check out this Beauty DIY playlist (and subscribe to Bustle's YouTube for ALL the life hacks!):
Images: Faz Abdul Gaffa-Marsh