15 Things You Missed In The 'RHOC' Pilot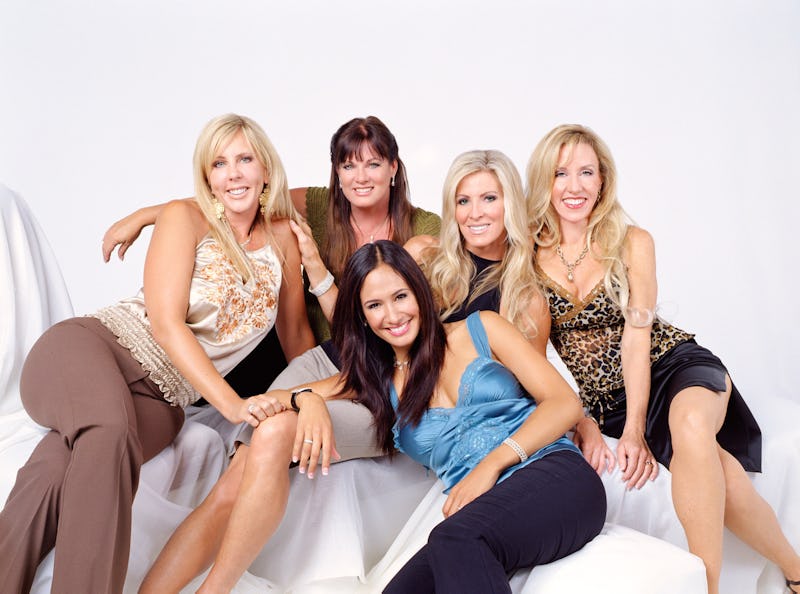 True reality TV junkies can recall a time when The Real Housewives of Orange County was simply a show about a group of women in southern California, some of whom lived a life of domesticity while others worked overtime to amass enough wealth to afford luxury vehicles, million-dollar mansions and those ridiculously overpriced pendant tops in every shade of the rainbow. But times have changed, and a quick look at the preview for the reality show's 10th season clearly proves that things in the OC aren't what they used to be. However, if a 30-second clip of screeching, side-eyeing and trash-talking isn't proof enough of how far left the show has gone since its inception, which spawned multiple spin-offs in various cities, check out the pilot of RHOC. It will instantly transport you back to 2006, to a very short period in time where Vicki Gunvalson didn't brag about how much she worked (you have to see it to believe it), Lauri Peterson hadn't married another rich guy (not yet, anyway) and the creaks in the foundation of Jo De la Rosa and Slade Smiley's ill-fated romance made us wonder why they signed up for this show as a couple in the first place.
Here are 15 other moments from The Real Housewives of Orange County pilot you probably forgot:
1. The Phrase "Behind The Gates"
Because you can't go your entire life without knowing such an important statistic about gated communities. Sadly this crucial piece of information is no longer a selling point for the Housewives franchise.
2. Photos From Jeana Keough's Acting/Modeling Days
Damn, Jeana. Werk it!
3. Slade Smiley's Nude Modeling Pics
This was way back in the day when Slade was Mr. Moneybags (as opposed to helping Gretchen Rossi hawk her line of handbags). Therefore, he actually believed he was a catch, which was debatable then and now.
4. How Much Jo Totally Had It Made
Seriously, Jo? Your only job as a kept woman was to chill in a mansion all day long. Oh, wait — you also had to date Slade. Never mind.
5. Kimberly Bryant's Husband Scott
I mean, I remember Kimberly Bryant because she talked about her breast implants and she left the show during season one due to health issues. But um, why don't I remember this guy? Oops.
6. Shane's Friends Were Gotti Brother/DJ Pauly D Lookalikes
I watched this entire scene just waiting on someone to either break out into a fist fight over stolen hair gel while yelling, "Cabs are here!"
7. Kimberly Drove A Ford
Nuh-uh, Kimberly. This gross exhibition of normalcy wouldn't be tolerated by the current lineup of OC Housewives.
8. This Guy Grindin' On Lauri In Da Club
Go Lauri, it's ya birthday.
9. Shane's Solo Graduation Party
This moment was genuinely sad because even if Shane wanted to attend his graduation, his mom had no intention of going because she was off at some charity event. Ah well, such is the life of an ambitious housewife.
10. This Shade Towards Matt Keough
I know they were trying to make a point here, but displaying his sucky major league stats was beyond shady.
11. How Adorable Lauri's Daughter & Son Were Together
Josh and Sophie cuddling was easily the pilot's sweetest adorable moment.
12. The Cameo By Vicki's Ex, Mike Sr.
I was waiting on Vicki to mention her empty love tank, but she was super tame in this pilot, so that didn't happen.
13. Vicki Never Yells "Woo Hoo"
I'm honestly shocked. Vicki had plenty too "woo hoo" about before the fame.
14. The Wives Were Actually Nice To Newbies
When Jo decided to randomly introduce herself to a group of housewives having cocktails, they were so nice. (Maybe that's because Vicki wasn't there.) Anyway, this would be the modern-day Housewives equivalent of approaching a circle of vultures.
15. Jo Drunk Dialing Slade On A Flip Phone
A flip phone, y'all. Whew, this show's old! Still, I'm happy to report that even without an extraordinary amount of drama, the RHOC pilot has withstood the test of time.
Images: Bravo (16)