'Bachelor' Nation Is Rooting For Nick & Kaitlyn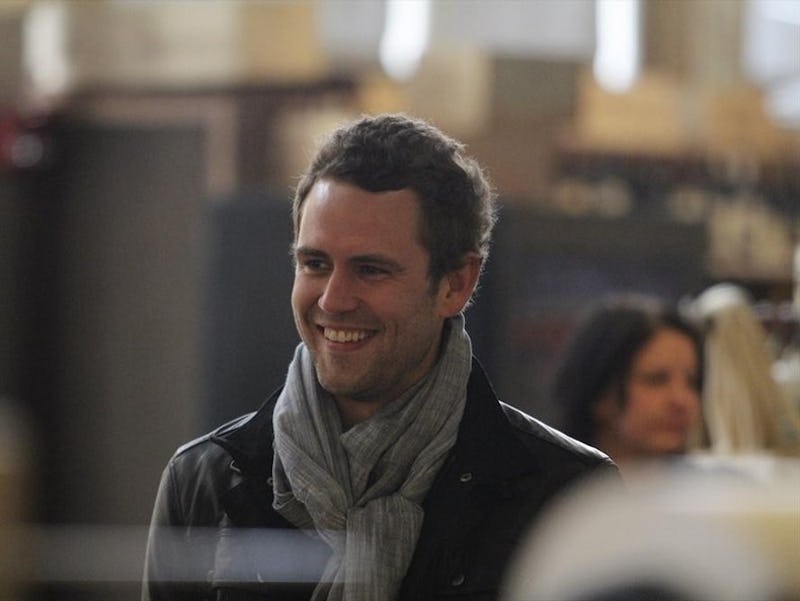 Even though it's been hyped up all season, I still have mixed feelings about Nick Viall joining The Bachelorette four weeks into the competition. On one hand, if Kaitlyn truly feels a connection with Nick and needs to see where that goes, then he definitely should be there — if she's going to find a husband, she needs to be 100 percent sure she's making the right decision. On the other hand, it's unfair to the guys who have been playing along on those (sometimes literally) painful group dates and suffering through the rose ceremonies the old fashioned way. Not to mention the fact that he has an advantage over the guys since Nick and Kaitlyn were already friends. But, it's official: The most controversial contestant from Andi Dorfman's season is here to stay, and surprisingly, most former Bachelor contestants are Nick fans.
Of course, there are a few members of Bachelor Nation who aren't Nick supporters based on the way he called Andi out for sleeping with him and then rejecting him on The Bachelorette last year — behavior that's obviously not very attractive. But, plenty of people are in total support of Nick on this season, even if there's a pretty good chance this whole thing was just orchestrated for ratings.
Andi Dorfman
OK, did anyone actually think she was going to be a fan of this plot twist? No.
Jaclyn Swartz
Valid point. At least he's there because he actually has feelings for Kaitlyn, unlike Clint who was trying to form a lifelong bromance and get extra screen time.
Michelle Money
Michelle's in total support of Nick, mostly because it's obvious that Kaitlyn has feelings for him. Why wouldn't she ask him to stay?
AshLee Frazier
AshLee can see directly through the producers. And, even if Nick's feelings for Kaitlyn are real, there's no doubt that this stunt is drawing all kinds of attention to the show.
Ali Fedotowsky
On Ali's blog, she wrote:
I know many of you are upset that he called Andi out last season for what happened in the fantasy suites and since Andi is a pal of mine, I definitely didn't love that he did that either. But I absolutely don't judge him for it. If he were a woman, we would applaud the decision to call the Bachelor out for sleeping with multiple women. Why should we be upset with Nick about it just because he is a man? I talked to him about it afterwards and he told me he simply acted out of emotion. He was emotional about what happened and it just came out. I'm not going to hold it against him. I actually like the fact that sex MEANT something to him beyond just the physical act of doing it - no pun intended.
We all say things we shouldn't when we're emotional, and I can't imagine that being surrounded by cameras and the all-seeing eye of Chris Harrison helped the situation.
Desiree Hartsock
I mean, fair point.
DeAnna Pappas
Of everyone who's not a fan of Nick, DeAnna is the most vehemently not a fan of Nick. But, I was surprised that some members of the Bachelor Family were pretty pro Nick. Good thing, too. If things get any more complicated this season, he's going to need some people in his corner.
Image: ABC