7 Reasons 'Pitch Perfect 3' Is Going To Be Awesome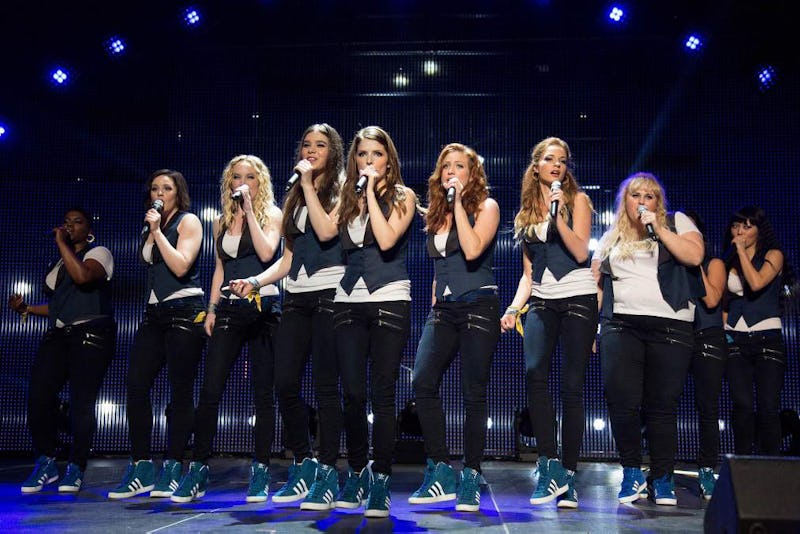 After Sunday night's devastating Game of Thrones season finale, the world needed a little boost, and they got it thanks to the Barden Bellas. It was announced on Monday afternoon that Pitch Perfect 3 is officially happening. Not only can we breathe a sigh of aca-relief knowing that the Barden dream lives on, we also know that Anna Kendrick and Rebel Wilson are going to be a part of it. Without them, the Pitch Perfect trilogy would certainly fall flat — It would be like The Return of the Jedi without Han Solo and Luke Skywalker. Better yet, we also now know when Pitch Perfect 3 will be hitting the big screen, July 21, 2017. It looks like we have another summer blockbuster on the way, y'all.
Rumors of a third Pitch Perfect installment have been buzzing ever since news hit that the sequel was in the works and when it smashed the box office, the buzz got even louder. Just last month Rebel Wilson hinted at it by divulging her dream plot for the film which included a Fat Amy origin story. Her dream for the movie now may actually come true.
Eizabeth Banks has not yet stated whether or not she will return to act or direct, but it seems like a hard deal to pass up. Pitch Perfect 2 introduced us to new characters, love stories, career moves, and mega mash-ups. Here's why the third installment is going to be even better:
1. We Get to See Beca Take Over The Music Industry
We know she made some big steps in Pitch Perfect 2 by impressing the big shots at Residual Heat with her Snoop Dogg Christmas song... but now we get to see her finally living her producing dreams.
2. Rebel Wilson (Might) Get To Be A Central Romantic Lead
Pitch Perfect was all about Beca and Jesse, but then in Pitch Perfect 2, Fat Amy and Bumper finally confess their love for eachother. However, the movie didn't spend too much time on the relationship. It would awesome to see such a comedic badass in the central love story in PP3.
3. It Could Take Us Into The Aca-Universe
Don't get me wrong, I l-o-v-e-d seeing the story of the Barden Bellas. However, I do find something hilariously fascinating about non-collegiate acapella groups. How great would it be to see Beca and Amy singing with women (and maybe even a few fellas) of all ages?
4. It's Going To Have To Get Creative With The Finale
The first movie was a college competition, the second was an international competition, and now with a third, they will either up the ante even more or go with something completely out of left field.
5. It Could Focus Less On The Music & That's a Good Thing
Since our star Bellas are graduates, the movie will show us more about their lives outside of acapella. This time around, we may get a little less music and a little more plot, and that could be a good thing. (Though I'm sure tons of diehard fans would argue with me!)
6. More Guest Stars & Cameos
Since Pitch Perfect 2 has grossed $260 million worldwide, I'd put my money on the third film including some big name guest stars. Anna Kendrick has a lot of friends in Hollywood, I'm just sayin'.
7. We Get Another Music Star In the Making
Pitch Perfect placed Anna Kendrick on the Billboard charts and the sequel helped land Hailee Steinfeld a record deal. Who's up next?
Images: Universal Pictures(3) giphy, becasjesse/ Tumblr, giphy, katherineamri/Tumblr