Where To Drink Outside This Summer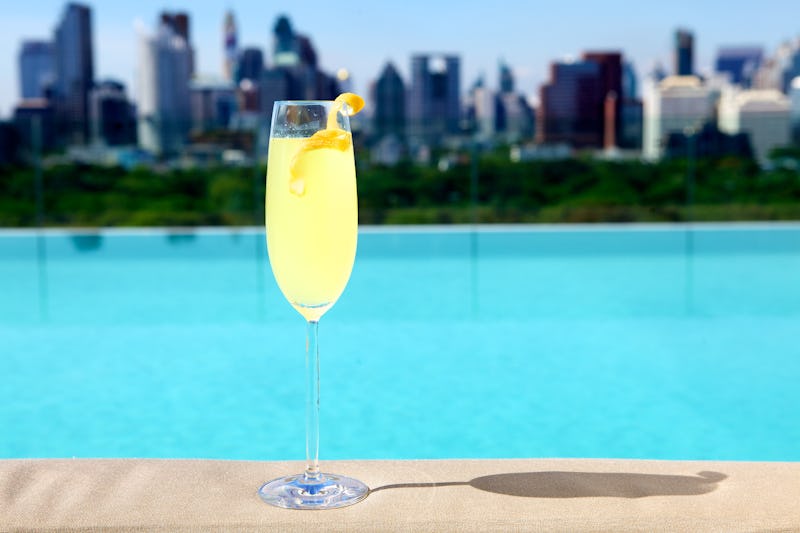 It's summer, which means you'll probably be spending a lot of time at the beach or at backyard BBQs over the next few months. But by mid-July, even the most peaceful of beaches and the most delicious of burgers can start feeling kind of repetitive. Looking for more creative places to drink outdoors? Luckily for you, there are plenty of cool options to enjoy the warm weather while still enjoying a couple of refreshing, summery cocktails.
From free outdoor movie screenings with complementary wine to booze-friendly museums to festivals that feature dozens of food and drink vendors, here are just a few fun places — other than your (or a friend's) backyard — where you and your pals can imbibe and still enjoy the lovely sunshine. And the best part? Many of these offer free admissions, meaning it won't totally throw your summer budget (or that relaxing vacation you've been saving up for) off track.
So what are you waiting for? Pick out your favorite activity (or hey, try 'em all), find an option in your local area, grab some friends, and go. Not only will you get out of your standard summer BBQ rut, but you're pretty much guaranteed to have a good time.
1. Food Festivals
Summer is the prime time for cities around the nation to hold big outdoor food festivals featuring all kinds of vendors — including booze-related ones! Some of them, like the hugely popular Taste of Chicago in Illinois, offer free admission, and attendees can simply pay as they go in order to sample food and drinks from the various restaurants. Others, like the Beer, Bourbon & BBQ Festival (which is taking place in both National Harbor, Maryland and Cary, North Carolina this summer) and Vermont's Cheesemakers Festival require ticket purchase ahead of time. Though prices may range depending on the length of the festival, most basic tickets cover admission, live entertainment, a souvenir, and several food and drink samples.
2. Outdoor Markets
You probably have some sort of outdoor food or a farmer's market in your area, and I bet many of them offer alcohol-related stalls. New York City is a leader when it comes to outdoor food markets, with all kinds of options in basically every borough. The most popular is probably Williamsburg's Smorgasburg, which offers free admission and features a bevy of various food vendors and a small beer garden-like area for people to purchase from. But if you don't live in NYC, there are plenty of other cities that also have outdoor food markets that will allow you to get your drink on. Case in point? Portland's Farmer's Market at Portland State University (and various other locations in the region), and The Ferry Plaza Farmer's Market in San Francisco are just two examples of markets that feature wine merchants — which means free wine tastings!
3. Beer Gardens
Are you a beer lover? You can't go wrong visiting a beer garden, which is perfect for groups and typically offers outdoor picnic tables that allow you to enjoy the sunshine while still imbibing in a little booze-infused fun. The options are endless, from the popular Lowry Beer Garden in Denver, Colorado, to Easy Tiger in Austin, Texas (which is also part bakery). Research the choices in your particular area, grab a group of friends, and go. You're guaranteed to have a good time.
4. Tasting Events
Many tasting events are held outside during the summer, either sponsored by local breweries or wineries, or in the form of seasonal festivals. Some examples? NYC residents will be able to sample beers from dozens of breweries at Lions, Tigers & Brews this summer, held in Central Park. Michigan will play host to the 18th annual Summer Beer Festival, which will feature more than 100 Michigan breweries, and more than 1,000 kinds of beers. Both of those require tickets to enter, but not all do. Portland's Oregon Brewers Festival in July offers free admission, and allows you to buy whatever craft beer appeals to you.
5. Rooftops
You know what will make your mojito taste even better? A killer view. So why not head to a rooftop bar? You'll sit outside and enjoy a cocktail while taking in some truly picturesque views. Some of the most popular options nationwide? Seattle's Frolick Kitchen + Cocktails, Washington, D.C.'s El Centro D.F., Atlanta's Six Feet Under, and Los Angeles' Perch have all been cited as some of America's best rooftop bars. Finding one in your city should also be easy. Just make sure you do your research first — some rooftop bars, particularly those located in luxury hotels, enforce a strict dress code.
6. Outdoor Movies
Nothing says summer like watching a favorite flick outside — especially if you can sip a refreshing alcoholic beverage while doing so. Pack some snacks and a flask, and catch a classic flick for free at Bryant Park or at Pier 1 in New York City. Another option? Head to the Top of the Mark in San Francisco, which offers free movie screenings and complementary wine tastings every Tuesday night.
7. Museums
You'd be surprised how many museums feature outdoor cafes that serve beer or wine. New York's newly opened Whitney Museum of Art has the Untitled Restaurant and Studio Café, the latter of which offers outdoor seating and both of which offer drinks and light fare. Terzo Piano at the Art Institute of Chicago, which is only open at select times, allows you to dine al fresco, and features a full menu of wine and cocktails. Meanwhile, Verde, located in Pérez Art Museum Miami, offers indoor and outdoor seating, and pairs handcrafted specialty cocktails and a select list of food friendly wines with its cuisine.
Images: Sofitel So Bangkok, much0, ,
Do512, gleamdf, 28691409@N05, digiart2001, shinyasuzuki/Flickr