'Orange Marmalade' Has All the Best Makeup Looks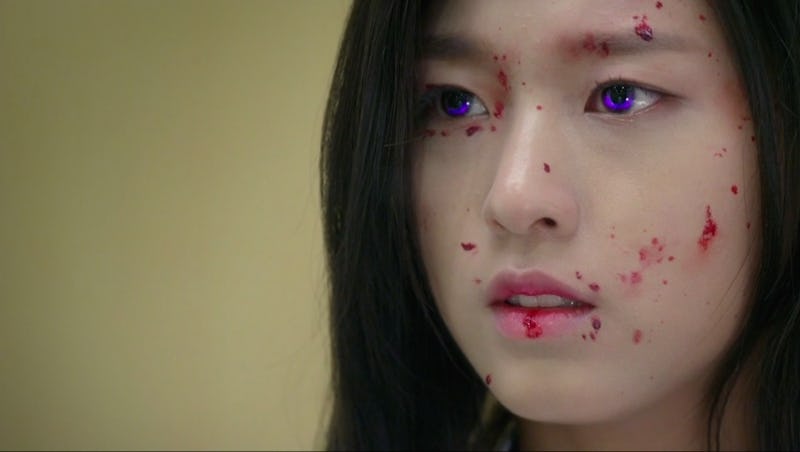 Have you heard of the drama Orange Marmalade yet? Based on a popular web comic, it's one of the new dramas on the block (it premiered in May), and it's quite fab. It may be difficult to tell from the enigmatic title, but Orange Marmalade is actually a vampire drama, set in a high school. In the show universe, vampires exist, and everyone knows they exist — but they're forced to live in hiding, because of all of the vampire-human tension that's been bubbling under the surface for the past 400 years (you know, since the big vampire rebellion). It's actually a little like a gender-reversed Twilight: Protagonist Baek Ma Ri really, really, really wants to drink class president/class heartthrob Jung Jae Min's blood, which creates a number of problems (can you say, "star-crossed lovers?"). At any rate, the drama has some great beauty game — Ma Ri and her love triangle-rival/resident mean girl Jo Ah Ra both have ultra-covetable makeup looks
Most of the time, Ma Ri keeps things simple, with ultra-neutral eyeshadow, barely-there eyeliner, and a subtle gradient lip — it's a great everyday look (not unlike Park Shin Hye's signature look in Pinocchio ). It's simple, fresh-faced, and perfect for just about any situation.
When ever she vamps out, her makeup gets just a touch more intense (oh, and her eyes turn purple):
She also makes an appearance in one of Jae Min's fantasies in the second episode, dressed to the nines, with an amped up makeup look to match (the glossy pink lip is particularly fab):
Now, Ah Ra, on the other hand, goes for a higher-impact look on the daily — she rocks bold brows, some killer liquid liner, and a lovely pinky-coral lip:
Which look do you think you'll be trying out? I'm currently on the lookout for some bright pink liquid lipsticks to steal Ma Ri's look — it's great for summer!
Images: Orange Marmalade/DramaFever