Here's What Jack Antonoff Thinks About T. Swift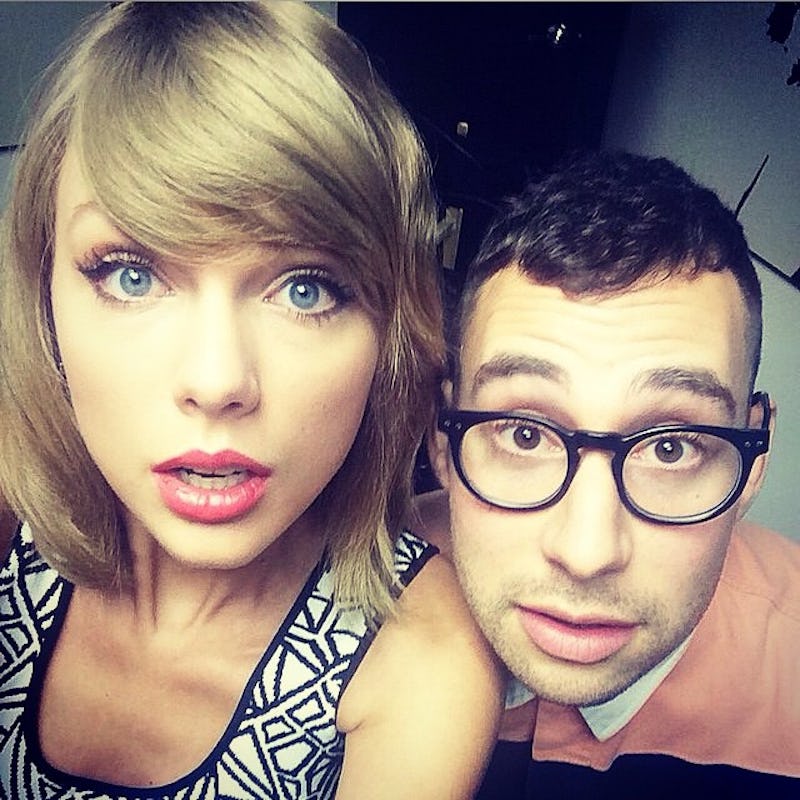 Ask any Taylor Swift fan what their favorite song on 1989 is, and you'll be hard-pressed to find a definitive answer; most responses to the question tend to be of the "I love 'Clean!' No wait, 'Bad Blood!' Oh actually, 'Wildest Dreams' is totally the best" variety — in other words, every song on that album is a winner. And it's thanks in large part to Bleachers' Jack Antonoff, who worked with Taylor Swift on three 1989 tracks, including "Out of the Woods." The collaboration makes sense: both artists are talented songwriters and have a lot in common, including a bond with Lena Dunham — but what was it like when they actually teamed up? According to Antonoff, it was pretty much a dream come true.
"I loved working with her," he says in an interview with Bustle, speaking to promote his new docuseries, Thank You And Sorry . Adds the singer, "it's pretty rare that you work with someone and when it's all done, you're just like, 'well that was perfect,' and that how it was with our experience."
All together now: awww. It's great to hear that Antonoff and Swift got along so well, although it's not much of a surprise; as said before, the two share a lot of similarities, from their music tastes to their friendships to their ownership love of small, adorably-named animals. And in the past, both artists have talked about how much they respect one another's work, with Antonoff telling The Daily Beast that he believes Swift is "doing the most important thing that an artist can do," and Swift expressing her excitement that Antonoff was able to catch one of her recent 1989 live shows. Clearly, the duo are meant to work together — but if for some reason they're not convinced that their 1989 collab is destined to be repeated, here are seven reasons Antonoff and Swift should team up once more:
1. Their Songs Were Some Of The Album's Best
Look, I know I said that no one can really pick a best song off 1989, but the ones the duo collaborated on have gotta be up there. Together, Antonoff and Swift wrote "Out of the Woods" and "I Wish You Would," along with the bonus track "You Are In Love." All three are fantastic songs, and in my mind, at least, some of the album's very best. It'd be a mistake not to replicate this formula next time around.
2. Jack Is A Huge Feminist
Antonoff has made clear many times that he's a huge fan of feminism with his work on songs like Sara Bareilles' "Brave" and his support for activists like Emma Sulkowicz (above) showing how committed he is to supporting women. Swift, of course, is a feminist herself, and combining their two views would likely mean plenty of songs that celebrate women and spread feminist beliefs.
3. It'd Mean More Lena-Taylor Bonding
All of Swift's friendships seem great, but her bond with Lena Dunham is particularly amazing. The singer has spoken about how much she's learned from the Girls creator, and how important their friendship is to her. Considering that Dunham is Antonoff's girlfriend, more collabs between Swift and Antonoff would mean more Dunham in Swift's life — and that's something we can all support.
4. It'd Make Him A Bigger Star
Antonoff's career is going incredibly well right now, thanks to his success with Bleachers and the single "I Wanna Get Better." He's not quite a household name just yet, though, but working again with Swift would certainly help get him more notice.
5. They Need To Make More Romantic Songs
Because we can't all use "You Are In Love" at our weddings, can we?
6. It'd Mean More Cool Behind-The-Scenes Pics
It's always cool to see your favorite artists at work creating what's undoubtedly going to be your favorite albums, and if Antonoff and Swift collaborating again means more cool photos like this, then we're all for it.
4. They Seemed Like They Had A Ton Of Fun Together
Like, best-day-ever level fun, complete with cute photos and plenty of bonding. Why wouldn't they want to make that happen again?
So when Swift starts figuring out what's the deal with her next album, let's hope she decides to give Antonoff a call, as the two make a perfect pair. And if she doesn't? Well, fans will just have to collectively play "I Wish You Would," and hope the singer gets the message loud and clear.
Image: TaylorSwift/Instagram; Getty Images