More Live Eliminations on 'The Voice'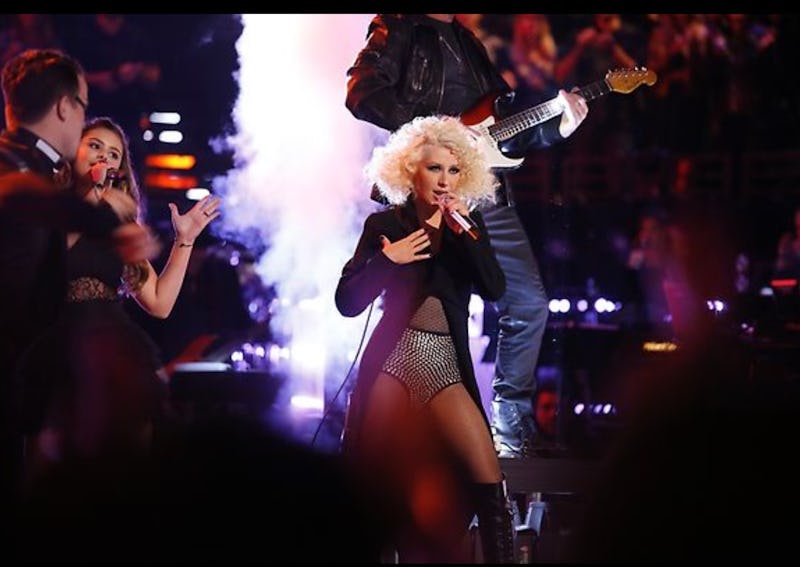 If you didn't watch Tuesday night's episode of The Voice because you figured you'd just read about it later, you've made a grave error. The most important moment of the entire season happened during this particular live results show. If it is results you're looking for, you're just going to have to wait. I have a lot of feelings about the EVENT that went down during the first 10 minutes. I must work out said feelings.
I'll cut to the chase: The life-changing event was the Christina Aguilera, Jacquie Lee, and Matthew Schuler group performance. Typically, I zone out during group performances. But this performance? This was a very, very special performance. The trio tackled a medley of Janet Jackson and Michael Jackson songs. AUGHHHHH! This show, man. This show.
Xtina and Jacquie started the extravaganza with "Black Cat." I all but passed out. About 20 seconds in, my best friend texted me to make sure I was watching it. I was watching it. I was barely conscious, but I was watching it. Xtina and Jacquie did the song RIGHT. A diva and her mini-me just INCINERATING the song. When would Matthew join in? What part did Xtina assign him? Would he be the one to wail "GEEE-TAAHHR" right before the guitar solo?! No. I was way off. I've watched every season of The Voice, but I could not predict what would happen next.
The music changed. The music changed to "Scream." The Jackson siblings' classic duet. The song with the video.
I went numb. Matthew, Jacquie, and Xtina sang "Scream." They're going for it, I thought. They're really going for it. AND DID THEY EVER. There were backup dancers and visual effects and costumes. I barely noticed just how much was going on because I was so dumbfounded. At this point, I had stopped blinking. Why can't all group performances be like this?, I wondered.
Before I could get my bearings, the music transitioned once again. It segued into "Bad." I was a wreck. I didn't know how I was going to move on from this performance. Carson Daly could armpit fart for the next 45 minutes, but I'd be too delirious to realize what was happening. The song ended with all three singers posing and looking like real-ass pop singers. Oh, right. One of the three is a real-ass pop singer. The coaches gave Team Xtina a standing ovation. Carson declared it the best group performance of the series. I was actually crying. EVERYONE DID SO WELL.
As if my heart rate wasn't already a disaster, Carson reached into his jacket and removed a copy of People Magazine. He revealed to Adam Levine/the world that Adam is People Magazine 's Sexiest Man Alive. Adam didn't know how to react to the news. Live television. Every time. The coaches group hugged. I closed my eyes and nodded slowly. Yes, yes, I thought. Dare I say it? The show is perfect.
And then, in this episode's continuing campaign for the "Best Episode Ever" award, Cher made an appearance. The moment was fleeting, but it was A Cher Appearance. During the pre-taped confessional segment, Cher was asked to share her most embarrassing moment. After recounting a time she slipped on a hat while onstage, Cher said,"I have worse [embarrassing moments], but they're not for television." Oh, Cher. I've missed you.
How did the rest of the show play out? More group performances happened, Carson said his phone only had 11 percent battery life, and America saved the following contestants:
1. James Wolpert2. Matthew Schuler3. Ray Boudreaux4. Will Champlin5. Tessanne Chin6. Jacquie Lee7. Cole Vosbury8. INSTANT SAVE
Poor Kat Robichaud, Caroline Pennell, and Austin Jenckes. Instant Save time! Carson fired a starter pistol (ack, no he didn't. But wouldn't that've been WILD?), Twitter went to tweeting, and the computers tallied The Instant Save vote. The eighth saved? Caroline Pennell. Good!
Aw, I'll legitimately miss Austin Jenckes and Kat Robichaud! But that's the nature of The Voice beast. Womp womp.
I think this was my favorite episode ever. I had a blast. Too much fun for a Tuesday! I'm going to sleep like a baby tonight.
Image: Trae Patton/NBC