5 Perfect Songs To Use As Opening Lines On Happn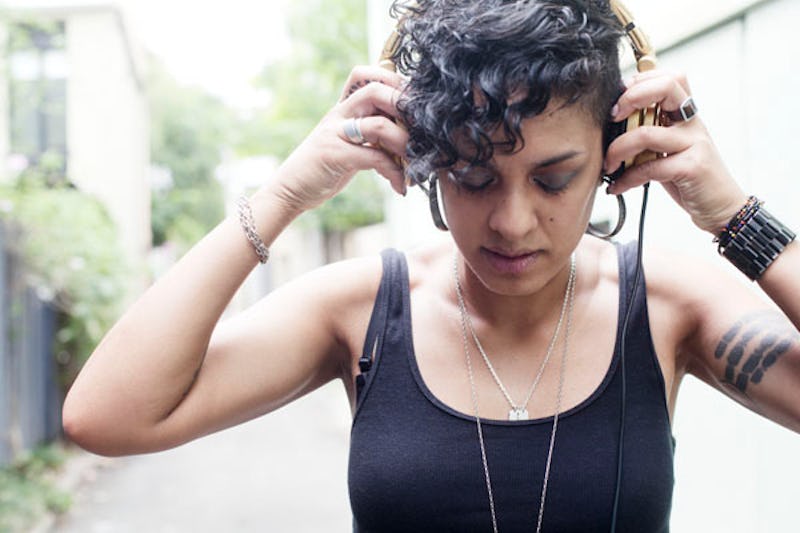 For people who are overwhelmed by the crazy abyss of Tinder, but still don't necessarily want mutual friends with everyone they match with a la Hinge, Happn is a good dating app alternative. And it's just gotten a whole lot more musical, too: Happn has partnered with Spotify, allowing you to add your favorite tunes directly to your profile or even send songs to matches. If you've ever wanted to virutally serenade your potential dates? Good news: Now you can.
Conceptually, Happn works a lot like Tinder in that you have to mutually like each other for a chat box to open. But rather than just being near someone (or, y'know with your radius set to 100 miles or with Tinder Plus' Passport option in action), you have to physically walk by him or her.
So how does this whole send-a-song-to-your-crush thing fit in? As Happn CEO and founder Didier Rappaport explained during a press conference, "Music, since maybe the beginning of the world, has been an extraordinary way of expressing emotion. And meeting people can also be an extraordinary emotion." I can get behind that. It's also nice to know upfront if someone's really into "Dear Future Husband" or something, because that's a pretty solid red flag no matter who it's coming from.
Of course, with great power comes great responsibility, and now that you're able to send songs to potential future ex-lovers (is that an unhealthy way to approach dating? I know my girl T. Swift feels me on this), you need to think long and hard about what an appropriate song to send is. Luckily for you, I consider myself something of a dating-app-musical-concierge (which is going on my resume effective immediately), so I've curated a list of songs that will work in lieu of a traditional opening line.
Just send these babies along and let love happn (not sorry at all for that):
Whether your traditional opening line is "Hey," "What's up?" or "Hello," this song has you covered.
2. "Booty Had Me Like" by Round2Crew
When it comes to telling someone why you liked their photo, honesty is the best policy.
3. "Love at First Sight" by Kylie Minogue
Because that's why you matched, obviously.
4. "A Great Big World" by Christina Aguilera
The worst thing is when you match with someone and he or she doesn't say anything. But how is s/he not going to respond to a threat like, "Say something, I'm giving up on you"? (Just kidding, don't actually do that. If you haven't gotten a response, s/he's just not that into you and it's time to move on).
5. "Call Me Maybe" by Carly Rae Jepsen
Like, how are you not going to send this song?
Image: Audio-TechnicaUK/Flickr