Jim Edmonds' Ex-Wives Are 'RHOC' Allies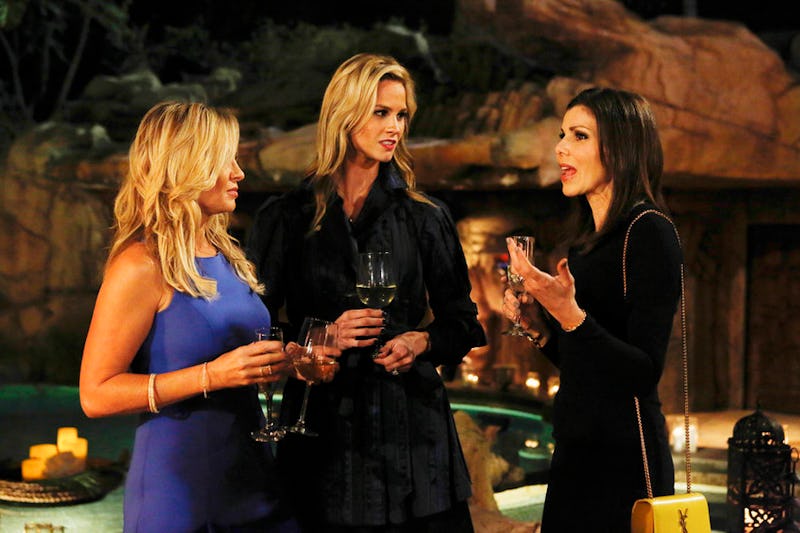 So far on Season 10 of Real Housewives of Orange County, Meghan King Edmonds has become a quick fan favorite. So you probably know that her husband, baseball player Jim Edmonds, was married twice before he met her. And while it's unknown at this point whether they'll appear on RHOC, what do we know about Jim Edmonds' two previous wives? Meghan and Jim have been together for two years, but they just got married in October of 2014, and were only married for a few months when they started filming for Bravo. [UPDATE: On July 22, 2015, Jim Edmonds' daughter Hayley confirmed that her mother, Leann Edmonds Horton, Jim's first wife, passed away after a battle with cancer.]
And surprisingly, both of his ex-wives still have a good relationship with his social circle. In the RHOC season premiere, Heather Dubrow pointed out that she's friends both with Meghan and with Jim's second wife, Allison, proving that there's really no rule book on how a divorce has to be. Plenty of people have figured out ways to remain on good terms with their exes, and that seems to be true for the Edmonds family. So let's get to know the other ladies in Jim's life.
LeAnn Edmonds Horton is Jim's first wife. She lives in Southern California and is the mother of Jim's two eldest daughters, including Hayley, who's currently living in the OC with Jim and Meghan.
Unfortunately, Hayley wanted to move back to California from St. Louis because, according to the St. Louis Post-Dispatch, LeAnn is fighting cancer, prompting Jim and Meghan to drop everything and support Hayley's wish by getting a new house in Orange County. LeAnn is pretty close with Meghan, proving that she's kind and open-hearted enough to pursue a friendship with her ex's new 30-year-old wife.
Allison Jayne Raski is Jim's second wife. She been name-checked multiple times over the past few seasons of RHOC, and she also did the whole Midwest Coast thing with Jim over the course of their six-year marriage. The two were married at the St. Louis County courthouse in 2008, in what MLB.com describes as a very casual ceremony: "Edmonds wore a T-shirt, jeans and tennis shoes. Raski, one observer noted, sported a nice-sized diamond ring." And the reception took place at Jimmy's steakhouse in Clayton, making for perhaps the most low-key celebrity wedding of all time.
A few seasons ago, it was rumored that Allison and Jim were going to be invited to join Real Housewives of Orange County , but at the last minute, it fell through. A now-deleted Facebook photo from 2011 even showed Allison hanging with a group of OC ladies that included none other than Heather Dubrow.
Her two kids currently live with her in St. Louis, so they don't live with Jim and Meghan. However, since the filming of the show, the kids have been all over Meghan's Instagram — I think the Edmonds have a new house or rental in St. Louis that they recently had to move into (again!).
After marrying Jim Edmonds, Meghan has become a part of the whole big Edmonds clan — and that includes all four kids and the two ex-wives. It seems like this family just keeps getting bigger, rather than cutting anyone out, and that's rare and totally sweet.
Images: Vivian Zink/Bravo