'Magic Mike XXL' & 'Pitch Perfect 2' Are The Same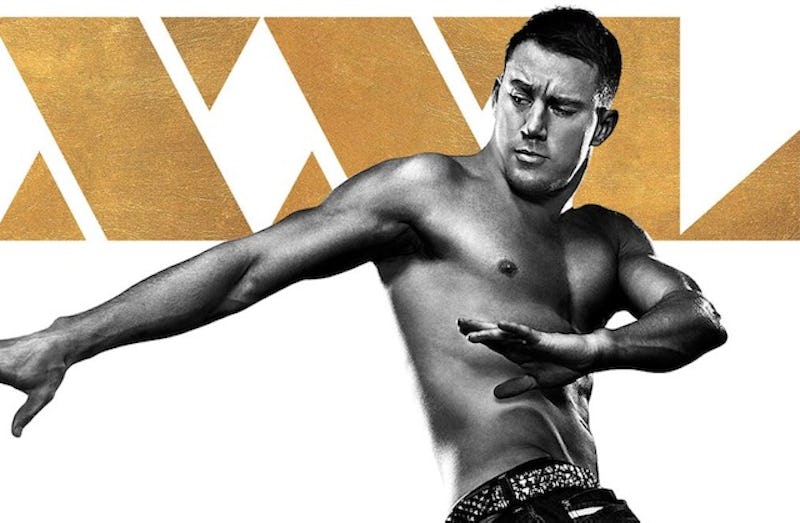 No surprise here: two of the summer's biggest movies just happen to be sequels. In a world where practically every blockbuster there is is guaranteed a second film, it's no shocker that this season has seen the release of both Magic Mike XXL and Pitch Perfect 2. It's not just the fact that the two films are both following up on their huge first movies, though or that anticipation for the sequels' releases very, very high, that makes them so similar — Magic Mike XXL and Pitch Perfect 2 are practically the same movie.
Seriously: despite the differences in plot (there's not exactly much stripping going on in Pitch Perfect or college theatrics in Magic Mike), the two films have way more in common than you'd think. From the material driving their plots to the casting of certain actors, both of the movies feature enough similarities that if you've seen one, you're guaranteed to feel deja vu when you step into the theater for the other. Not that that's such a bad thing — who's gonna complain about getting to feel like you're seeing Anna Kendrick and Channing Tatum team up? (Now that we mention it, someone needs to get on that, stat...)
Eight reasons Magic Mike XXL and Pitch Perfect 2 are basically the same:
1. The Groups Enter The Biggest Competition There Is For Their Genre
In Pitch Perfect 2, the Bellas decide to compete in the Worlds, the highest level of a cappella championships. In Magic Mike XXL, the boys travel to Myrtle Beach, South Carolina, to attend a stripper convention that attracts thousands of fans and hundreds of performers. What happens at each place is a bit different, to say the least, but the general format is the same.
2. They Star Elizabeth Banks
In both movies, the actress appears, albeit only in small roles. In Pitch Perfect 2, she plays Gail Abernathy-McKadden-Feinberger (yes, really), an a cappella commentator, and in Magic Mike XXL, she cameos as Paris, the woman organizing the stripper convention.
3. The Group Leaders Cause A Lot Of Tension
Remember how in Pitch Perfect 2, Beca's music internship caused some drama within the group? They all thought she was ditching them, and she thought they'd be pissed if they found out her other activities. You'll have some deja vu when you see Magic Mike XXL, as Mike's focus on work and responsibility causes him to have some serious tension with the others over what his priorities are and how committed he is to their cause.
4. There's A Lot Of Singing
Well, perhaps more in Pitch Perfect 2 (it is about a cappella, after all), but Magic Mike XXL does feature a good amount of singing. Stars Matt Bomer and Donald Glover both have memorable solos, and buying this soundtrack will be a no-brainer.
5. The Groups Have To Start From Scratch, With Little Support
Due to a scandalous incident involving Fat Amy, Pitch Perfect 2's Bellas have to compete at Worlds without any support from their school, or even their country. They're forced to rehearse wherever, whenever; compose songs with no guidance; and win the Worlds just to be recognized as an official group. As for the Magic Mike XXL men, the loss of MC Dallas means that they're totally on their own, in need of new routines, new costumes, and a new MC.
6. There Are Cameos On Cameos
A few names that appeared in Pitch Perfect 2: Snoop Dogg. David Cross. Blake Shelton. The Obamas. Magic Mike XXL, meanwhile, has cameos ranging from Michael Strahan to Brandon Cyrus.
7. They Revisit Old Classics
In Pitch Perfect 2, the ladies, frustrated with one another, sing a round of "Cups," the hit song from the first movie, in order to get their harmony back. Similarly, it takes Mike of Magic Mike XXL hearing Ginuwine's "Pony," a song featured in the original, on the radio before he decides to get back in the stripping game.
8. The Finales Are Huge
Pitch Perfect 2ended with a massive, star-studded (Robin Roberts!) finale that featured the entire cast, plus thousands of extras and plenty of spectacle. The same goes for Magic Mike XXL, which, it's no spoiler to say, has a jam-packed finale with more people and excitement than anything we'd seen so far in the film.
Seriously, these two films are identical. You know, besides the a cappella and stripping, but hey, that's minor.
Images: Warner Bros.; Giphy; Getty Images (2); Universal Pictures (2)