19 Clay Honeycutt GIFs Because, Yum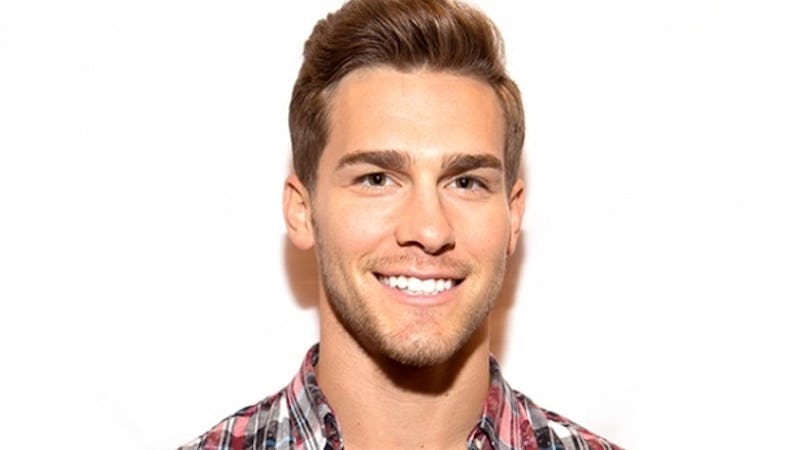 If you don't watch Big Brother, I have two words as to why you must start watching: Clay Honeycutt. You might be thinking "Why on earth would I start watching a show 17 seasons in?" Or perhaps, "I don't know anything about Big Brother, why should I spend my time watching yet another reality show?" My answer to both of those questions is simple: Clay Honeycutt. Clay Honeycutt is, quite simply, a dream come true and I have 19 Clay Honeycutt GIFs that will surely make you swoon.
For those of you who care about more than just a really, really, ridiculously good-looking face, I suppose I can fill you in on the man behind that perfect visage. Clay Honeycutt is a 23-year-old model (shocking, right?) from Dickinson, Texas. Honeycutt recently graduated from Texas A&M where he played football (shocker #2).
Though he might sound like your stereotypical pretty-boy jock, Clay might surprise you. And even if he isn't as deep as the rivets between his chiseled abs, at least he makes up for it by being the most delicious eye-candy I've consumed in years.
In case you're not on the Honeycutt bandwagon yet, just ogle these 19 Clay Honeycutt GIFs and revel in his beauty. You might be surprised at how quickly you'll find yourself on #TeamClay.
Single & Ready to Mingle
Let the games begin.
Two Thumbs Up For Steve
What a team player.
Evening, Ladies
If you've never experienced a true Southern gentleman then, let me tell you, you are missing out. And when the Southern gentleman looks like that? Game over, y'all.
A Shirtless Clay Is the Best Clay
More of this, please.
MRW I'm Staring at Clay Honeycutt and Someone Tries to Talk to Me
You just can't look away.
Channeling His Inner (and Outer) A&F Model
To quote basic bitches everywhere, "YAAAAAASSSSS."
Sup, Girl
You know you love me in dis snapback. #hollaatchaboi
Soulful & Brooding
Let me soothe all your worries, Clay.
Howdy, Indeed
This would be exactly how the scenario would go down if I were to run into Clay Honeycutt IRL.
#Down4Cuddles
I'm sure he will have many a volunteer for cuddles in the house.
Cougars Welcome
What about 23-year-olds? You can find my Twitter at the top of this page, Clay. DM me.
A Slow-Mo Clay Is Also the Best Clay
I mean, look at those agile hips.
He's Got Moves
Clearly Clay's not afraid to have a little fun.
In Which Clay Licks His Lips
... and everyone watching promptly dies of happiness.
In Which Clay Licks His Lips, Part II
Seriously, did he just eat some ribs or something 'cause he is really going to town in his lips there.
In Which Clay Licks His Lips, Part III
Because, APPARENTLY, he's trying to give me a heart attack.
Sweet, Holy Abs
I am about to expose my true basic bitch-ness but oh my goodness, I literally can't even with this GIF. CANNOT even.
So Much Glee
This is exactly how I feel when I look at Clay.
Pearly Whites On Fleek
Johnny Mac might be the resident dentist of the crew, but I think Clay wins for the best smile. And abs. And pecs. And face.
Images: CBS; clay-honeycutt (8), honeycuttclay (4)/Tumblr; Giphy (7)