Do Hair Charms Hold Up IRL?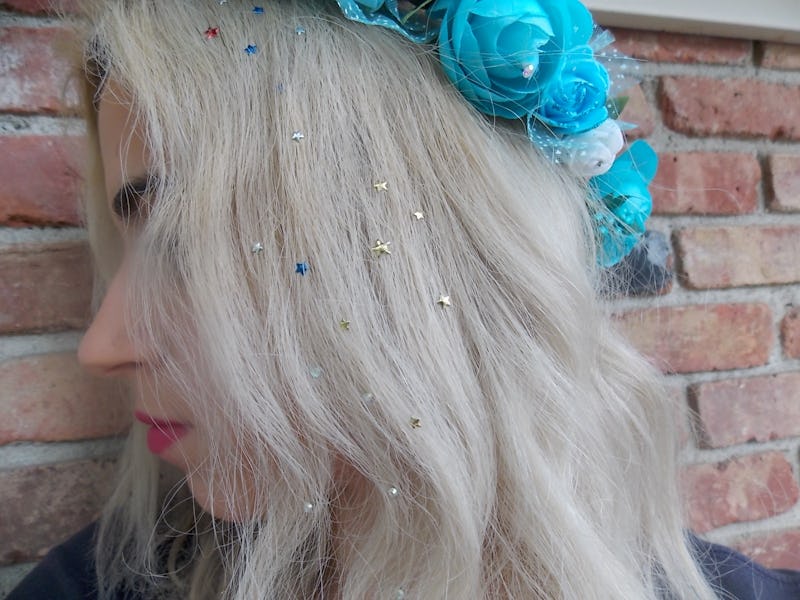 Crazy fads definitely come and go, but there's always seems to be at least one yearly beauty trend that rolls around, taking the Internet by storm. This year, instead of tattoo eyeliner stickers and glow in the dark nailpolish, we have hair charms, which claim to dress up boring and lifeless strands with tiny rhinestone jewels. The easy iron-on concept may remind you of those iron patches you used to decorate your jeans with, but celebrities like Bella Thorne and Lily James surely seem to love them even in 2015.
The biggest brand of hair charms, Charmsies, was created by celebrity hair stylist Kiara Bailey. They allow consumers to beat strand boredom by using either a curling or straightening iron to seal trendy rhinestones onto sections of hair. And with many different types of charms available (there's even one for Angry Birds fans) you can definitely create some one-of-a-kind looks for just under $10.
When it usually comes to fast trends like these, I easily become somewhat of skeptic. I generally love the way the trend looks on Instagram-famous style bloggers, but am not entirely sure it will work out well in real life. Turning off my apprehensions and doubts, here's what happened when I gave into trend temptation, and put these hair charms to the test.
The Packaging
Receiving the uber cool Red Silver and Blue Stars, Iridescent Rhinestones Hair Charms, and Gold Star Hair Charms prints in the mail, I was definitely ready to transform my usual blah waves into something that came out of A Midsummer Night's Dream. Fingers crossed it would actually work.
The Prep
Unlike those printed lip tattoos, using Charmsies actually wasn't some tortuous and time-wasting process. To use, all you have to do is peel off the back of each sticker sheet, and place onto a section of your hair. Then, using your straightening iron, simply glide over your sticker for a good couple of seconds.
I'm sure you may think I'm insane to use scorching heat on plastic, but the heat from your straightening iron only transfers the charms onto your hair. Trust me, I almost had panic attack the first time I tried it out, but once I removed the plastic, it was nothing but charms that were stuck to my strands.
The Results
Mixing and matching all three of my jewel prints, it took me less than an hour to dress up my usual beachy 'do. And since my hair was wavy, it was neat to see how the charms blended in, like I was some sort of patriotic fairy.
Wearing it out IRL was probably my favorite part, as I was stopped almost everywhere I went, asking what on earth I did to my hair to get such a fun result. Some ladies thought it was a sparkly hairspray, while others asked if I literally glued small rhinestones into my hair. My hair charms even seemed to have a magical effect on children, as I overheard little girl on the grocery line tell her mom that my hair was glowing. Guess I know how Edward Cullen feels, but hey! At least my self esteem boosted up a couple 1000 points.
Conclusions
If you're looking to amp up your selfie game, this trend is definitely worth trying. For a reasonable price (you get two full sheets of charms per package) and not a lot of prep time, you can get a festival-worthy style (and tons of compliments) in minutes. However, keep in mind that these charms are meant to last a few days, making removal one dread-worthy task if you just want the effect for one special occasion. But if you have the motivation and time for trying something different out, this charming style is worth investigating.
Images: Courtney Leiva (6)