Men Have No Idea WTF A Menstrual Cup Could Be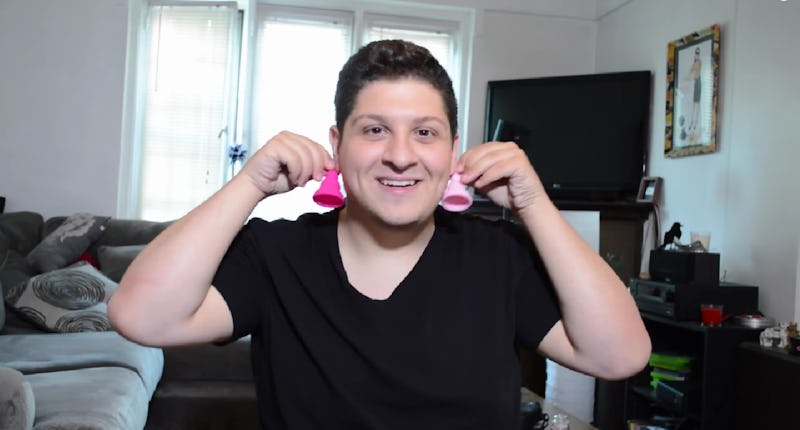 A group of comedians called LOLPervs just posted their 17th "sexperiment" on YouTube, in which host Davison asks men what a menstrual cup is. Davison, who goes by just one name a la Madonna, gives a pink Intimina Lily Cup Compact (in case anyone's wondering) to a crew of dudes (who are also comics), and the results are pretty funny. LOLPervs is a interview and variety show hosted by Davison, which includes a healthy dose of sexperiments in the mix. Past sexperiments have included "Fat Girl on Tinder" (in which Davison Photoshops herself to look chubbier for Tinder photos) and "Men Seeking Women on Craigslist" (in which Davison posed as a guy on Craigslist and put a call out for NSA action).
In her latest video, Davison hands out the menstrual cup and instructs men to "just pick it up and play with it, and tell me what you think it is." The clueless bros handle the little piece of conic plastic with bafflement, and a very silly video ensues. None of them are able to correctly identify the cup, but they come up with some rather inventive possibilities — I mean, yeah, these things really could be some "weird-looking earrings." Totally, guys.
Some of my favorite guesses:
"Looks like something to clean out your ears or something? Or, like, kind of like a weird turkey baster?"
"Is it, like, you put it inside the vagina, and then the woman can pee like a man?"
"Maybe it's a very weird type of condom ... well, actually, there's a hole in it. OK, scrap that."
"Oh! Is it for, like, nipples?"
Here's the video: