Does Club Domina In 'Magic Mike XXL' Exist?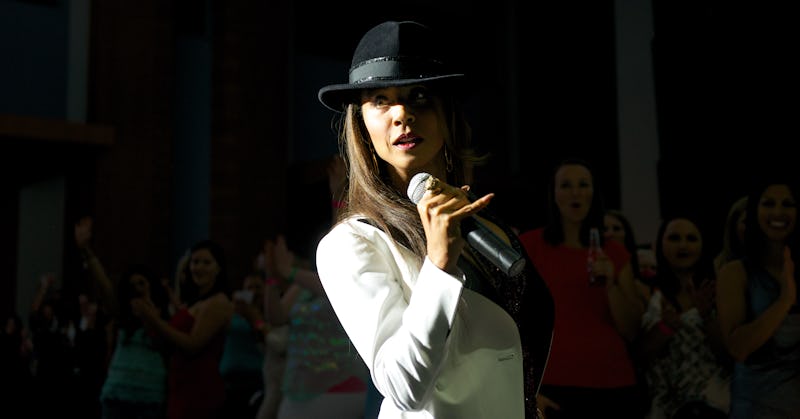 This week, millions of gals and guys will be lining up to see the continuing adventures of Channing Tatum and his band of merry male entertainers in the thong-tastic Magic Mike XXL , the follow-up to its 2012's Magic Mike. Like the original, the movie ignores car explosions and sweaty fight scenes typically seen in blockbusters and instead focused on body rolls, abs, pecs, one bare butt shot courtesy of Joe Manganiello, and for a large portion of the movie, a Savannah, GA strip club featuring all male dancers, run by a woman, Rome. The club, Domina, is nothing less than a haven for women wanting to ogle men and be "worshipped" by dancers, and at times, it feels so unique you wonder if it's taken right out of reality. Is Rome's strip club in Magic Mike XXL real?
Unless Channing Tatum is hiding some big secrets, it appears that Domina is, unfortunately, a total work of fiction. Although there are some male strip clubs in Savannah (Yelp reveals that a place called Savannah Smiles Dueling Pianos is a popular joint), there's no information that Magic Mike XXL was based on them or that they had anything to do with the movie's production, at all.
Yet while Domina may be fictional, its presence in the film has some major real-life importance; amidst all of that bumping, grinding, and phallic water bottle play, Magic Mike XXL addresses some interesting issues when it comes to female empowerment and racial diversity, especially in scenes involving Domina.
Some background: in the sequel, Mike and the guys head to Myrtle Beach for a stripping convention. It's one last hurrah before they all go their separate ways and become adults with jobs that don't require them to take their clothes off every night. About halfway through the movie, Mike solicits the help of an old friend/flame Rome (Jada Pinkett Smith), an owner of an exclusive all-black male strip club in Savannah, Georgia. Mike and the gang walk through the club and see a different kind of "male entertaining" — and the audience is right there with them. The type of stripping done at Domina is introduced, of all people, by Michael Strahan's Augustus. He dances atop of a female patron as a crowd of ladies cheer him on, throwing at him an infinite amount of dollar bills. Later, we're introduced to other dancers, Malik (Stephen "tWitch" Boss) and Andre (Donald Glover), who show us two very different kinds of seduction.
At Domina, all the dancers are male, all the patrons are women, the owner is a woman, and seemingly all of the attendees are black. Rome's palatial mansion of male entertainment is a not only a turning point in the movie, but an interesting commentary on the state of diversity in Hollywood. The role of Rome was originally written for a man, according to The Baltimore Sun. The character was supposed to be a replacement for the smooth-talking Dallas (Matthew McConaughey), the MC in the first installment; Tatum originally wanted Jaime Foxx for the role, but when it didn't work out, he approached Pinkett Smith. After a lot of convincing, she took the role and they made the changes to make it fit a female — and that's a big deal, considering the part's substantial size and what it represents.
And with Rome in charge, one of the (likely) biggest blockbusters of the summer involves a black woman running an exclusive strip club that caters to a predominantly black female audience, all of whom the host calls "queens." It introduces something totally different to audiences than they've ever seen, and it touches strongly on both Hollywood's need for racial and gender diversity. It also makes it very clear what the movie's true intentions are: to put the focus on women, and appreciate them wholeheartedly. While at the club, Mike and the boys gain knowledge from Malik and Andre about how to ask women what they want and make stripping more of a selfless act — as it should be. It becomes less of an act of appropriation and more of learning, where instead of Mike stealing moves from the men to use for his own benefit or simply ignoring their lessons, he works alongside them in the grand finale to a crowd of screaming women.
The exclusive club Domina may be only a small part of Magic Mike XXL, but it makes some huge leaps in terms of feminism and diversity in film. It's sending a message that says, "women can, and should, be a focus," and with box office predictions that have the sequel bringing in nearly $50 million over the next few days, it's clear: audiences are listening.
Image: Claudette Barius/Warner Bros. (3)