Male Strippers To The World: Channing Is Legit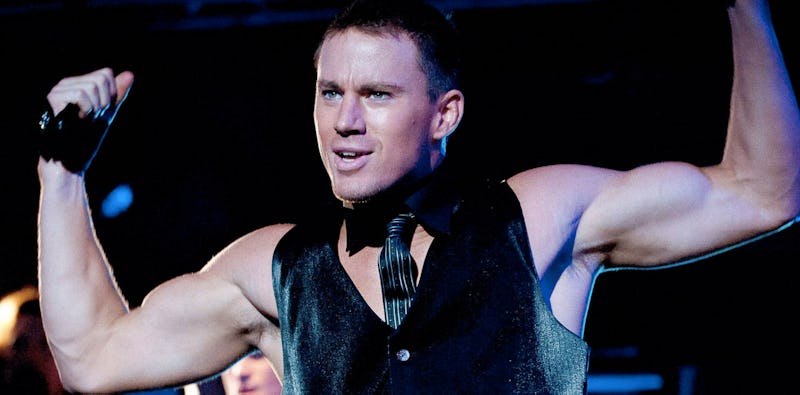 July is finally here, but this moment is monumental for more than just being smack dab in the middle of summer: This month also marks Magic Mike XXL being unleashed unto the lucky public. Channing Tatum, national treasure that he is, stars in XXL along with some very hunky costars like Matt Bomer and wildcard Donald Glover. And though you may be mesmerized by the boys of the Kings of Tampa moving in ways that seem impossible for the human body, The Daily Share wanted to know just how authentic the Magic Mike moves are — if they were, indeed, magical. So they sourced the experts and asked a handful of male strippers to critique the dancing in the Magic Mike XXL trailer. The general consensus: Tatum is pretty on point with his moves.
Five different strippers were surveyed to watch the trailer and give Channing a score: Tracy and Awesome Antonio from Savage Men Antonio (my personal favorite) and Brandon, Armand and GQ from HunkOMania NYC. Armand is a manager, wearing a nice suit and tie-pocket square combo. (I wonder if that is a rip-off suit?)
The dudes watched the trailer and then gave their feedback on Tatum's moves and his bod. Brandon said that he would give him an eight or nine out of ten, which is nearly perfect, and Tatum is nearly perfect, so that makes sense. Antonio, who generally wasn't fazed by the Mike Hype, still conceded that "Channing Tatum has some awesome moves," though he added, "He probably learned some of that from me." As far as defining the style of the dancing in XXL, Armand classifies it as nineties-style hip-hop and break-dancing, which he says was very popular. He looks like a man I can trust:
And Armand even went so far as to say that he would hire Tatum, BUT he would tell him to bulk up a little. "I would say listen, you gotta hit the gym," because apparently Channing Tatum is too skinny to be a stripper right now. Don't listen to them, Chan Man, you are perfect as you are.
So is Magic Mike XXL realistic? Tracy confirms: this is how it really is, and the true hero of the video, Awesome Antonio, did well to let us know during the trailer that he's lived all these glamorous hedonistic moments. MAGIC MIKE: it's not just a movie, it's a lifestyle. Thank you for doing this important research, Daily Share — now you know when you go to the theaters to see Magic Mike XXL, you're getting the real deal.
Images: Warner Bros. Pictures; The Daily Share/ Youtube