5 Fourth Of July Party Games For Adults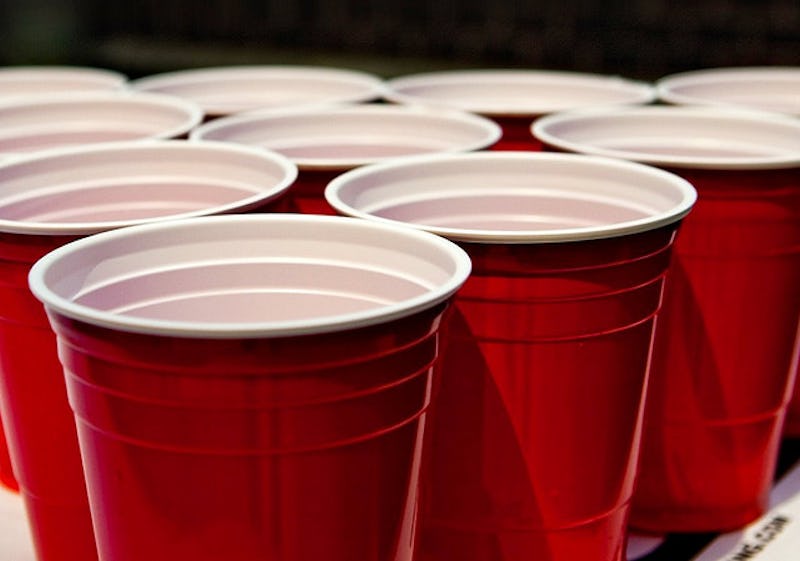 Independence Day was always the best time when we were kids, but now that you're all grown up, it's also the perfect excuse to try a few Fourth of July party games for adults... and not just because of the tasty barbecue, ice cold beers, and pyrotechnics (although, while we're on the topic, that combination of things is a little too perfect for America's birthday). Beer, meat, and fire are all great in their own right (#MERICA), but how do you keep the party going after fireworks have long fizzled out? ADULT GAMES, THAT'S HOW.
Parties as an adult tend to fall into two categories. The first being "Let's pretend that we're classy with some cocktails and tapas," and the second being "Let's get drunk on cheap grain alcohol like we did in college, except now we have responsibilities and get hangovers so this really sucks."
But, now, there's a middle ground between the two extremes; these games solve the age-old dilemma of "We're grown ass adults, but we still really want to play drinking games." So, break out the giant Jenga blocks and football flags, because these adult games will have your friends talking about your Fourth of July party for months to come.
Here are some super fun Independence Day games that your ~*adult*~ friends will love.
1. Lawn Pong
This isn't college anymore, kids. Beer pong knows no age limits (seriously, ask my mom — she still beats my friends), but now that you have your own lawn (or roof deck), you can up the pong ante with GIANT lawn pong. Buy it here, or make it yourself with a little Pinterest digging and elbow grease.
And while we're on the giant game train...
2. Giant Jenga
Basically, you take the classic game from your childhood, and make it adult-sized. What could go wrong? Home Depot shows you how to make it here. Bonus: If it rains, the fun doesn't have to stop — just bring the game inside!
3. Cornhole
Is there any lawn game more fratty and American than cornhole? Probs not. Add this classic to your party. Nobody will be mad.
4. Flag/Touch Football
I lied. Football is probably more "American" than cornhole. To quote my favorite movie, Wedding Crashers, "CRABCAKES AND FOOTBALL, THAT'S WHAT MARYLAND DOES!" Just remember to touch, not tackle. Seriously, don't be that girl.
5. Cards Against Humanity
Oh, Cards Against Humanity, the game where you see your friends for the soulless and gloriously evil people they really are. Make it a drinking game, and take a big sip (or shot) for every three black cards people "win." You can even make a custom deck— the possibilities are endless, but it'd be great to make a card saying something along the lines of "That time Karen went to Cabo, she woke the next morning doing ____." #FourthofJulyBonding
Images: G M/ Flickr; Giphy; Make a Gif