When Does Daya Get Out On 'OITNB'?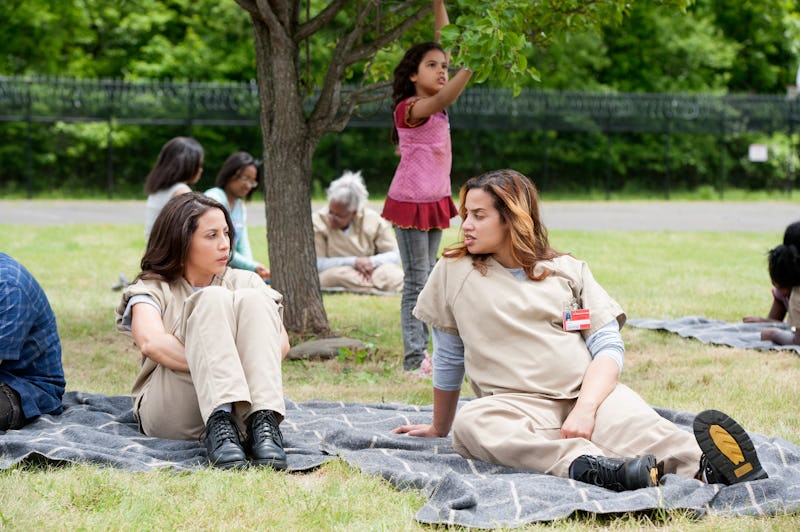 The most recent season of Orange is the New Black ended with Daya's newborn baby in a precarious situation. After the infant's guardians were arrested, she was presumably put into the foster care system. When does Daya get out of prison on Orange is the New Black ? She has a lot of personal problems that could be better solved by being out in the free world. She's young, and her relationship needs closure. Though with Bennett out of the picture, first and foremost, that baby is in need of some parenting.
In the season three episode "Empathy is a Boner Killer," Daya remarks that she doesn't get out for another three years. So she's not going anywhere. She's likely to be on Orange is the New Black for the long haul. Unless the series is planning a major flash-forward, that sentence could cover a lot of show time.
Remember, Piper's sentence is only 15 months. The first three seasons covered from fall, to Christmas, to Valentine's Day, and recently just past Mother's Day. That's approximately half her sentence. Daya was admitted on the same day as Piper, to put that into context.
There is one shining silver lining here. Though we haven't seen the exact reason Daya was arrested, it's assumed that she's in Litchfield for both drug and Cesar-related charges. Now that Cesar has been arrested as well, there's a chance that Daya could testify against him and either reduce her sentence or get out scot-free. Personally, I would love it if that happened. Daya is as much of a protagonist as Piper at this point. It would be fantastic to have a season with one of the inmates on the outside.
What's so great about this (for the audience more than the characters) is that because Aleida is in prison and Cesar's girlfriend may be joining them soon, Daya doesn't need to be at Litchfield to tell her story on Orange is the New Black. She's well-connected to this world whether she's incarcerated or not. It's a win/win for sure.
Daya's clearly not a threat to society, so I hope she is able to get out of prison before her remaining two or so years are over. If not, let's at least hope that she hooks up with Suzanne and illustrates the Time Hump Chronicles. At the end of the day, I just want what's best for all of these characters.
Image: JoJo Whilden/Netflix