How to Get IU's Makeup Look from 'Producers'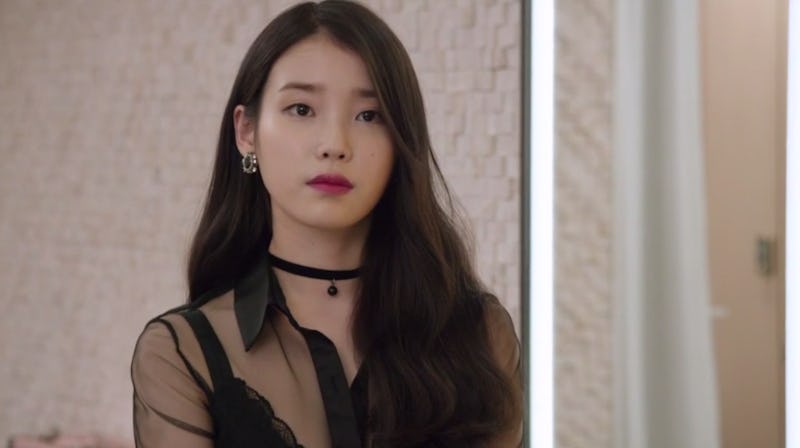 Have you watched the Korean drama Producers yet? If you haven't, you totally should. After all, it shares quite a lot of DNA with smash-hit My Love From Another Star: Both come from writer Park Ji Eun, and both happen to star Kim Soo Hyun (who was quite happily reunited with his Dream High cast mate, IU). Plus, the premise is nothing short of adorable — Producers centers on the fast-paced, behind-the-scenes world of variety show production (think The Newsroom meets 30 Rock meets the mad-cap romantic comedy of your choosing).
Fans of K-drama style and K-drama makeup will also get a kick out of the series — the fashion and beauty are pretty singularly on point, especially where IU's character Cindy is concerned. For Cindy, it's all about brightly colored mini skirts paired with equally colorful blouses (with the occasional "racy" sheer ensemble thrown in) — and true to her status as an ultra-popular pop star, she has some of the best makeup in town.
Her look is all about playing up her enviably flawless complexion and her doe eyes — oh, and a Cupid-worthy pout, of course. Her penchant for high-impact lip colors gives the look some pizazz, but aside from that, it's a quite wearable, simple look for summer — so let's give it a try!
The Complexion
To start off with, IU has kind of the most angelic complexion, ever. I mean, all of the K-Drama stars do, but IU's got the dewy perfection thing going on to an almost insane level.
I'm not so genetically blessed, but to fake the look, I started off with my favorite foundation of the moment (IOPE Air Cushion BB in C21), then went around and did acne scar/redness/dark circle damage control with some brightening concealer (By Terry Denisliss Concealer). Finally, to get some of that extra, disco ball-worthy glowiness, I topped it all off with some illuminating pressed powder (Paul & Joe Pressed Powder), focusing on my upper cheekbones for some extra oomph.
The Brows
Have you heard of the straight-across brows trend in Korea right now? Well, IU is working the youthful brow look in spades. I recreated the shape the best I was able to using a brow powder for a slightly more diffused look.
The Blush
IU's use of blush as Queen Cindy is fairly minimal — but if you want to amp up your cherub factor a tad, add a tiny bit of sheer doll-pink blush to the apples of your cheeks (I used Benefit Blush in Dandelion — I got it as part of a holiday palette, and now I'm kind of obsessed).
The Eyeshadow
As with her blush, IU also tends to go for a very pared-down eyeshadow look. I just lightly swept some pale brown shadow (MAC Eyeshadow in Soba) across my eyelid, extending just a smidge beyond my outer corner to subtly elongate my eyes. Then, for just a touch more dimension, I added a tiny bit of shimmery gray shadow (Urban Decay Eyeshadow in Gunmetal), both to my upper lashline and lower outer corner.
I also applied some shimmery white shadow to my under eye area to highlight my aegyo sal — roughly translated, it means "eye smile," and it's the Korean term for that puffy bit of eye fat most of us sport under our eyes. The basic idea is that aegyo sal are part of the key to that youthful look — so you can highlight and contour accordingly to help play them up, just like IU does.
The Eyeliner
IU's eyeliner is always kind of a masterpiece — it's razor-thin, crisp, and perfectly winged. A really good liquid liner is probably the best for the job, but I didn't have any on hand, so I gave it my best go with some gel liner (Bobbi Brown Long-Wear Gel Liner in Caviar Ink) and a nifty angled brush.
The key here (besides perfection, duh), is the direction of the wing — true to South Korean trends, her eyeliner is winged slightly downwards. It's a fun look to try, since it's less in-your-face than the traditional cat eye — plus it gives your eyes an almost doll-like look. Now, I always struggle a bit with downward-facing eyeliner (I mean, as if regular liner weren't already hard enough!), so I started by outlining the end of the wing very faintly with my eyes still open, to act as a sort of guide/ help things stay symmetrical — then I just swept on the rest of the line, and connected it all together.
The Finishing Touches
IU sports a few different shades throughout the drama, but you'll most often catch her in various shades of shocking pink. For the occasion, I used a summery glossy stain (Rimmel Show Off Lip Lacquer in Apocaliptic), then topped with sheer gloss for even more shine.
Oh, and don't forget to add mascara, like I almost did!
Images: Producers/DramaFever; hyoyu/Tumblr (2); Rosie Narasaki (6)