Bright Lips To Copy From Your Favorite K-Dramas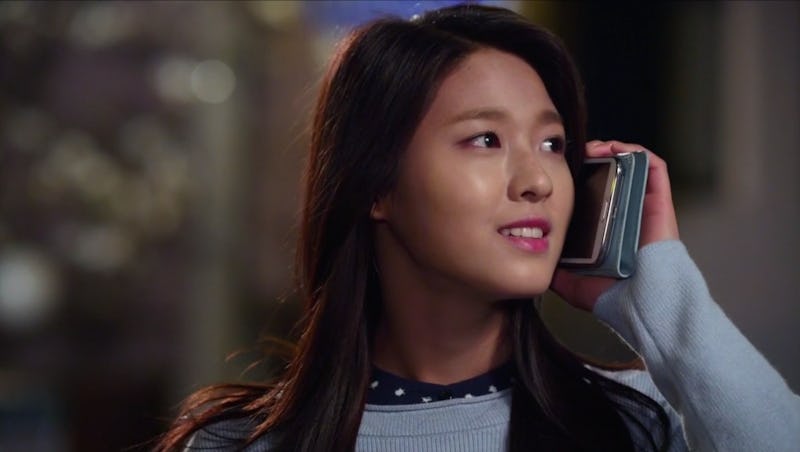 Up until fairly recently, I've always played it pretty safe with regards to lipstick shades — a look through my embarrassingly extensive collection would definitely yield a lot of muted berries, mauves, and natural pinks. It was actually a Korean drama ( My Love From Another Star , to be exact) that got me to shake things up: I got somewhat (OK, a lot) obsessed with Jun Ji Hyun's bright lip colors. I spent weeks tracking down the perfect shade, and long story short, it was all downhill from there. Now, my collection houses bright pinks, oranges, and even (gasp!) a few violet purples.
That's all to say, the leading ladies of all of your favorite K-dramas really have their lipstick games on lock. Whether it's a peach-y liptint a la Park Shin Hye in Pinocchio , or a shocking pink gloss like your favorite teenage vampire, there's a little something for everyone. Plus, all are modern, youthful, and the perfect addition to your summer beauty routine. I rounded up some of my favorite shades from my favorite dramas, and tried my best to recreate them using mostly drugstore products (so you can get the look for less, of course).
1. Song Yi's Neon Lip
This is the shocking pink/coral that had lipsticks flying off the shelves while My Love from Another Star was on the air — and for good reason, right? It's playful and flattering — and hey, neon's totally in right now.
For this look, I applied Maybelline Vivids in Vivid Rose to the center of my lips, then sheered it out a little with some lip balm for a softer look. It doesn't quite have as much orange or neon lean as Song Yi's shade, but it's a touch more wearable (neon coral is pretty hard to pull off for most of us, and it did not mesh well with my skin tone).
Maybelline Vivids In Vivid Rose, $6, Amazon
2. Song Yi's Classic Red
Pretty much straight-up iconic, right?
Everyone has their own HG red, and mine happens to be Charlotte Tilbury K.I.S.S.I.N.G. Lipstick in Love Bite. Pricey? Yes. Worth it? Also yes.
Charlotte Tilbury K.I.S.S.I.N.G. Lipstick In Love Bite, $34, Nordstrom
3. Se Mi's Orange Lip
Song Yi's love triangle rival/childhood friend Se Mi may play second fiddle for a good chunk of the drama, but she can totally bring the bright lips. Throughout the show's 21 episodes, she wears just about every color imaginable, but this searing orange was one of my favorites.
Turns out, bright orange is another tricky color to wear — luckily, if you copy Se Mi's gradient method, it helps soften the color. For this look, I applied Revlon's Matte Balm in Mischievous to the center of my lips, blended outwards carefully with my fingers, then topped it all off with a little Tony Moly Fruit Princess Gloss in Pomegranate Princess.
Revlon Colorburst Matte Balm In Mischievous, $6, Amazon
4. Se Mi's Shocking Pink Lip
Nothing like an eye-searing pink sometimes, right?
If you're a fan of the ultra-ultra-bright look, Too Faced has got you covered: I'm a huge fan of Too Faced Melted Lipstick in Melted Candy, and I'm kind of on a mission to own it in every single shade.
Too Faced Melted Lipstick In Melted Candy, $21, Sephora
5. Ma Ri's Gradient Berry Lip
Ma Ri of Orange Marmalade also seems to be a fan of the popular gradient lips — usually, the lip technique is described as that "just ate a popsicle" look, but on a vampire like Ma Ri, it's definitely more of a "just drank some blood" look. Maccabre or not, it's pretty darn stylish.
This time, I applied Revlon Balm Stain in Smitten to the center of my lips, then applied Clinique Long Last Lipstick in Twilight Nude to the outer edges, then blended carefully (if you really want to go all out, swap out the nude lipstick for a concealer).
Revlon Balm Stain In Smitten, $7, Amazon; Clinique Long Last Lipstick In Twilight Nude, $17, Macy's
6. Ma Ri's Glossy Pink Lip
This high-impact glossy lip immediately had me digging through my lipstick arsenal, looking for a dupe — and luckily, I found one:
As it would turn out, Rimmel Show Off Lip Lacquer in Apocaliptic is absolutely perfect for the job (plus, it kind of has the best name ever).
Rimmel Show Off Lip Lacquer In Apocaliptic, $6, Walgreens
7. Eun Sang's Subtle Brights
Eun Sang of Heirs (AKA one of Park Shin Hye's many dramas) is known for her natural beauty look — everything's toned down and neutral, but her purple-y berry lip has a touch of subtle brightness to it.
For this look, I reached for Maybelline Rebel Bloom in Orchid Ecstacy, then added a clear gloss on top.
Maybelline Rebel Bloom In Orchid Ecstacy, $7, Amazon
What do you think? Will you be giving any of these chic bright lip looks a try? I especially had fun with the gradient lips, and neon makes for a good time as well.
Images: My Love From Another Star, Orange Marmalade, Heirs/DramaFever