There's Almost A #BookGate 2.0 On 'RHONY'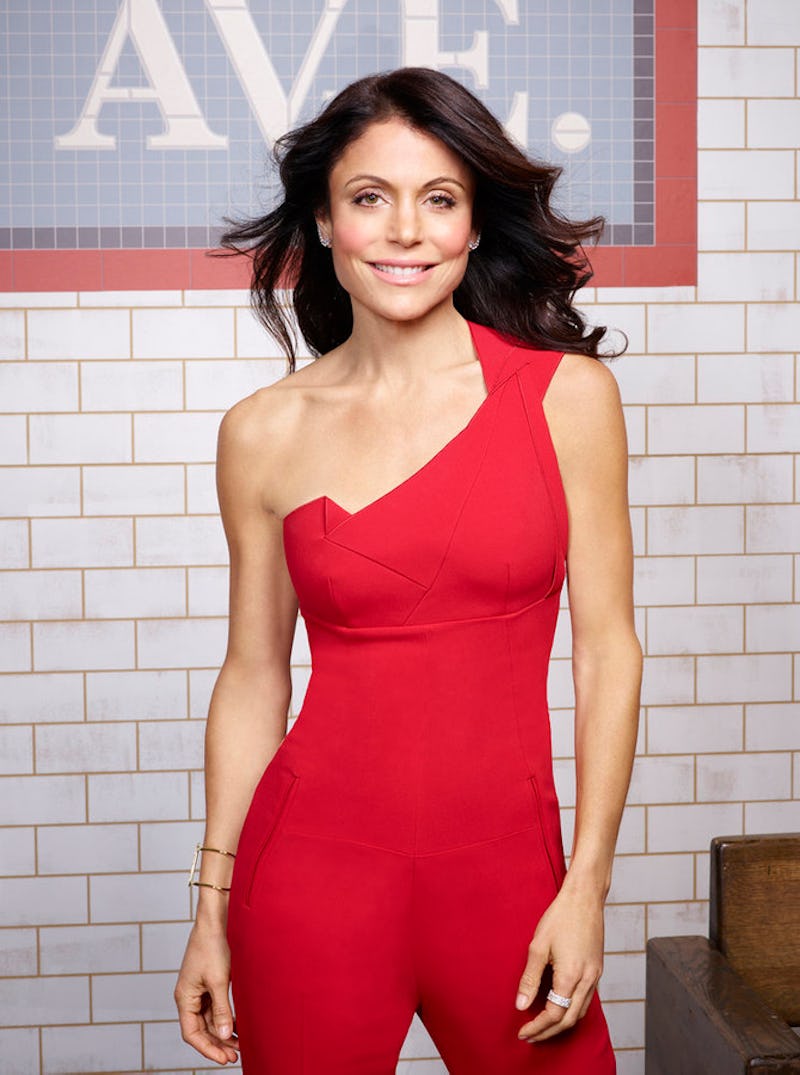 Tuesday night's episode of The Real Housewives of New York City picked up where last week's episode left off. You know, Bethenny Frankel and Ramona Singer argued over a meal. What else is new? However, it was a discussion about a possible title for Ramona's forthcoming memoir that had Bethenny almost creating another #BookGate.
Of course, #BookGate refers to former RHONY Housewife Aviva Drescher circulating rumors last season that Carole Radziwill had used a ghostwriter to pen her best-selling memoir What Remains after Carole asked Aviva if she had used a ghostwriter for her upcoming book. Even though Carole vehemently denied Aviva's accusations, the two never quite saw eye-to-eye on the issue, and it was an intense and very entertaining recurring conflict on the show.
Well, things didn't reach quite that level of crazy on Tuesday night's episode of RHONY, but a literary discussion did get pretty heated. Ever the troublemaker, Ramona asked the ladies over a lunch prepared by Bethenny that she almost didn't eat for their opinion on potential titles for her upcoming tell-all. Surprise, surprise. Bethenny was by far the most vocal, basically ridiculing each title and shutting down others, especially Heather Thomson, for not agreeing with her. The only title that Bethenny seemed to take a liking to was Work in Progress, and that's probably because she came up with it.
Heather didn't appreciate how Bethenny talked to her, and called her a know-it-all. This is apparently the worst insult any of these ladies ever heard, and when word got back to Bethenny that Heather called her this name, she was very offended. However, she promptly defended her behavior by saying that Heather probably feels that way because she does know it all. Yeah, that seems like a pretty accurate label for Bethenny, don't you think?
Ultimately, this was a pretty quickly-resolved conflict for the Housewives. Pretty soon, Bethenny and Heather moved past their beef and ended up pulling each other's bikini bottoms down on the beach. As one does.
But this incident still bothered me. As much as Bethenny acts like she is above the petty drama that the Housewives seem to constantly drum and just doesn't have time for it, she is unnecessarily abrasive and is often responsible for creating the drama. It's almost as if she wants to make enemies out of the other Housewives. From watching RHONY this season, that's definitely what it seems like.
Well, one way or another, this Housewives holiday in Turks and Caicos is now done for Bethenny. As you may recall, she had to peace out of the trip early to be with her daughter. But just because she's not there doesn't mean there won't be some shade from the other Housewives when they join her back in New York.
Images: Mathieu Young/Bravo; Giphy (2)