Improve Your Style Serve In Tennis Inspired Skirts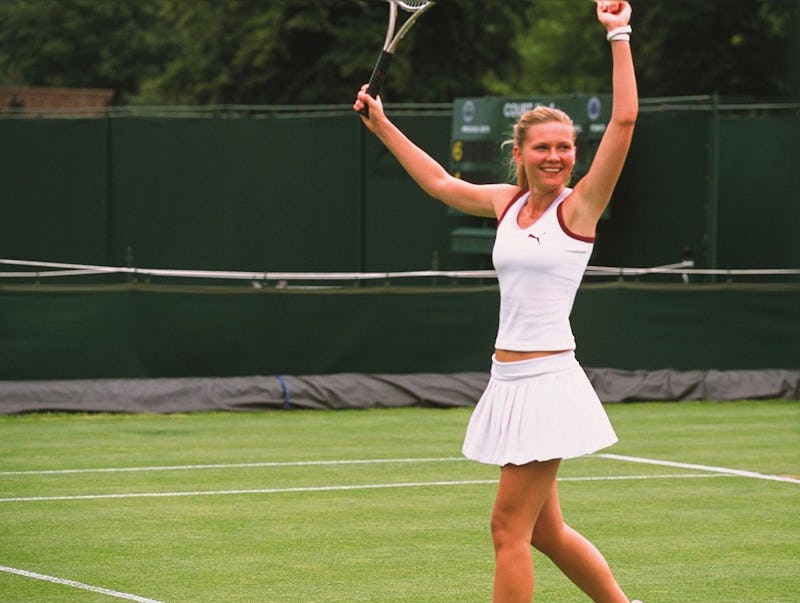 Tennis season is upon us and we are currently in the final week of Wimbledon. I'm a little embarrassed to admit that, being a Brit, I don't actually follow this traditional sport and I'm actually more interested in the iconic, pleated tennis skirts and generally cool attire of the players. There's just something so appealing about a crisp, all-white outfit comprised of sporty separates, finished off with perfectly white sneakers.
My obsession with tennis attire probably started when I first saw Wimbledon the movie. Starring Kirsten Dunst a couple of years after her starring role in Bring it On I knew I would enjoy the film — Dunst made tennis look fun and her ensembles looked so effortlessly stylish.
I tried tennis at school but I quickly realized racket sports are not my forte; I'd rather have a bat or a ball any day. Then, of course, the game got a stylish makeover when fashion powerhouse Ralph Lauren became the official outfitters of Wimbledon in 2006. After this came the stunning redesign of the ball girls' and ball boys' uniforms in 2011 to celebrate Wimbledon's 125th anniversary, which featured sporty, diagonal stripes and a large Ralph Lauren "pony" on the chest.
Somewhere in amongst all of this, my mom gave me a vintage, burnt orange, Fred Perry pleated skirt that was hers when she was younger. I still have this piece and I will never part from it, unless I someday have a daughter of my own to pass it down to.
If you, too, want to channel the stylish women of Wimbledon, then get yourself a pleated, tennis inspired skirt to win the tournament of style this summer.
1. The Classic White Skirt
Tennis Skirt, $48, American Apparel
If you wish to be traditional and truly channel tennis style this summer, then this white tennis skirt is the one for you. However, if you decide you want to change things up a little, you can choose from a selection of colors ranging from an oxblood shade comedically dubbed "True Blood" to a vibrant purple shade named "Violaceous."
2. The Lovely Lilac Skirt
Julie Pleated Woven Mini Skirt, $8, Boohoo
Pastels are always popular in summer so this pretty lilac skirt should fit right in. This particular shade reminds me of Sweet Williams and parma violet sweets.
3. Put A Panel In It
Pleated Panel Skirt By Boutique, $160, Topshop
Mix things up a bit with a skirt that encompasses a paneled front to separate the pleats, giving your outfit a tailored, sophisticated look.
4. The Pleated Overall Skirt
Pleated Overall Skirt, $18, Forever 21
Add an androgynous vibe to your ensemble with a cute pleated skirt with built in braces. Follow the model's style and pair with a long sleeved crop top to give a playful peek of the midriff.
5. The Sunshine Skirt
Addilyn Pleated Crepe Mini Skirt, $16, Boohoo
If the weather where you are is anything like the unpredictable British summer we're experiencing over here in the north of England, then you may need to coax the sun out from behind a cloud. This skirt is the perfect sunshine shade to wear this summer, come rain or shine.
6. The Plus Size Pleated Skort
French Toast Big Girls' Plus Two Tab Pleated Skort, $4+, Amazon
Whoever invented skorts deserves an award. A skort (skirt and shorts hybrid) is a great summer alternative to enable you to be super active — heck, you can do cartwheels in a skort without ever worrying about showing your knickers — while looking fun and feminine. This particular design is available up to size 6X.
7. The Traditional Tennis Skirt With A Twist
ASOS Curve Pleated Skirt in Stripe, $63, ASOS
Not a fan of mini skirts? Don't worry, you can still channel tennis chic with this knee-length, pleated white skirt.
8. The Girl About Town Skirt
Verbs And Towns Skirt, $60, Modcloth
Are you looking for something a little unusual? This quirky skirt shows the Polish city of Warsaw all lit up at dusk, which creates an enchanting appeal.
9. The Vegan Friendly Faux Leather Skirt
Pleated Faux Leather Skirt, $15, Forever 21
This nude, faux leather skirt is a great choice for summer. Faux leather adds a tough edge to the girlish blush color of the skirt, juxtaposing hard and soft elements together.
10. The Plus Size Moonrise Kingdom Skort
Summer Pleated Skirt Shorts Elastic Waist, $23, Amazon
This super cute skort is giving off major Suzy Bishop vibes and IMO looks like it came straight out of the Moonrise Kingdom costume department. Plus, it's available in sizes M to 5XL.
11. The Tennis Skirted Dress
Kimchi Blue Pleated Skirt Dress, $79, Urban Outfitters
While not technically a skirt, this awesome red dress features a pleated tennis skirt that reminds me of something the Williams sisters would wear. It also features a modern, cutout racerback, which keeps this frock youthful and sporty.
Wear these tennis inspired pieces to work on your backhand while looking sporty and stylish... or while watching Wimbledon with a glass of bubbly and some strawberries. I know which I'll be doing!
Images: StudioCanal; Working Title Films; Giphy (2); Courtesy Brands