6 Actresses Who Could Play Wendy Davis in a Movie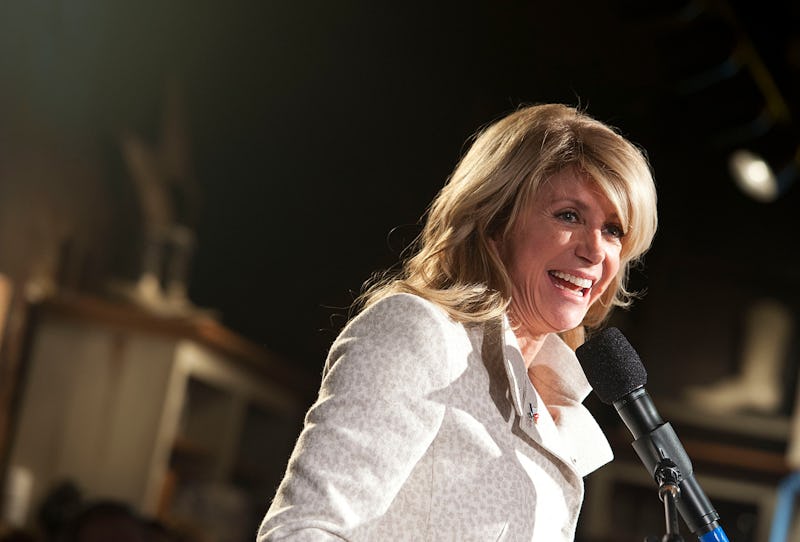 Sen. Wendy Davis (D) wasn't backing down. The senator spent 11 hours filibustering the Republican vote on the Texas abortion bill SB5 — which would severely limit the access to abortions in the state — in order to prevent the bill from passing. (Legally, the committee cannot vote past midnight.) Though it was initially unclear as to whether or not the vote took place (despite early reports, it didn't), it was definitely clear that Davis is a force to be reckoned with — and a woman who gave us one of the most cinematic moments in political history.
But who could play the woman who withstood objections and back pain in order to protect women's rights? Here are a list of actresses who could take on the heroic role. (Get started, Hollywood!)
Hilary Swank
Hilary Swank is no stranger to playing strong women — just check her out in Freedom Writers and Million Dollar Baby. Not to mention she's one of three women to win two Oscars for Best Actress: one for Million Dollar Baby and one for Boys Don't Cry. And Davis' moment is just begging to be rewarded.
Felicity Huffman
While many people think of Felicity Huffman as Lynette Scavo from Desperate Housewives, she's a powerful force on film — just check out her role in Transamerica, where she portrayed a trans woman on a road trip with the son she never knew about. Huffman is a big-screen chameleon, so let's see her mold herself into Davis.
Laura Linney
Now that her TV show The Big C is coming to an end, we'd love to see Linney tackle the big D: Davis and fiery determination.
Julia Roberts
Julia Roberts is a fantastic, Oscar-winning actress, but her recent roles have been a tad snoozy. (Mirror Mirror, anyone? Definitely not the fairest of them all.) She could definitely get back to her Erin Brockovich roots by taking on Davis in a film.
Sandra Bullock
She proved she was more than Miss Congeniality (still an awesome movie, by the way) in dramas like The Blind Side and Crash. She also rocked the blonde wig for The Blind Side — we bet she would be happy to slip it on again.
Connie Britton
Because is there any other woman with the clear eyes and full heart of Tami Taylor?