We Know Which Color Polish Matches The Shoe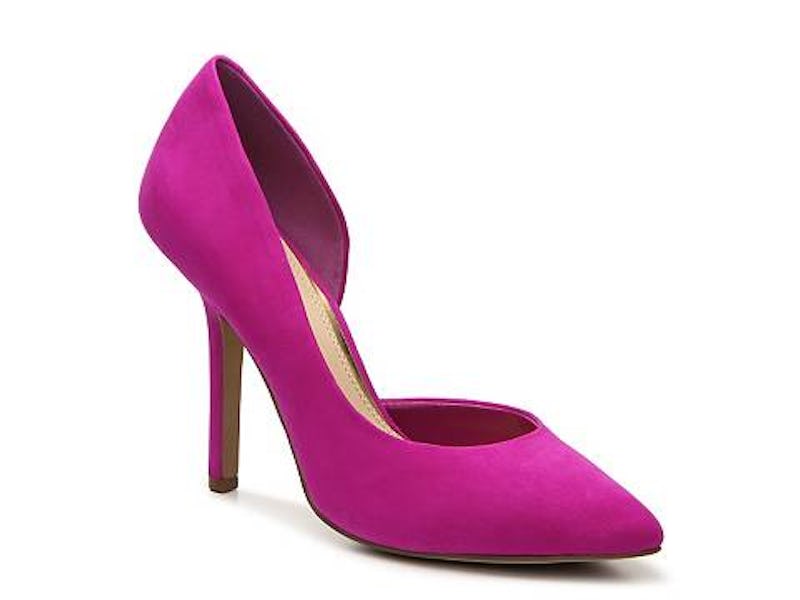 Unlike "The Dress," a simple question that became the dillemma heard 'round the world, driving everyone to question their sanity (not to mention whether or not they were color blind) a definitive solution exists to the debate over which color nail polish matches the shoe. While the original Twitter post by TotallyMendes continues to rack up likes and comments and Buzzfeed tally's up voter opinions, I'll spare you an argument or two (or five) by providing you with legitimate proof that the purple polish to the left does, in fact, best match the shoe in the photograph.
If at any point in time you have taken a beginner's art class, then I think its safe for me to assume you are at least semi familiar with the color wheel. If not, no worries; SockMonkeyBrian has got you covered.
In response to the internet's latest viral headache, ShockMonkeyBrian used TotallyMendes's photo as a canvas, coloring in three circles — two matching their respective nail polish color while the other resembling that of the shoe — and strategically placing them in between the photographed polishes and heel in order for a clear comparison to be made. According to the photo, the shoe best matches up with the left purple-toned polish.
For those of you who were 100 percent, "no ifs, ands or buts about it" convinced the pink colored polish on the right was more compatible than the purple, you're not in the wrong.
Even with ShockMonkeyBrian's color comparison, I could still make an argument for the pumps pink tint. When I went back to the original source to do some additional research, I came across this interesting exchange between TotallyMendes and Jeffstacobs:
BCBG Paris Jaze Suede Pump in Magenta, $59.95, DSW.com
I present to you the exact shoe TotallyMendes uploaded to her Twitter account Wednesday which caused the internet to have major "The Dress" deja vu. Here lies the difference between BCBG's product shot and TotallyMendes's image: the lighting each shoe has been photographed under.
So while SockMonkeyBrian's "proof" of the shoe seen in TotallyMendes's photograph and it's purple nail polish match is in fact correct due to the lighting it's been captured in, the pink nail polish is the definitive match of the actual product in question.
Hold your applause, folks, and please, set all arguments aside. This is not another case of the scientific ways of human vision. It is, however, a case of poor lighting.
Images: SockMonkeyBrian/Twitter, TotallyMendes/Twitter, JeffStacobs/Twitter, Courtesy of BCBG