This New 'Mockingjay, Part 2' Teaser Is Gorgeous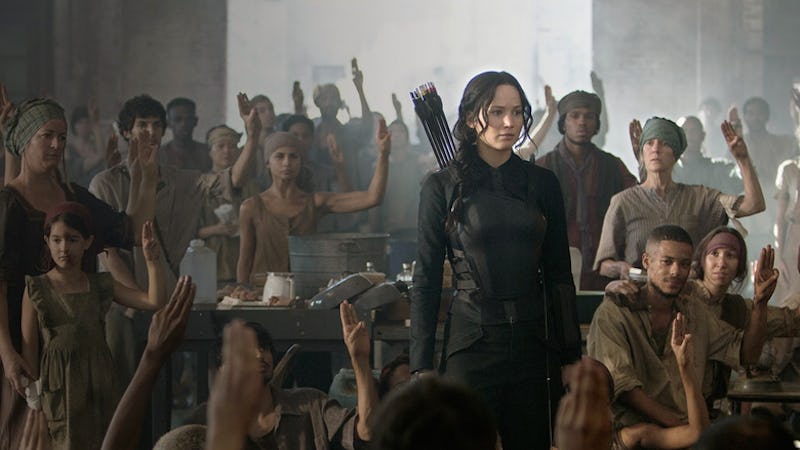 It's that magical time of year again: San Diego Comic-Con time! Whether or not you're lucky enough to attend the event, it's one I think we can all agree means a lot to us, as it's generally the place we get exclusive teasers, promos and spoilers for our favorite TV series and anticipated upcoming movies. Things were no different when it came to The Hunger Games: Mockingjay, Part 2 , either — the cast hit SDCC on Thursday, July 9 and they brought along an extra special gift in the form of a new The Hunger Games: Mockingjay, Part 2 teaser titled "A Message From District 13." It's not quite a trailer, but what it is amounts to a call to arms for fans to stand with District 13 as they face their biggest battle against the Capitol yet.
What's amazing is that in only 60 seconds, Mockingjay, Part 2 just got realer than ever before, and I seriously got chills just watching the video. As Collider points out, the film's director Francis Lawrence promised during the SDCC panel that anyone who loves the end of the final book will also love the movie — and from the looks of this new promo, I feel like we can totally trust him on this.
Anyone familiar with the Hunger Games franchise knows what to expect when going into the final installment this November, but that doesn't make it any less exciting. In fact, it sort of makes things even more thrilling. The revolution in Panem has been a long time coming, and this is the pinnacle. How can anyone not be excited for that? The trailer only solidifies this, and when you see Katniss walk through the sea of soldiers in her brilliant red outfit, it all clicks into place. This movie is going to be AWESOME.
If the release of this new promo isn't enough to get you excited, you might be interested to know that the cast and crew also premiered a new full-length Hunger Games: Mockingjay, Part 2 trailer at SDCC which should pop up online any time now. Things just keep getting better, right?! Frankly, I don't want to spoil myself too much, but I think we all know we're not strong enough to avoid completely devouring any sneak peak into this final movie we get over the next few months. Hey, it's not my fault — it's just too good.
Image: Lionsgate