Suki Waterhouse's Closet Is 60's Retro Fabulous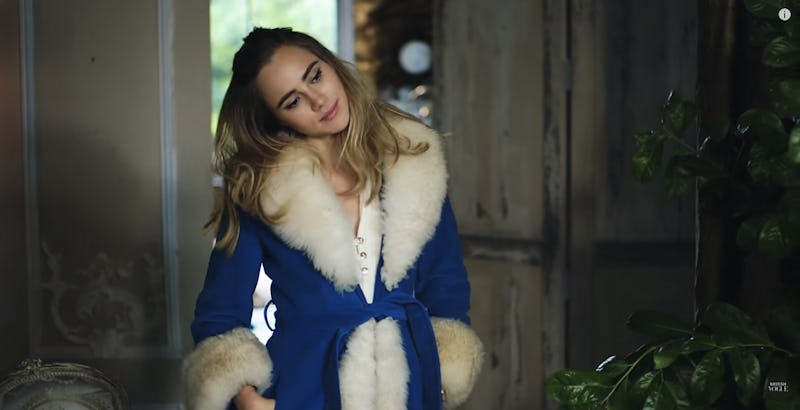 Though for a while she may have been known as Bradley Cooper's girlfriend, Suki Waterhouse is much more than that. The stunning and talented model has been the face for Burberry and has been featured in H&M ads. Plus, she's now breaking into a career in acting with the role of Marlene in Divergent: Insurgent. Though she may be acting now, fashion seems to be where her heart lies. Suki Waterhouse's wardrobe tour with British Vogue in partnership with the Vestiaire Collective proves that no matter where her other endeavors may take her, she's got fashion in her veins.
Entering the wardrobe — because apparently this is fashion Narnia— we see stunning coats draped over the walls of Waterhouse's closet, including a cheetah print peacoat that I'd really like to steal. Waterhouse's closet is much different than that of Olivia Palermo's whose tour was showcased last week.
The wardrobe features tons of '60s glam, and so it makes sense that the first item we really focus on in Waterhouse's closet isn't one of the jackets on the wall. When Vogue stylist Bay Garnett asks what Waterhouse's favorite item is, the model/actress motions to an insanely gorgeous jumpsuit that is straight from the pages of a '60s magazine and answers, "I'm pretty enthused with this," and we would be, too! Garnett describes the jumpsuit saying, "Kind of Michelle Pfeiffer, Scar Face, and like Edie Sedgwick. It's got so much good stuff going on there." Garnett asks that Waterhouse don the jumpsuit later, and thankfully, she obliges giving us a great example of her style.
Waterhouse later opens up about what it means to be a stylish person stating, "The most stylish people aren't the most popular girls at school. When you're a thoughtful person or a vulnerable person it's when you're making like style choices, like real, and true to yourself." Waterhouse definitely does so. It's evident in her wardrobe that she's made thoughtful choices about what her own personal style is, but she doesn't let the interview turn into a soliloquy on style.
Instead, the tone of the tour turns when Garnett asks the model what it's like dressing for a hot date. Waterhouse chuckles at this, clearly amused that it's the question she's being asked but answers, "My tips for a hot date are I actually always try to look like I kind of haven't made any effort." It's not bad advice honestly. No one wants to be the girl who's overdressed when she's out.
Garnett rounds out the interview by entering into a quick fire round of questioning with Waterhouse who chooses caviar over fish and chips, flats over heels, and denim over leather. The wardrobe tour really does give us an inside look at both Suki and her wardrobe, and we've got to say that we love both. If you want to channel Suki, check out some of the her fabulous choices from the Vestiaire Collective site, and be prepared to stun in some seriously gorgeous pieces.
Video and Images: British Vogue/ Youtube
Images: Vestiaire Collective