What We Know About 'Supernatural' Season 11 So Far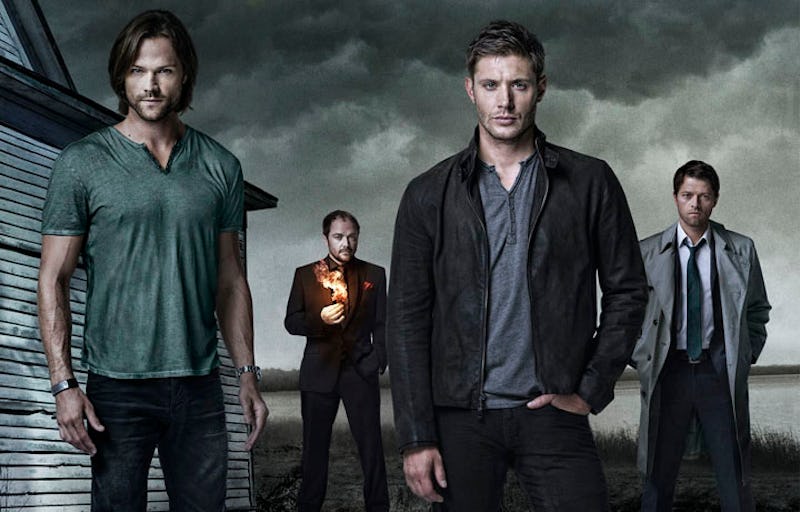 We might have to wait for months to see the return of The CW's longest running series (and definitely one of its best), as Supernatural Season 11 premieres October 7, but at least news about the new episodes keeps trickling in. That's essential for fans like me who thrive on as much information as possible, especially after the huge cliffhanger we were left with after the Season 10 finale. When Death stated that releasing the Mark of Cain from Dean's arm without finding another suitable host would lead to catastrophe, I never thought he could mean the potential end of days, but that's precisely what the Darkness looks like, and it's up to the Winchesters and Castiel (an honorary Winchester) to band together and fight this horrible evil together. So what do we know about Season 11 and how the Darkness will affect the brothers, the angel, and the rest of the world?
Well, thanks to regular spoilers and the cast and crew's conversations at San Diego Comic-Con, fans are definitely not completely in the dark...ness. (Bad joke, but someone had to make it.) We've learned about favorite characters who might be making their way back to the series, we've learned what the relationship between Dean and Sam will look like in the new season, and we've learned a few other surprises along the way. Obviously, it's not nearly enough information to keep us patient until Season 11 begins, but it's better than nothing. And it is more than enough to come up with quite a few theories of our own. So until October 7 finally rolls around, let's run through what we know so far and maybe help the Supernatural writers come up with some storylines for the season.
1. The Brothers' Relationship
The boys won't be dealing with any major brotherly conflict in Season 11 and thank goodness for that. Considering the demon blood drinking, the Mark of Cain having, and the breaking of the Seals, which eventually led to the almost Apocalypse, it's about damn time that Dean and Sam are back on the same side, as TVLine confirmed they will be in Season 11. Working together is their best chance to beat the Darkness and all the horror that is likely to come with it.
2. Fan Favorites Will Return
Executive Producer Jeremy Carver teased that some fan favorites would return in Season 11 in "surprising ways" while at Comic-Con, and then said absolutely nothing else on the subject. I've already theorized different ways fan favorite characters could come back (I miss you Gabriel, Bobby, Chuck, Ellen, and Joe!). But recently John Winchester himself, Jeffrey Dean Morgan told TVLine that he would love to return to the show, especially if Jensen Ackles would direct him. He did say that there were no current talks to bring him back at present, but executive producer Andrew Dabb revealed that Morgan's return at this point was less a question of "if" and more a question of "when."
3. Misha Collins Is A Series Regular
He's back in a big way! Misha Collins will return as a series regular (just like in Season 10!) and will team up with the Winchester boys to clean up the mess caused by releasing the Darkness. You know what that means, folks! More Destial for us all!
4. The Darkness Is Season 11's Big Bad
To put it in Carver's words from Comic-Con, Season 11 will be "a little bit more of an epic feel with a Big Bad," to which Jared Padalecki replied, "I think we'll beat [The Darkness] because we're not the Losechesters." Clever, JarPad. Real clever. But it is nice to see the boys teaming up to take down a major Big Bad. I've already come up with some theories as to what the Darkness might be, but you never know with this show. I could be completely wrong.
5. It Won't Be All Serious
Executive Producer Andrew Dabb revealed at Comic-Con that the show will have some fun in the fourth episode of Season 11. Could we be looking at some more meta madness in the vein of "My Heart Will Go On," "Changing Channels" or "The Real Ghostbusters"? MAN do I hope so.
6. New Characters Are Arriving
TVLine recently confirmed that The Mentalist actress Emily Swallow has been cast in a recurring role for Season 11. The actress will play a character named Amara, described as "a femme fatale who is both seductive and sinister (when need be)." It seems reasonable to believe that she will be connected to the Darkness, though for now she is yet another big question mark for the show. But isn't it cool that yet another important female character is being introduced on the series?
7. There's No Way Crowley's Dead... Right?
Mark Shepard, the wonderful man who has played Crowley for many seasons stated at Comic-Con that the King of Hell was "pretty dead." But there's no way he's actually gone, right? I mean, he's Crowley! He can survive anything.
Hopefully, when Supernatural returns, we'll find Crowley very much alive and planning an epic comeback.
Images: The CW; Giphy (7)