This Comic Book Is More Important Than You Think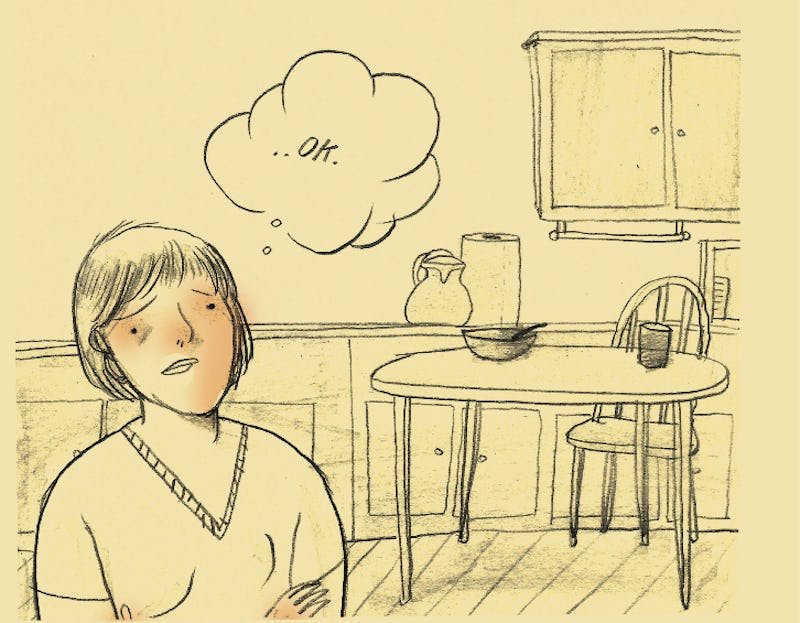 Getting an abortion can be a scary, lonely, and stigmatizing experience. Artist Leah Hayes sought to change that... with a comic book. Not Funny Ha-Ha: A Handbook for Something Hard presents real talk about abortions with friendly, accessible dialogue and narration and engaging illustrations. The book follows the journeys of two fictional characters, 23-year-old Mary and 31-year-old Lisa, who decide to have abortions, one medical (accomplished by taking a pill at home) and one surgical (performed at a clinic).
Though the topic is rarely discussed publicly, abortion has affected many people's lives. By some accounts, one third of women or more end up having abortions at some point in their lives. The dearth of stories about abortions in pop culture — especially ones that are not politically charged — can leave women who undergo the procedure feeling alone, when in reality, they are not. Hayes wrote an email to Bustle from San Diego, where she's signing books at Comic-Con International, explaining that she "wanted to create something that other girls (and men!) could read and feel a connection with. I was trying to express my feelings through drawing, and hopefully in the process offer a different perspective on what women go through."
Since I've mainly heard about the medical and political sides of abortion rather than seeing the experience humanized (though the movie Obvious Child provides a refreshing exception to that pattern), I found the book both informative about the issue and emotionally engaging as reading material. Here's a sneak preview of a few select pages:
Though Hayes' description of the book as "a handbook for something hard" probably resonates with a lot of readers, it's also worth mentioning that abortion isn't always a hard decision. Sometimes, for financial, emotional, or whatever reasons, it's a "no-brainer," as she points out in the beginning.
The opening pages also emphasize that the decision is nobody else's business — "Whatever your reason is: it's fine. It's your reason" — and neither are the means by which the person undergoing the abortion got pregnant — "Sometimes these things happen."
The book launches into logistical aspects of abortion I never considered. For example, as someone who finds making appointments stressful to begin with, this page made me realize how nerve-racking scheduling might be when you've just found out you're pregnant:
The story contains poignant scenes of the characters getting support from friends and family.
It also provides practical advice on deciding when and where to get an abortion and what kind to get.
You'll have to read the rest to learn the ending, but I can assure you the story is comforting if you've been in Lisa's or Mary's situation, a life-saver if you find yourself there in the future, and informative if you're curious about what a third of women go through.
Images: Courtesy of Fantagraphics