Which 'BB17' House Guests Are Single?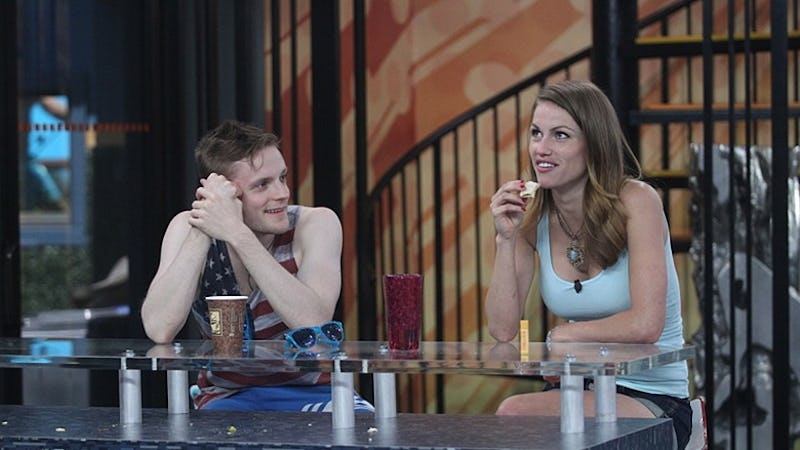 As the beyond-adorable relationship (or should we say showmance??) between house guests on Big Brother 17 Clay Honeycutt and Shelli Poole heats up, it's gotten me thinking about other potential relationships in the house. It hasn't been too noticeable in the actual show yet, but anyone who watches the feeds knows that there's something brewing between train-to-the-face survivor Becky Burgess and rockstar dentist John McGuire as well. But what about everybody else? Obviously they have a ton of time to lie around and form... ahem... bonds, so most people try to come into the house single in order to avoid putting strain on preexisting relationships. But not everybody! In a group this size, there's bound to be a few contestants in couplings serious enough to withstand the 98 days in isolation. Which Big Brother 17 contestants are single?
I did a bit of digging around to see what everyone's status is coming in, whether they're spoken for outside the house or up to start a little dalliance. As long as it doesn't distract from their game, of course. (Cough cough, looking at you, Shelli and Clay. For as much time as you spend gazing into each others' eyes, you're lucky the Sixth Sense alliance just dropped helpfully into your laps.)
Here's how everyone else stacks up, relationship-wise.
Audrey
Status: Seems Single
Audrey's a tricky one right off the bat, because, even though she hasn't flirted with anyone in the house that I've noticed, I also can't find any online proof that she's in a relationship. It's possible she's just keeping that aspect of her personal life under wraps, but, for now, let's call her single.
Austin
Status: In A Relationship
Now matter how close his relationship with Liz looks, Austin made it clear coming into the house that he's not looking for a showmance, as he has a girlfriend and plans on "honoring that."
Becky
Status: Single
If you check out Becky's Instagram, there's not a dude on it for miles, so it's a pretty safe bet that she's unattached. Which is good news for John, with whom she's been doing quite a bit of flirting.
Clay
Status: Single
There seems to be no doubt that Clay is single... at least until he and Shelli have the "what are we?" talk. As we've said before, Clay is a bit of a local celebrity in Texas because of his college football career, so he has sealed social media accounts. Even so, there's been a lot of talk Internet-wide about the fact that he doesn't have a girlfriend.
Da'Vonne
Status: Single
I'm pretty bummed Day left the house so early, because I could've used some more info on her situation. She has a 7 month old daughter, but the father appears to be out of the picture, leaving Da'Vonne a single mother.
Jace
Status: Single
Our poor sweet boy mentioned right up top that he "dropped a boo" before coming on the show, so he'd be 100 percent available... a decision I'm wondering if he's kicking himself for now that he was the first person out of the house.
Jackie
Status: Single
Jackie has been remarkably under-the-radar recently, so there's a chance she's involved with someone, and I don't know about it. But I suspect she's not seeing anyone, as she and Jeff went into The Amazing Race as blind-daters, and I don't know when either of them would've had time to start something official between that show ending and BB17 beginning.
James
Status: Single
And looking! James can barely talk game with the women in the house without ogling their chests, so there's no way this dude is anything but single. (Also, ew.)
Jason
Status: Single
In the most recent Battle of the Block competition with the foam maze, Jason said he excelled at it because he was so used to pulling boys at the club, so it's official — he's single.
Jeff
Status: Single
Just like Jackie, Jeff came straight off The Amazing Race to the Big Brother house, so when was he supposed to nail down a girlfriend? One thing's for sure, though — he's not wasting any time trying to find one, whether it's Meg or whichever twin finds him more attractive. He doesn't seem too particular.
John
Status: Single
I was so sure going in that I wasn't going to like John, but he's completely won me over. And, apparently, he's done the same to Becky, with whom he has a chaste little romance going. Definitely makes it clear that he's without ties outside the house.
Liz
Status: Single
Liz gets called out by the house guests in the Sixth Sense alliance for giving the twin twist away by being more flirtatious than her sister, which I suspect is because she's a single lady!
Julia
Status: ???
Because the Twin Twist was supposed to be a secret until it was officially revealed on the show, there's very little information available about her online, so I really have nothing for you here. But she's supposedly been flirting with Jeff (at least according to him), so that's our only clue.
Meg
Status: Single
In his own words, Jeff has been "spitting mad game at Meg," which I'm guessing she wouldn't let him get away with if she had a boyfriend outside the house or wasn't interested. (Have I mentioned yet that I don't like Jeff?)
Shelli
Status: Single
Another person who announced (loudly and within Clay's hearing) that she had "dropped a boo" to come on the show. Live your best life, Shelli.
Steve
Status: Single
Watching Steve bumble around and accidentally say "I love you" to Da'Vonne on like... day one: there is no way this man is in a relationship.
Vanessa
Status: In A Relationship
Vanessa is one of the only house guests high profile enough to have a Wikipedia page, which is how I know she was married to a fellow poker player named Chad Brown from 2009 to 2012 before getting divorced. And, of course, we all know she has a girlfriend now, with whom seems to be very much in love.
So there you have it, my friends! Unless I'm wildly off here, out of 16 original house guests (17 with Julia), only two are in relationships. That's a lot of potential hookups, so hold onto your butts.
Want even more Big Brother? Bustle's App has you covered. It's THE go-to place for any BB fan looking for round-the-clock Season 17 updates. BUT FIRST, you need to download the app from iTunes.
Images: CBS (16)