Nick Viall Is Actually A Great Guy & Here's Proof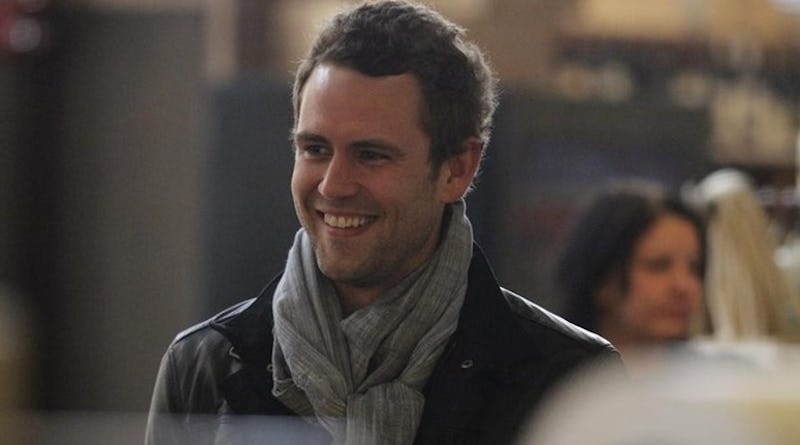 In case you didn't know, the producers and editors of The Bachelorette are pretty much magicians. We may think that we know someone really well just from watching the show, but really we may not know them at all because of the magic of editing. Nick Viall has been dubbed the "villain character" on Kaitlyn Bristowe's season of The Bachelorette and I am here to tell you that you don't know Nick Viall like you thought you did, because he's actually a great guy. I'm going to prove it with a list of things you probably didn't know about Nick Viall, the two-time Bachelorette contestant.
First, let's talk about what we do know. We know that he's had sex with both Andi and Kaitlyn, meaning that he's probably a pretty charming guy considering both of them are very attractive women. He's from Wisconsin but lives in Chicago. Midwestern boys are the best guys to date, in my opinion, because many of them grew up with good morals. We also know that he is a 34-year-old software sales executive, and clearly has flexible hours if he's taking off months at a time two years in a row. (If he still works at the same company, you would think they like him a lot to let him leave to film for that long...)
Alright, now that we have the basics out of the way, I'm going to prove that Nick Viall is a great guy.
1. He's Close With His Family
Nick is the second oldest of 11 children and he is very close to them. When you grow up with that many people you have to be kind of selfless. His dad even spoke out after last season about how they didn't like how Nick was portrayed on the show. "He was shown to be kind of arrogant and cocky and that's really not who he is," his dad told WISN, a local Wisconsin network.
2. He's A Feminist
After Kaitlyn started getting slut-shamed on the Internet for sex-gate, he took to Twitter to talk about how men and women have equal rights, especially when it comes to sex. Instead of defending his own actions he stuck up for Kaitlyn and made a very valid point that sex is super important in relationships. Nailed it.
3. He Fights For Equality
Equality is important to Nick as it is to most great guys out there. Just sayin'.
4. He Gives Very Good Advice
Earlier this year Nick Viall wrote a guest blog for Bustle about tips to getting over a breakup, and it was all very good advice. Some of his tips include: to vent a little to your friends, attempt not to reminisce, take some time alone (YES) and watch Forgetting Sarah Marshall on repeat.
5. Nick Is Still Friends With His Ex
For Throwback Thursday he once posted a photo of him and his ex, captioning the picture, "Is it weird that I'm posting a pic of my last ex for my #tbt? Probably. But this amazing girl is still my stylist at #trunkclub and she has amazing taste. So I don't care if it's weird.. I'm giving her a shout out anyways! #stillfriends #notmyexfiance." All I'm saying is that if he wasn't a good guy, why would his ex still be friends with him? Also, if you can be just friends with an ex it shows a level of maturity.
6. He's Serious About Pizza Rolls
As all great men should be.
7. He's A Carly Rae Jepsen Fan
…and has no problem admitting it.
8. Nick Speaks The Truth ... A Lot
I mean… all of these tweets are spot on. Gotta love an honest guy.
Images: ABC/Screenshot