What Fitness Editors Actually Wear To Work Out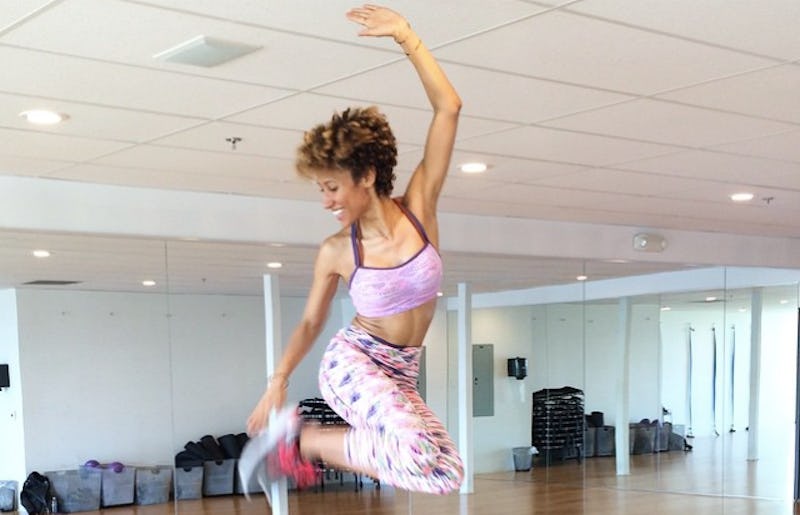 As we skim through our favorite health and fitness editor's many articles instructing us how to do a burpee the right way or providing us with the five moves guaranteed to score us our best bod, they too are getting their sweat on behind the scenes; we call this exercise, they call this research. Shape magazine put together a list of their editor's go-to fit wear in "What Fitness Editors Really Wear to Work Out" a few days back and as I quickly skimmed through Fitness Director Jaclyn Emerick's favorite pair of Nike's and Nutrition Editor Marnie Schwartz's go-to sports bra for Hot Yoga, I wondered what these, and other fitness editors were actually wearing out of the office and into the gym.
During the last few years of undergrad, I interned for big name publications like Lucky Magazine and Marie Claire. While the other interns gawked at all the free product and couture gifts from any and every designer our editors received on a daily basis (which was awesome, don't get me wrong), I was practically drooling over the latest Nike kicks I'd unwrapped and would sulk, jealous of the tie dye sports bra insert-name-brand-here sent over for whatever editor's next 5K. To me, it didn't get much cooler than that.
If there is anything more motivating than the mere satisfaction of feeling good after a workout, it is looking good during one. Until I work my way up to fitness editor of so-and-so magazine and have Nike sending over their latest installment, I'll just have to periodically stalk fitness editors of my favorite mags in order to spark some style #fitspo.
Check out these 11 outfits from fitness editors that will definitely inspire you to work out today. Or tomorrow. No rush.
1. Elizabeth Narins, Cosmopolitan
When we're committing to sweatin' on a Saturday, we're also committing to rolling out of bed early on the weekend. This takes dedication, motivation, and a whole lot of comfortable activewear to even begin to get you in the mood. Elizabeth Narins has the right idea here. You're off the clock, friends, go casual and throw on a white tank top and shorts for your gym sesh. If you're feeling fancy, put in the footwork with a fresh pair of sneaks like Narins.
2. Marissa Gainsburg, Women's Health
The first and last time I tried Barre was in my living room, in shorts and a tank top with no socks on a yoga mat. I'm pretty sure I did it wrong. Gainsburg looks adorable in her tank and yoga pants, complete with, of course, Barre socks. She's giving me a bit of fitsporation over here to try again.
3. Elaine Welteroth, Teen Vogue
I'd like to take a second and bow down to the queen of getting active and wearing it well, Ms. Elaine Welteroth of Teen Vogue. Elaine, Teen Vogue's beauty and health director, certainly knows a thing or two about fitness. This woman's workout wardrobe is every #fitgirl's dream. Whether she's taking to the streets in Nike's 5K or finding her center during Sunday yoga, she comes stylishly prepared complete with sweat jackets, killer sneaks, and tons of colorful leggings. We're not worthy.
4. Caitlin Berens, Everyday Health
How does Everyday Health editor Caitlin Berens dress to run for the Wildlife Conservation Society's Run for the Wild? She joins the crowd wearing her Run For The Wild tee proudly, equipped with zip jacket underneath for extra warmth and headband to tame those pesky fly-away hairs. Adorable.
5. Christine Mattheis, Health
As much as I love to mix and match all my tees, tanks, shorts, and leggings, color coordinating at the gym or on the go makes any workout routine feel a bit more together. Christine Mattheis is on point with this black and white color combo complete with matching helmet and gloves.
6. Leslie Barrie, All You
Alright, so Barrie is clearly posing for a shoot with Health magazine here, but that does not take away from the fact that her outfit is on point. She's clearly about to go for a run in Central Park in black leggings, a pink top, the most awesome yellow jacket and green sneakers. So fresh.
7. Jenna Autuori, Fitness Freelancer
Jenna Autuori is superhuman. Clearly.
8. Juno DeMelo, Formerly at Fitness
Rest assured I am well aware that it will be many, many months before your morning run consists of layers on layers of clothing, but can we just talk about how perfect — not to mention genius — this winter weather workout wear is? If you're willing to bare through windchill and possible snow fall during your six mile run, you might as well look adorable doing it. DeMelo even color coordinated with purples, grays and blues. Rudolph would be jealous.
9. Bari Liberman, Self
While America runs on Dunkin, Bari Liberman runs with Nike.
10. Betty Wong, Fitness
Fitness magazine's Editor-in-Chief Betty Wong is as much a fashionista on the track as she is fierce. For the More/Fitness/Shape Women's Half Marathon back in April 2014, Wong wore a pair of pink and grey striped leggings paired with matching light grey tank and dark grey zip up. Definitely a #girlswhorun must-have.
11. Sarah Klein, Prevention
A little GIF action for ya. Sarah Klein is all about that bass and looking good sculpting it. Note the patterned black, white and neon color block shorts with matching sneakers.
Images: elainewelteroth (3), ejnarins, crissygayle, CaitlinBerens, muhTHIGHess, lesliebarrie, junodemelo/Instagram; FITNESSjenna, BariLieberman, FITNESSBetty, sarklie/Twitter