Who Are The Total Baldwins In 'Clueless'?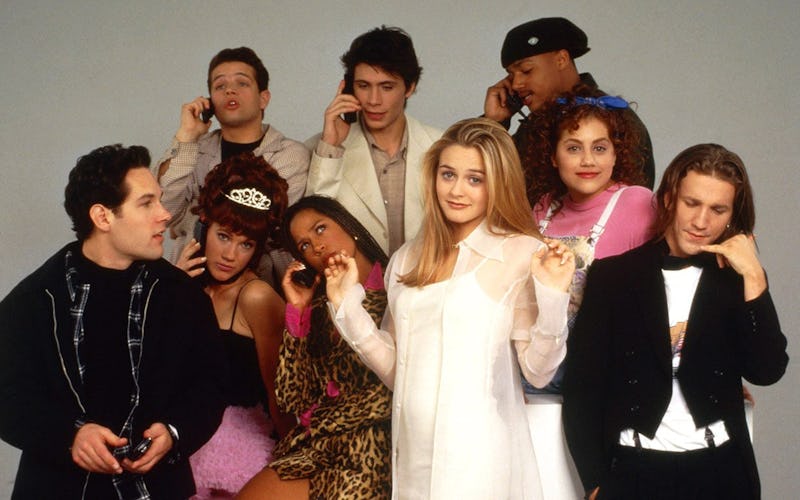 Little did Jane Austen know when she wrote Emma that she would also be writing one of the greatest movies ever made: Clueless. The 1995 classic, which is based on Austen's famous novel about society and matchmaking, just turned 20 and the world is a better place for it. Growing up, Clueless was the ultimate teen comedy. It's sexy, smart, trendsetting, and most importantly, it's timeless. If you wanted to see a time capsule of the mid-'90s you would watch Clueless. The movie didn't just reflect the culture, it made the culture. Everything Alicia Silverstone wore hung on the racks of the Limited Too soon after its release. We all said, "whatever" and "as if" on the playground and in the hallways. We all know the dance to "Rollin' With the Homies."
Clueless might be all about the power trio of Cher, Dionne, and Tai, but the fellas played a big part of the movie. They were there to catch Tai when she fell at a party, get Dionne off of the freeway, and give Cher someone to just veg out with. Plus, we now have proof that Paul Rudd is an ageless super alien from Planet Charming. The men (and boys) of Clueless had some of its most memorable lines and iconic moments. Here's how I rank the men of Clueless from full-on Monets to total Baldwins. Enjoy. Whatever.
Full-On Monet: Elton
For starters, who leaves their Cranberries CD in the quad? That's so irresponsible. Even worse, Elton is a total skeeze-ball who creeps on Cher and uses her friends to try and get close to her. Lest we forget his most heinous crime, leaving her at a parking lot in the valley where she got mugged, had her shoes stolen, AND ruined her Alaia!
As If: All The Young Dudes
Am I supposed to swoon?
Not Worthy Of Donating To The Pismo Beach Disaster Relief: Logan
You're going to insult Mel's daughter? NOT IN HIS MANSION. You are SO fired.
Mel Gibson (of the '90s): Mel Horowitz
He's a loving, protective father who teaches his daughter lifelong lessons, like arguing and that "everywhere in LA takes 20 minutes."
Someone You Don't Want To See Sporadically: Mr. Hall
Here's a man who really loves his job, cares about his students, and is a total romantic when it comes to love. Swoon!
Someone You'd Drop Luke Perry For: Christian
Whether he's a cake boy or not, Christian is a guy who will be totally there for you. He'll watch your favorite old movies, appreciate what you cook even if it's a disaster, and he'll always compliment you. Oh, he's also the most fashionable and well-kept of the bunch.
Such a Babe: Travis
He's got a big heart and he's not afraid to show it. He cares about art, his skateboarding passion, and will totally help out at charity drives. He's such a lovable sweetie.
He Who Shall Never Be Caught Jeepin': Murray
He's smart, he would never use misogynistic undertones, he learns his lessons, and he loves your friends.
Total Baldwin: Josh
Ex-step brother thing aside, Josh is a total catch. He's sweet, well-educated, concerned about global issues, has a good sense of humor about himself, AND he could probably get you in touch with Marky Mark.
Images: Paramount Pictures(2); Giphy (8)