9 High Gloss Fashion Items To Shine Your Way Through Summer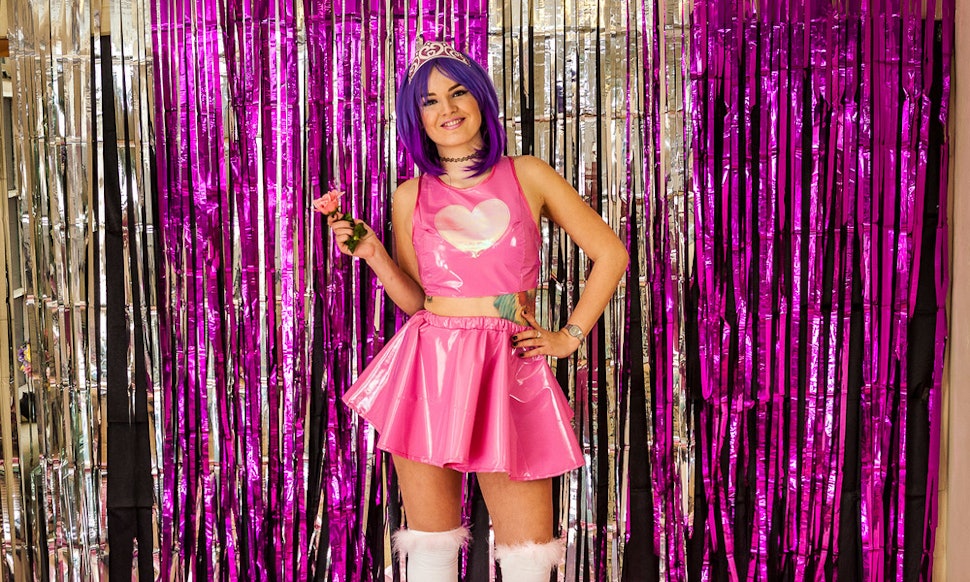 If like me you are a bit of a fashion magpie and are attracted to anything that glitters and/or shines, then you'll need to get some high gloss fashion pieces in your wardrobe this season. Super shiny clothing and glossy garments are going to be key pieces for fall 2015, so why not prepare yourself now?
The key materials to look out for in order to be one step ahead of the fashion pack are PVC, PU, and anything with a plastic fantastic appeal. The use of these kind of glossy materials can evoke a number of feelings: From bondage glam to futuristic Barbie to ladylike luxe. Depending on what you pair these pieces with, the style options are almost never ending.
So get your gloss on in high shine clothing this summer.
The Shiny Scarlet Dress
Vamp it up this summer in this decadent, high shine, red dress.
Asos PU Seam Ovoid Dress, $94, ASOS
The Plus Size PVC Look Leggings
Everyone can add a hint of shine to their summer wardrobes with these metallic leggings in sizes S/M to 3XL.
Metallic Plus Size PVC Look Leggings, up to $36, Etsy
The Acid Green Glossy Skirt
Make a statement in this acid green, high gloss skirt that is giving off major Iggy Azalea "Pretty Girls" vibes.
Nagsia Neon Green PVC Mini Skirt, $16, Missguided
The Shiny Spacey Silver Dress
The Ladylike Glossy Purse
Turn up the ladylike vibes in your outfit with this gorgeous, glossy black bag that's sure to go with anything!
Sourpuss Bettie Page Cover Girl Purse Black, $59, Sourpuss Clothing
The Golden Pencil Skirt
Inject some glamour into your summer wardrobe with this decadent, golden skirt fit for a Bond girl. Available in sizes 8 to 28.
Joanna Hope PU Pencil Skirt, $45, Simplybe
The Plastics Twin Set
A twin set named after the Mean Girls gang that looks like something a '90s Barbie would wear? I'm sold!
"The Plastics" Pink PVC Twin-Set, approx. $62, The Creeps Store.bigcartel
The High Shine Sandals
What's blue, shiny, cruelty free, and a summer style staple? A glossy, faux leather, blue sandal of course!
Faux Leather Flatform Sandals, $33, Forever 21
The Shiny Mermaid Swimsuit
If your biggest desire is to become a mermaid then you'll definitely need this pretty, mermaiden swimsuit this summer.
Delphina Suit, $95, Margarita Mermaid