Is This Makeup Palette Sexist?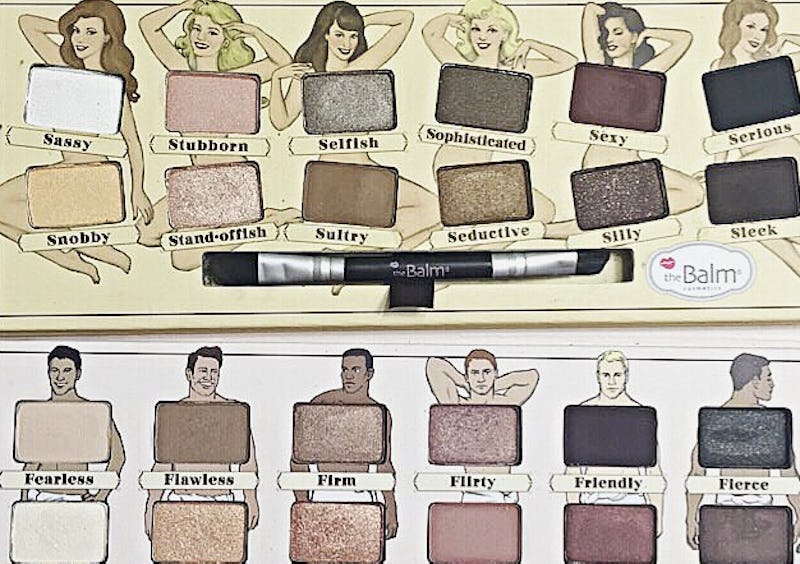 Makeup gives people the opportunity to feel their best, and the names should reflect that. Although some makeup names are more clever than others, theBalm's gendered eyeshadow palettes are being called out for having names that some feel are a tad bit sexist. And when the two makeup palettes are compared side-to-side, the differences are clear.
TheBalm is known for its edgy and playful makeup names, but some people think the brand has taken it too far with the differences between the Nude'tude and Nude Dude eyeshadow palettes. The Nude'tude eyeshadow palette came out in 2013 and has girls with 12 different shades, from sassy to sleek, laid out across their bodies. The male version, Nude Dude, which came out two years later, is the same set up with a tiny little difference.
One Instagram user noticed that the male shades are all positive attributes, with names like fearless, flawless, and firm, but the ladies get pegged with names like stubborn, selfish, and stand-offish. So why the difference? According to Refinery29, the brand "never [intended] to upset or offend anyone" with its naming. Brand president Marissa Shipman told R29 over email:
Nude 'tude is about attitude and being able to express yourself however you want (as that is the name of the palette). Nude Dude came two years later (the name came about primarily because it rhymes with "Nude 'tude"), and this is more about qualities we feel naked men should have.
The brand didn't mean to offend anyone, and it's surprising, considering its past. With other positive names, like their Women's Empowderment eyeliner and Powder to the People makeup brushes, it appears that this palette was just one little misstep in an otherwise pro-female company.
Many makeup companies are joining the body positive movement, constantly getting more clever with their naming process to actually empower the people who love playing with products.
Benefit Cosmetics's Cheers To Me Foundation
With a line called "Hello, Flawless!," there's plenty of room to feel fabulous. The names like Cheers To Me and I'm All The Rage just give you a warm fuzzy feeling.
Cheers To Me Foundation, $36 Benefit Cosmetics
Tarte's Gifted Mascara
Tarte has wonderful (all vegan!) products, and with names like Gifted and Lights, Camera, Lashes, the positivity keeps on coming.
(Gifted Mascara, Tarte, $21)
Essie's Not Just A Pretty Face
Essie knows that there's more to their product than just looking pretty, but they let you start their with their fabulous shades and quirky names. With names from Eternal Optimist to Leading Lady, there's no room for anything but positivity.
Not Just A Pretty Face, Essie, $8.50
Shoutout to all the brands making us feel proud to be makeup lovers!
Images: Courtesy Brands