A Historic Moment For The Transgender Community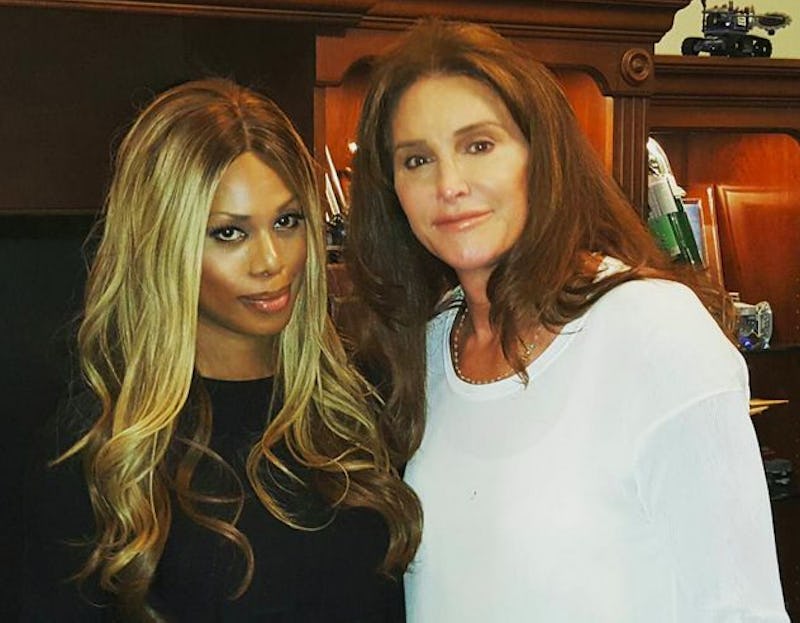 Two of the most prominent figures in the trans community, Caitlyn Jenner and Laverne Cox, met for the first time over the weekend, and posed for a photo together at an advanced screening of Jenner's upcoming docuseries I Am Cait. It is a picture that not only has fans and supporters rapidly double-tapping the post on Cox's Instagram page by the minute, but it also signifies a historic day in the trans community. Both women — through their celebrity and their roles in the public eye — have brought a deeper understanding about what it is to be transgender, made enormous strides within the community, and have broken down countless barriers. So when Jenner and Cox finally met in person for the first time, it can only be described as a watershed moment.
Jenner and Cox have supported and praised each other all across social media prior to their first real-life meeting, most notably with the Orange Is the New Black actress penning a moving and poignant reaction to Jenner's coming out in Vanity Fair. In turn, the former Olympian praised Cox on Twitter, calling her "fierce and fabulous" and saying her "support means the world." The unconditional and very public support the women have for one another is very much "an important gesture of solidarity," as Bustle writer Jaclyn Anglis noted. And this photo of the two only further confirms that:
While the world has yet to know what it was that the two actually discussed (although I'm hoping one or both ladies will eventually shed some light on their conversation), nothing but straight-up empowerment radiates from the above picture.
Jenner and Cox may have had different journeys in life, but their paths have both led them to become two of the most prominent and influential leaders the transgender community has ever seen. Through their candid interviews, their touching speeches, their honest essays, and the multiple awards they have won, Jenner and Cox are in positions of enormous power, power that can (and has) changed how the world views people who are transgender. And when two powerful women like that come together, it is a historic day indeed.
Image: Laverne Cox/Instagram