7 Celeb Couples Shelli & Clay Remind You Of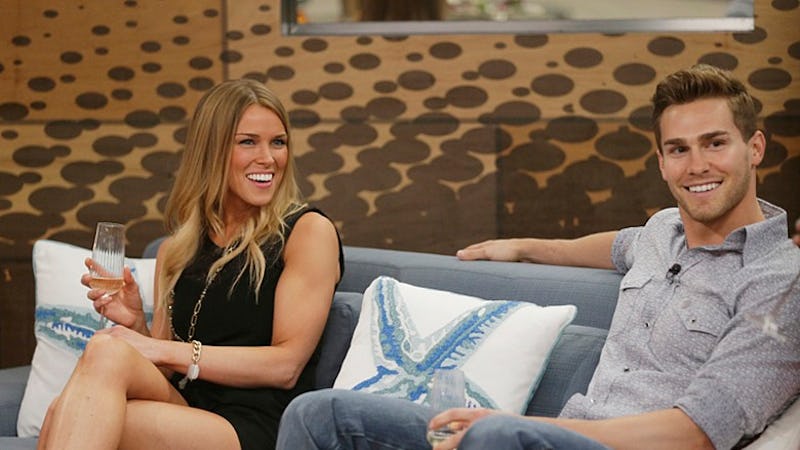 There is something about the infamous couple, Big Brother 17's Shelli and Clay, that I absolutely love to hate, but I just can't quite put my finger on what it is. Is it their perfect looks? The way they are somehow always in power? Is it that, week after week, they always seem to wind up on top of the Big Brother house totem pole? Or maybe it is a combination of all of these things. Maybe it's that, this season's most talked about alliance — the Shelli and Clay showmance — totally reminds me of, like, the popular kids in school. You know, the ones you openly despised but secretly wanted to be just like. Or, in the adult equivalent, the celebrity couples you secretly wish you were a part of.
Because these two do remind me of a number of celebrity couples. Good looks aside, there is something familiar in their combination: a smart, beautiful girl dating a baller who sometimes throws her game into question. Hell, they could be a Kardashian couple with that kind of story line.
But there are other celebrities that Shelli and Clay could totally hold their own against. Like, sometimes, depending on what they're doing or how they're playing the game or what Clay is wearing to only somewhat cover his body, I can look at the two of them and think, "Man, don't they remind you of Minka Kelly and Derek Jeter right now?"
So here are seven other celebrity couples that Clay and Shelli probably totally remind you of, for any number of reasons. Once you see it here, you won't be able to look at them the same way again.
1. Diane Kruger & Joshua Jackson
A beautiful blonde with a hot heartthrob at her side? The similarities are totally there.
2. Bradley Cooper & Suki Waterhouse
I mean, Clay reminds me of Bradley Cooper, period. The fact that Cooper is dating an adorable blonde who he keeps attached to his hip doesn't help to change my mind about that either.
3. Chris Hemsworth & Elsa Pataky
Huge hunk of a man + adorable blonde = Clay and Shelli. Or Hemsworth and Pataky, depending on how you look at it.
4. Jessica Simpson & Eric Johnson
A savvy woman who played the fame game like a pro and then settled down to date a former football player sounds pretty familiar to me.
5. Carrie Underwood & Mike Fisher
OK, so Mike Fisher played hockey, not football, but they totally have that sports background thing going for them.
6. Gisele Bundchen & Tom Brady
AM I RIGHT?
7. Kim Kardashian & Kris Humphries
What? I can't be the only one who sees Clay trying to use Shelli's power to get ahead in the game and thinks of what broke this other infamous couple apart, can I? I didn't think so.
Here's hoping that Clay and Shelli go more the way of Carrie Underwood and Mike Fisher than Kim K. and Kris Humphries. Otherwise they might be just as doomed as some of these celebrity couples.
And you know who's just as intrigued by the Clay & Shelli of it all? The ladies who run Bustle's Big Brother podcast, The Diary Room:
Image: Getty Images (7)