6 Times Kim Kardashian Went Makeup Free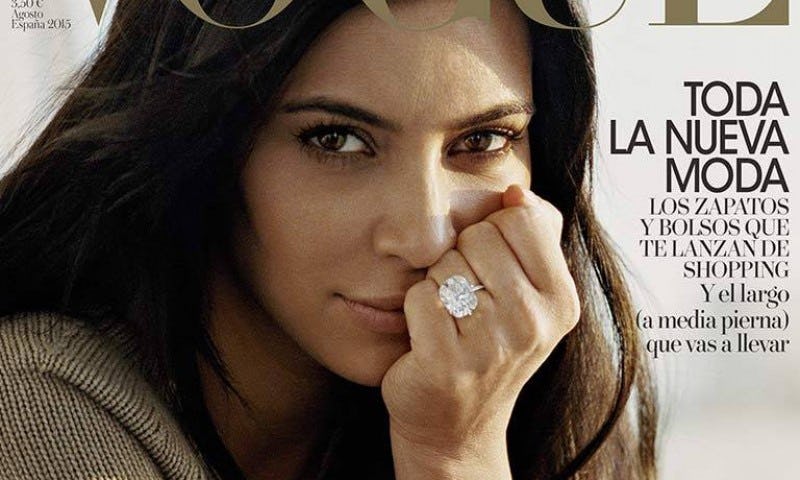 You may have heard by now that Kim Kardashian is not wearing makeup on her latest cover for Vogue Spain, and looking very gorgeous while doing it. Looking at the cover, it's obvious why Kardashian is dubbed to be such a fashion and beauty icon, considering she looks absolutely stunning without a drop of cosmetics on her face. Ironically, she is well known for her over the top beauty looks, as Kardashian practically invented face contouring and is almost always sporting a red carpet-worthy face of makeup... even if she's just running errands.
That's probably why this cover of Spanish Vogue has caused such a stir, what with it being such a seemingly unexpected move for the reality star. But she has sported many makeup-less looks before, and even been featured in other magazines with no makeup on her face. Despite stereotypes, Kardashian is clearly very comfortable showing her bare skin and has done so on many different occasions, both personal and professional.
If you're curious to see other shots of Kim Kardashian without makeup on or just want to celebrate her latest body positive move for Vogue Spain, here is a roundup of six makeup free photos of Kim Kardashian.
1. Her February 2015 Cover Of Vogue Australia
Kardashian was featured on the cover of Vogue Australia earlier this year, in which she frolicked on the beach in various white dresses and bathing suits. She also did not wear any makeup during the shoot, which is evidenced by the cover photo. And she looks absolutely radiant!
2. Her Makeup Free Post Airplane Selfie
Kardashian took this makeup-less selfie for Instagram a few months ago, in which she described being tired and jet lagged. "UGH just got off a plane, so tired, have a shoot tonight, need a tan, not in the mood," she wrote in the photo's caption. I love how despite her prototypical glamorous image, she's not afraid to share these real moments with us.
3. The Candid Paparazzi Photo
In this paparazzi photo, Kardashian has no makeup on, but it's hard to believe when you see just how flawless her complexion is. There's no doubt she is naturally beautiful.
4. Her Instagram Manicure Selfie
Kim Kardashian posted a pic of herself on Instagram a few months ago getting her nails done, in which she wasn't wearing any makeup. "A little no makeup selfie getting my nails did," she wrote in the photo's caption. I love how confident she looks in this picture and how she's not afraid to post these candids on her social media, something many celebrities and regular folks alike wouldn't ever dream of doing.
5. The #ThrowbackThursday Paparazzi Photo
Based on her outfit, I'm going to guess that this second paparazzi photo of Kim Kardashian without makeup is from way back in the day. Regardless, she looks pretty damn good to me.
6. Posing With Kendall Jenner's LOVE Cover
If there's one thing Kim Kardashian is good at, it's multi-tasking. This is evident in this makeup-free Instagram selfie she took last year, as she gave little sister Kendall Jenner a shoutout while also giving us a glimpse of herself without makeup. I LOVE this cover of LOVE and Kardashian's makeup free look!
Images: Vogue Spain; Kim Kardashian/Instagram; LifeStyleWeekly/Facebook; Mama Tang, Marina Lulgjuraj /Twitter