18 Feminist Baby Names For Your Future Kid
by Lara Rutherford-Morrison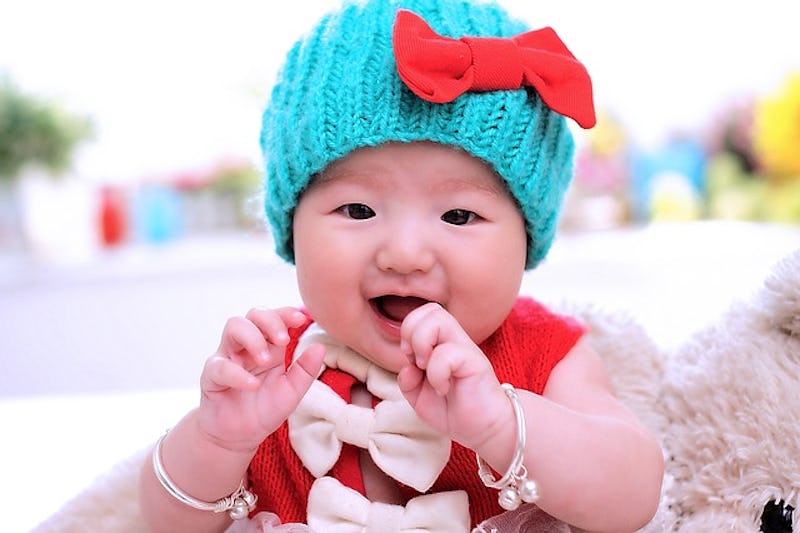 Naming a baby simultaneously seems like both a fun aspect of having a kid and a terrifying one. On the one hand, thinking about names can be really entertaining, even when you're not having a child anytime soon (So many choices!). On the other, naming a human person is a huge responsibility (What if your kid hates his or her name, and therefore you, FOREVER?). Plus, there are about a gajillion options out there, so where do you even start? The possibilities for baby names are endless, of course, but why not take inspiration from famous women's rights activists and supporters throughout history? Among the throngs of amazing women who have made history and campaigned for the rights of others are some truly fantastic names, made even better by their association with the women who bore them. Below I've collected 18 names of powerful, fascinating feminist women. This is just the tip of the iceberg, of course; Let this list motivate you to think about all of the women who have inspired you. I bet there will be some kickass names in there.
I've stuck to girls' names here because, unsurprisingly, most of the world's famous feminists are women. But that doesn't mean that baby boys have to be left out — they can be named for feminists, too! After all, there were important men throughout history who supported equal rights for women, like John Stuart Mill, Jeremy Bentham, Frederick Douglass, and Parker Pillsbury. And who's to say that one of the women's names below couldn't be adapted for a boy? "Earhart Smith" sounds like a pretty awesome dude.
Check out these sweet names and their trailblazing forebearers:
Ada (Lovelace)
Ada Lovelace was a 19th-century mathematician. Because of her notes on coding for Charles Babbage's Analytical Engine, Lovelace is often regarded as the world's first computer programmer. (Fun fact: She also happened to be the only legitimate child of superstar Romantic poet Lord Byron).
Amelia (Earhart) (Bloomer)
Amelia Earhart became the first female pilot to fly across the Atlantic Ocean in 1928. Another inspiring Amelia is Amelia Bloomer, a 19th-century women's rights activist who became famous for advocating for a change in women's clothing, from tight, confining corsets to loose, comfortable short dresses over pants. (The term "bloomers" refers to her.)
Audre (Lorde)
Audre Lorde, a poet, essayist, and civil rights activist, described herself as "black, lesbian, mother, warrior, poet." Her work explored the intersections of different aspects of identity, and spoke particularly to the interplay of racial oppression and sexism.
Elizabeth (Cady Stanton) (Bennet) (Barrett Browning) (the First)
There are a lot of awesome Elizabeths to choose from: Elizabeth Cady Stanton was as 19th-century abolitionist and women's rights activist who was the president of the National Woman Suffrage Association for two decades. If you love fiction, Elizabeth Bennet, the heroine of Pride and Prejudice, is a smart, independent character who demands to be seen as the hero's equal. Elizabeth Barrett Browning was a Victorian poet, author of the protofeminist epic Aurora Leigh. And then there's always Elizabeth I, who was the most powerful woman in England for 44 years.
Emmeline (Pankhurst)
Emmeline Pankhurst was a British suffragette who founded the Women's Social and Political Union to advocate for women's voting rights in the early 20th century. (Pankhurst and her followers are getting the movie treatment soon in Suffragette, in which Pankhurst will be played by Meryl Streep.)
Gloria (Steinem)
One of the most famous living feminists in the world, Gloria Steinem is an activist, writer, and lecturer who has been campaigning for women's rights since the 1960s. Last year, she was awarded the Presidential Medal of Freedom.
Harriet (Tubman)
After escaping from slavery in 1849, Harriet Tubman would go on to save more than 300 slaves via the Underground Railroad. After the Civil War (Did I mention she worked as a Union spy?), Tubman became an activist for women's rights, giving many speeches about her experiences as a slave and advocating for women's suffrage.
Isadora (Duncan)
Widely regarded as the mother of modern dance, Isadora Duncan rebelled against traditional dancing styles that confined women's bodies in tight costumes and shoes and forced them to move in unnatural ways. She declared, "The dancer of the future will dance, not in the form of nymph, nor fairy, nor coquette, but in the form of woman in its greatest and purest expression."
Jane (Austen) (Eyre) (Addams)
While we can't know if Jane Austen would have described herself as a feminist, we do know that she wrote novels about funny, independent, thinking women who are unwilling to settle for anything less than husbands who love and respect them. Another "Jane" inspiration could be the fictional Jane Eyre, who declares, "I am no bird; and no net ensnares me: I am a free human being with an independent will." If that's not enough awesome Jane-ness, check out Jane Addams, a philanthropist and women's rights activist who, from 1919 to 1929, was president of Women's International League for Peace and Freedom. In 1931, she was the first woman to be awarded the Nobel Peace Prize.
Margaret (Sanger) (Atwood)
Margaret Sanger was a women's rights activist in the early 19th century who advocated for women's right to birth control (In fact, she coined the term "birth control.") Margaret Atwood is a Canadian poet and novelist whose works often explore the nature of gender and gender oppression, perhaps most famously in her her 1985 novel, The Handmaid's Tale.
Maya (Angelou)
Maya Angelou was an American poet, essayist, memoirist, and civil rights activist. President Obama awarded her with the Presidential Medal of Freedom in 2011. In one of her most famous poems, she declares,
I'm a woman Phenomenally. Phenomenal woman, That's me.
Octavia (Butler)
Octavia Butler's award winning novels blend science fiction with questions of race, sex, gender, and power. Her work uses science fiction as a conduit for exploring social justice and the human condition.
Rosie (The Riveter)
Rosie the Riveter was the face of a governmental campaign to recruit female laborers to produce arms during World War II. She became a symbol of the hundreds of thousands of women who contributed their labor to the war effort, and in the decades since has evolved into a powerful emblem of female empowerment.
Ruth (Bader Ginsberg)
The Notorious RBG has advocated for women's rights throughout her career, both in and out of the Supreme Court. She was the first director of the ACLU's Women's Rights Project and Columbia University Law School's first tenured female professor before become a justice for the Supreme Court of the United States. (And if you name your baby after her, you already know your kid's first Halloween costume).
Sally (Ride)
An astronaut and astrophysicist, Sally Ride was the first American woman in space!
Simone (de Beauvoir)
French writer and philosopher Simone de Beauvoir published her most famous work, The Second Sex, in 1949. The work is widely considered foundational to the feminist movement, and is sometimes even referred to as "the feminist bible."
Sojourner (Truth)
Born into slavery at the end of the 18th century, Sojourner Truth became an avid abolitionist and women's rights activist after gaining her freedom in 1827. Her most famous speech was "Ain't I a Woman?", delivered at the Women's Convention in Akron, Ohio in 1851.
Susan (B. Anthony)
Susan B. Anthony was a feminist and abolitionist who was a key player in the women's suffrage movement. Working closely alongside Elizabeth Cady Stanton, Anthony co-founded a number of organizations, including the National American Woman Suffrage Association. She also became the first American woman to appear on U.S. coinage when she was featured on the dollar coin in 1979.
Images: Pixabay ; SirHenryNorris, We hope, Bubamara, scewing (1, 2), Carnby, Bryant2000/Wikimedia; Getty (3)