How Writing Made Me Better At Online Dating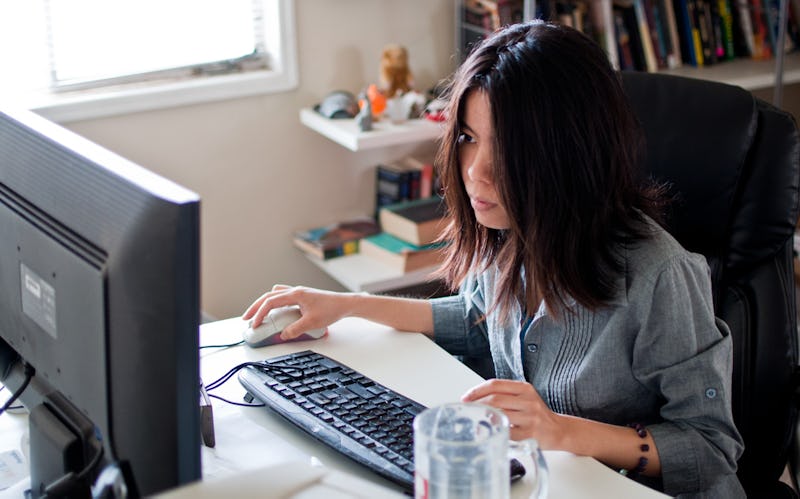 Aside from the obvious fact that online dating requires you to write your profile and messages (unless you're one of those minimalists who believe "hey" is a full message), online dating and freelance writing have a surprising amount in common. Both require you to cultivate an appealing online identity, pitch yourself to people, and then deliver on their expectations. Both also require the tenacity to keep at it when you're rejected repeatedly.
When I started freelance writing, I was on a break from dating sites and apps. But as I got back on them, I realized I had picked up new online dating habits and philosophies based on my experiences as a writer. Rejections didn't phase me as much because I was used to them, I packaged myself more compellingly because I had been practicing, and going for someone out of my league felt natural since I had built my career on targeting publications that seemed too big for me. I have yet to report back on whether this new approach will spawn a new relationship, but it certainly has provided options.
Here are a few lessons I've carried over from my professional to personal life that you can bring to writing or dating — because becoming a writer yourself would be a pretty exhausting way to learn them all.
1. Aim High
The moments I've thought "I don't think this publication will accept this piece, but I'll try just in case" have produced my proudest bylines. Along the same lines, when I interviewed people on what made them first message their significant others, someone told me, "I challenged myself to message the hottest girl within 100 miles on OKCupid... Now, a year later, we are getting married." This serves as a lesson that you never know who might be interested in you, so you shouldn't reject yourself.
2. Get Out Of Your Own Way
Writers often exploit their verbal skills to craft arguments for why they shouldn't write or submit a piece. We come up with some really creative reasons: someone we know might read it and think it's about them when it's really not; something similar exists somewhere on the Internet; the editor might just laugh at us for sending something so darn dreadful. We get past these hangups once we witness how rewarding it can be to pursue good work despite them — and get it. There are also a zillion reasons not to message someone on a dating site: we can't think of a witty enough message, they seem too attractive to be interested (see #1), we're scared they'll judge our profiles. But all the messages we don't send dramatically decrease our chances of ever getting a response.
3. Follow Up
I never used to follow up when people ignored my messages, and I still usually don't because I believe this practice applies to writing more than dating. With writing, you're at the editor's mercy and have to put up with some unattainability, whereas with dating, you should be picky about how enthusiastic the other person is; you don't want to have to chase anyone. However, under the same philosophy behind making sure an email didn't get lost in an editor's inbox, I recently followed up with an OKCupid match who stopped responding to what I thought was a great conversation. He replied that he thought he had written back but it must have not gone through, so following up was a "genuinely good decision." That's when it occurred to me that maybe those who ignored my messages weren't thinking "Her? NOPE." Maybe they were thinking, "Ooh, a message. I'll get to that once I'm off the train" and then forgot.
4. Expect A "No."
When you send a pitch or submission to an editor, the chances that they'll accept it are so slim that once you're used to the process, you stop expecting a "yes." The chances of getting a response to an online dating message are also notoriously low. Once writing accustomed me to getting "no"s all the time, I became surprised by "yes"es rather than disappointed by "no"s on dating sites as well.
5. Then, Get Back On The Horse
When I do get those "no"s from editors, my first reaction is to compose a new email and send the piece or pitch to someone else. Some freelance writers I know have sent articles to 10, 15, or even 20 publications before landing them in major outlets. In dating as well, whether online or offline, not being one person's cup of tea doesn't mean you won't be someone else's.
6. Your Accomplishments Do Not Speak For Themselves
If your pitch is boring, no editor is going to trust that your article will turn out amazing just because you've written for big-name publications. And no romantic prospect is going to message you back because you went to a prestigious college and have a highly coveted job. You know why you're great, but others can't peer into your soul and see that.
7. So, You Need A Personality
Since your resume alone won't persuade anyone to publish your writing or ask you out, you need to demonstrate what makes you unique. In both professional writing and online dating, a sense of humor, unusual areas of expertise, or polished writing style can make you stand out.
8. Know Your Audience
The best pitch letters start by establishing common ground with an editor, such as a mutual acquaintance or a topic you've both written about (or plan to write about once your pitch is accepted!). Similarly, the best online dating messages show that something on that person's profile resonated with you, and the best profiles will themselves resonate with the people you want to attract. For example, if you're trying to attract 20-something male nerds, well... let's just say mentioning Magic the Gathering on my OKCupid profile has never hurt me.
9. Continue Perfecting Your Personal Brand
I am constantly editing my LinkedIn page, my writing portfolio, and... my OKCupid profile. And every time I read back over these pages, I wonder, "How did I not realize how awkward that sounded?" Writers have this thought all the time, and it's usually not that we were bad before; it's just that we can do better now. That ongoing drive for improvement is what makes writers excellent online daters. That, and the way we treat our profiles like works of art. I highly recommend dating one of us. But I'm biased.
Want more sex? Of course you do. So download Bustle's app from iTunes for all the most recent sex and relationships news, advice, memes, and GIFs from around the Web. Guaranteed to fulfill you more than your ex.
Images: Ray_from_LA /Flickr; Giphy